Take breakfast on the road with these Maple Bacon French Toast Muffins–sweet and savory, crispy bacon added into baked fluffy French Toast muffins. Easily taken on the go, but even better when you can sit down and enjoy them with an extra drizzle of maple syrup!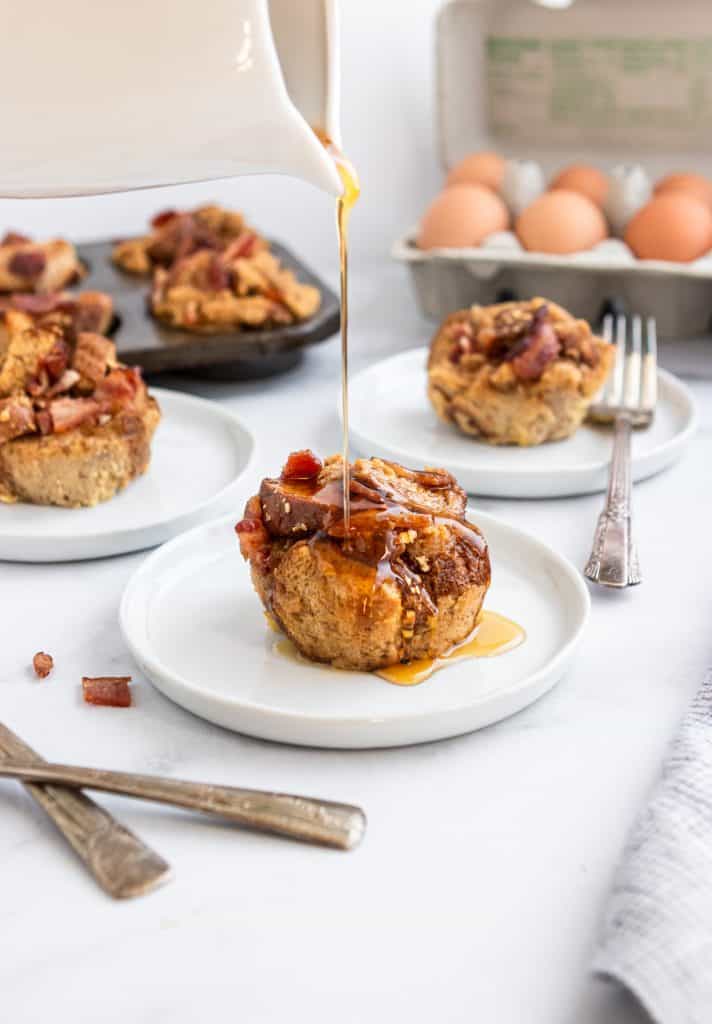 If you have never had a French Toast muffin before, this Maple Bacon version is pretty much gonna rock your WORLD.
I am very into baked French Toast recipes and a while back I realized you could take the same concept and turn it into muffin form, thus creating French Toast Muffins.
And when I say muffin form, I mean the kind you can literally take on the go if you prefer. Like, you can grab your coffee and French Toast and take them on the road with no issue.
Isn't that incredible?
So I started out with this Blueberry Muffin version. They were perfect. A blueberry muffin of its very own kind. And so simple. Easy to make ahead, pairs perfectly with maple syrup–I could go on and on.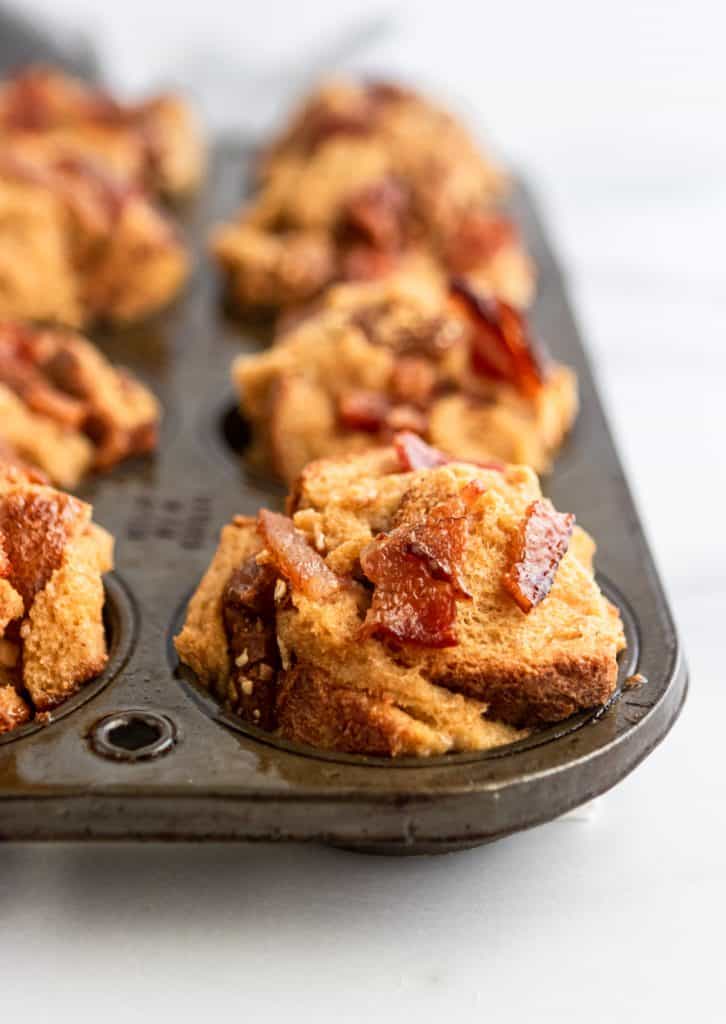 And then I saw a random video for a maple bacon donut recipe. That's when it hit me, Maple Bacon needs to be a French Toast Muffin recipe!
True Story:
Until recently, I absolutely despised bacon. I worked in a restaurant through college that threw mountains of bacon on the griddle all day long and I reeked of it when I left.
But it was well before that job that I wondered what the fascination was with the crispy stuff was. Apparently my taste buds are evolving because I sort of craved it out of nowhere about a year ago.
To my surprise, I didn't hate it. I didn't bow down to it and hail it as the most incredible food ever, but I did enjoy it.
And as for many things in life, I am enjoying my bacon more on the sweet side than savory. It's just the way I am wired. So, a nice drizzle of maple and brown sugar on some bacon before it hits the oven is the idea of some goooood bacon in my opinion.
So let's talk a bit about this maple bacon french toast goodness.
What is a French Toast Muffin?
If you have ever had baked French Toast, then getting the idea of these muffins will be a bit easier for you. If not, no worries, I am sure you will be fine.
When making a baked version of French Toast, you simply whisk the eggs, milk and other ingredients together and then toss it with cut up pieces of bread and allow the bread to soak up all the liquid. Then you transfer the mixture into a casserole dish and allow it to bake into sweet, fluffy goodness.
When we make French Toast Muffins, we simply take this one step further. We take the soaked bread and form them into muffins in a muffin tin. Nothing more! It is really just changing the shape and size what we bake the recipe in.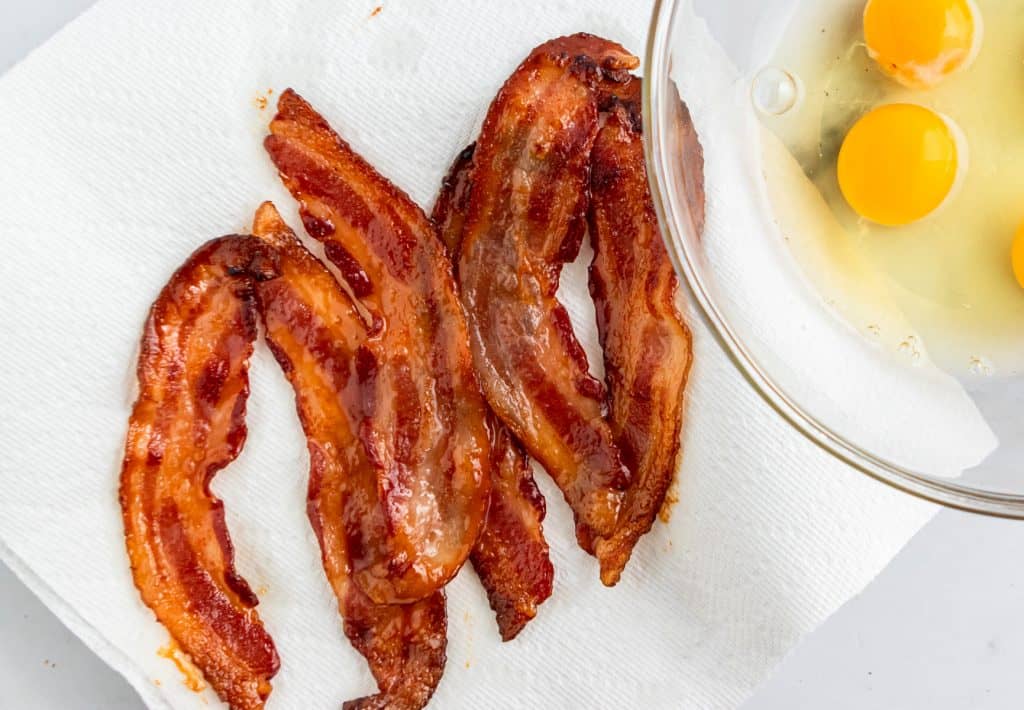 And then when we add a layer of crispy, sweet and salty bacon, we get a breakfast concoction that will make us think, "Where on earth have you been all my life??"
It happens, I get it. But now you know you never have to go on living without Maple Bacon French Toast Muffins in your life, so it's gonna be ok, promise. (Ha.)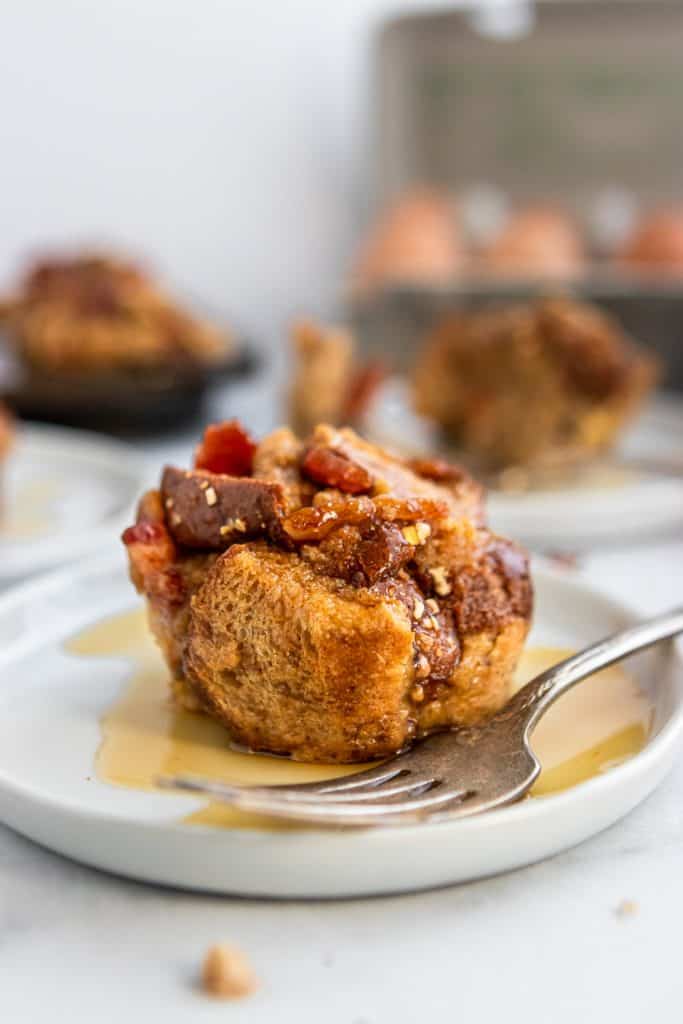 What you need to make these Maple Bacon French Toast Muffins:
bread: I use a soft, wide pan loaf of bread typically. Sometimes I use a country white, others I use a whole wheat or multigrain. If you use a bread that is super tough, it will make it challenging to get these French Toast Muffins to hold together when they are formed and baked. Also, if you use bread that is smaller than that, you may need to add an extra slice of bread.
milk: I typically use whole milk for this recipe. It is what we always have around. You could easily sub another type of milk. I have made this with vanilla almond milk and have been pleased with this as well.
muffin tin: this will make 6 large or about 8 medium muffins. I have NO CLUE where my 6 muffin tin went and assume my toddler has it hidden somewhere, but I typically just make 6 muffins. The day I shot these, the tin went MIA so I used an 8 muffin tin and did pretty well other than the 8th being a bit weak.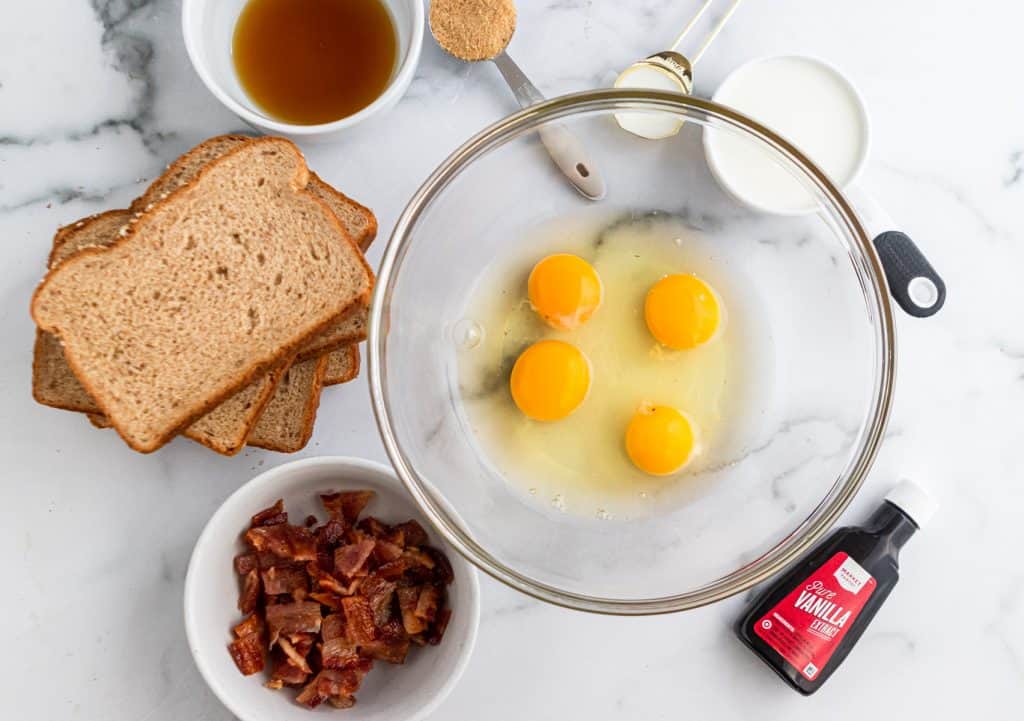 The key to this recipe is the maple bacon.
Sure you can have a bit of baked French Toast, but it's the Maple Bacon in this recipe that brings all of the WOW. It does require a bit more time than just cutting up some pre-cooked bacon, but the truth is here more than ever, the best that comes to those who make the bacon with the maple.
All you need is some maple syrup–the real kind, not to be confused with pancake syrup– and some brown sugar. Whisk it together and then smother your bacon and bake it up.
This stuff will be candy sweet with that nice balance of salty as well. Sweet and salty is my absolute favorite.
Tips for making the maple bacon:
Line bacon on a piece of foil– less mess is always the best, right?
Start with a fully cool oven. No need to pre-heat the oven, this can make for the best bacon.
It's best not to make the bacon super duper crispy if that's the way you love the bacon. You are going to bake the bacon in the muffins for another 20 minutes, so no need to burn it to a crisp initially.
You are more than welcome to add another strip or two–easier to snack on while you are making the French Toast Muffins!

Pro-tips for making these Maple Bacon French Toast Muffins:
The biggest thing you want to know is to press the bread pieces into the muffin tin well so that they will form and hold together. I also press and form to muffin tops so they somewhat resemble a muffin!
While you can technically eat these with your hands and on the go, I highly suggest you pop these on plates and add an extra drizzle of maple syrup.
If you find that not all of the bread is fully soaked in the egg mixture, you can add a splash of milk to help moisten any extra pieces of bread.
Feel free to use gluten free bread and also dairy free milk to make dietary adjustments to your need.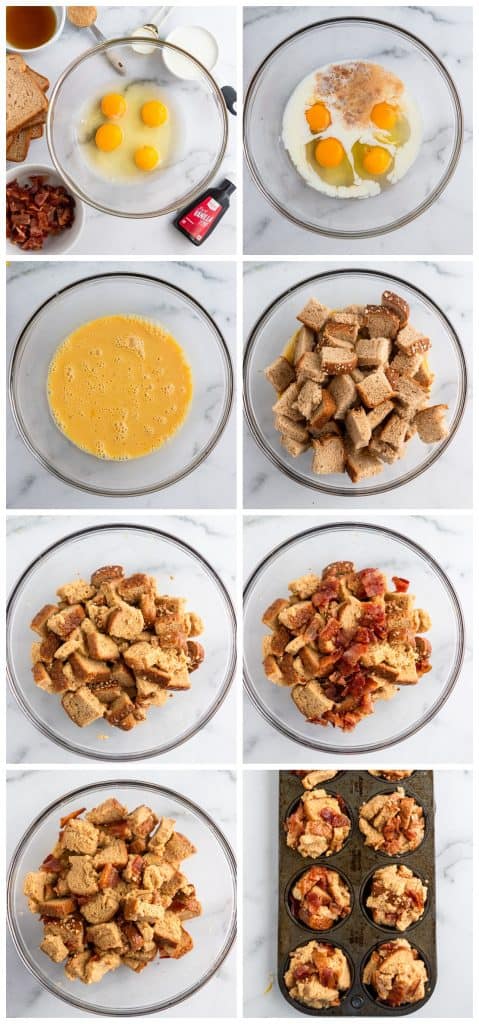 TRY THESE OTHER MUFFINS YOU WILL LOVE:
DID YOU MAKE ONE OF MY RECIPES? LEAVE A COMMENT AND LET ME KNOW! I ALSO LOVE TO SEE YOUR LEMONS + ZEST RECIPES ON SOCIAL MEDIA–TAG ME @LEMONSANDZEST ON INSTAGRAM OR FACEBOOK!
Maple Bacon French Toast Muffins
Take breakfast on the road with these Maple Bacon French Toast Muffins–sweet and savory, crispy bacon added into baked fluffy French Toast muffins. Easily taken on the go, but even better when you can sit down and enjoy them with an extra drizzle of maple syrup!
Print
Pin
Rate
Ingredients
For the Maple Bacon
6

strips

thick cut bacon

2

T

maple syrup

2

T

brown sugar
For the Muffins
4

eggs

large

1/2

c

plus 1 T milk of choice

regular or dairy free

1

T

brown sugar or coconut sugar

1-2

T

maple syrup

1

tsp

cinnamon

1

tsp

vanilla extract

6-7

pieces

bread

I used wide pan bread, if pieces are smaller, you will want to use 7, possibly 8
Instructions
Line bacon on a foil lined baking sheet. Whisk together maple and brown sugar together. Spread onto each strip of bacon to coat. Place in oven (do not preheat!) and set to 350°F. Bake for about 20 minutes or until bacon is cooked through and starting to become crispy. Remove from oven and allow to cool several minutes before chopping into small pieces.

Once bacon is ready, whisk together eggs, milk, vanilla, maple, and brown sugar.

Cut bread into about 1 – 1 1/2 in. pieces.

Add bread into egg mixture and stir to allow bread to soak up all the liquid. Fold in chopped bacon.

Spoon bread and egg mixture into greased or lined muffin tins, pressing the mixture gently down to keep any air bubbles or space from being made between bread pieces.

Bake for 20 minutes or until top is golden brown.

Cool for several minutes before serving. Store in the refrigerator for 2-3 days.
Nutrition
Calories:
333
kcal
|
Carbohydrates:
28
g
|
Protein:
12
g
|
Fat:
19
g
|
Saturated Fat:
6
g
|
Cholesterol:
135
mg
|
Sodium:
437
mg
|
Potassium:
212
mg
|
Fiber:
1
g
|
Sugar:
15
g
|
Vitamin A:
205
IU
|
Calcium:
97
mg
|
Iron:
2
mg