Enjoy strawberry season with these freshly baked Strawberry Crumble Muffins. Buttery crumble on top of muffins bursting with fresh strawberries. This simple recipe is perfect for breakfast or a nice snack!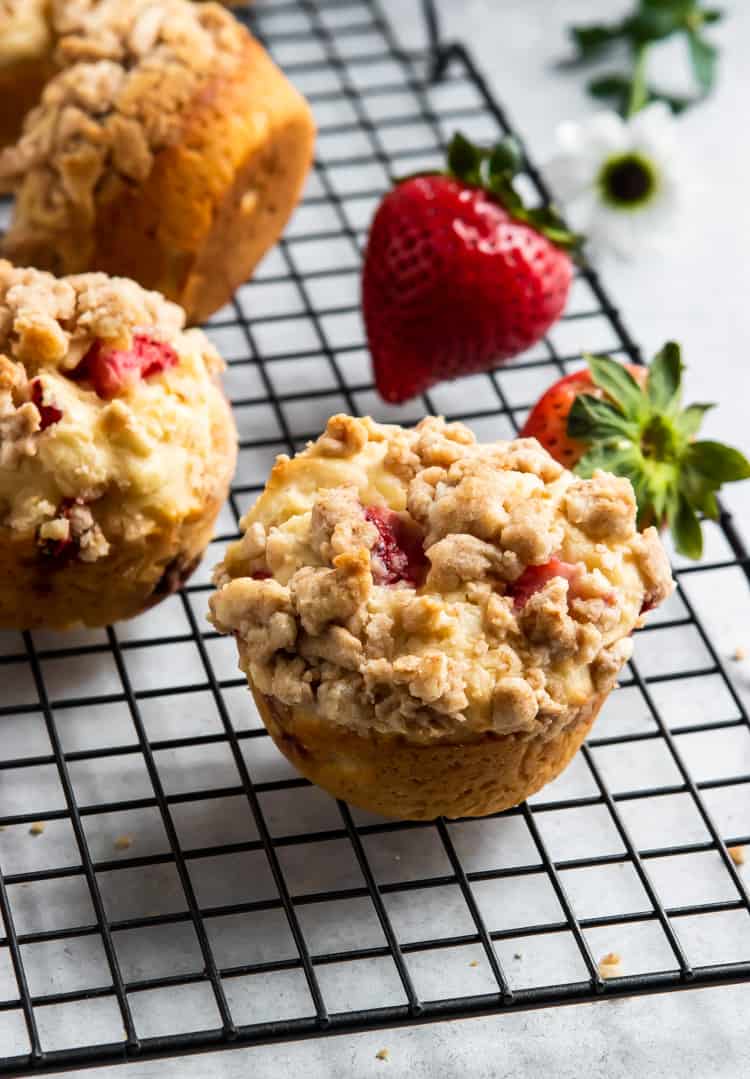 Strawberry Crumble Muffins were made for berry season!
I can't even begin to contain my excitement over this coming summer. And not just because of berry season. This summer is going to be so jam packed with all the goodness that a toddler can bring!
I cannot claim all of the credit for these Strawberry Crumble Muffins. I had my niece, Maggie, for the day a few weeks ago. Instead of birthday presents, we try to do a fun day or overnight when our schedules align. We hit up the zoo and baked some muffins, she had some time to herself with Netflix–she has 5 brothers and sisters so this is huge!!! Chipotle for dinner and plenty of fun and laughs throughout the day.
And a new recipe was born thanks to my baking mate that day. Maggie will need to come over much more often! As for any baked good recipe, it typically takes a couple of tries before it works out and that was the case for these.(I am literally baking these one last time as I type this just to be certain!) But we certainly got off to a good start!
I am a sucker for a crumble topping
When there is anything with a buttery, brown sugar crispy topping, I typically want all crumble and a touch of the fruit. Muffin tops were MADE for a crumble. That makes the best part of the muffin a hundred times better. Do you agree??
While I typically opt for a blueberry muffin, strawberries were on sale in a big way the week Maggie and I hung out so strawberries won. You could make these with the classic blueberry and be just fine, but I really do love the strawberry in these.
What you need to know before baking these Strawberry Crumble Muffins:
It's all about the crumble. I originally had the measurements for the crumble slightly less. However, I mentioned earlier that the crumble topping is life and I did not like having to ration it as I made these. So depending on what kind of crumble person you are, you may have a touch too much topping–and for some of you, there may not even be enough! Ha.
You can use fresh or frozen strawberries. I have made them with both. To be honest, the muffins I made with the frozen were a bit sweeter. I was not mad at all! If you use frozen, just make sure to thaw them before cutting and adding them to the batter.
The recipe calls for one cup vanilla yogurt. I also tried it with Strawberry yogurt as well and loved that as well. The first time we made these, we used plain yogurt and the muffins did not turn out the right sweetness. Adding a vanilla or strawberry yogurt will add more sweet to your muffins. Whatever your preference is fine!
I used all purpose flour. I imagine using an all purpose 1:1 gluten free flour should work as well. I have not tested it with one yet, so if you get to it before me, let me know how they are!
Don't have strawberries? Seriously the title may say Strawberry Crumble Muffins, but it should say Any Berry Crumble Muffins. There is not rule that says you must use strawberries. I plan to use blackberries next time!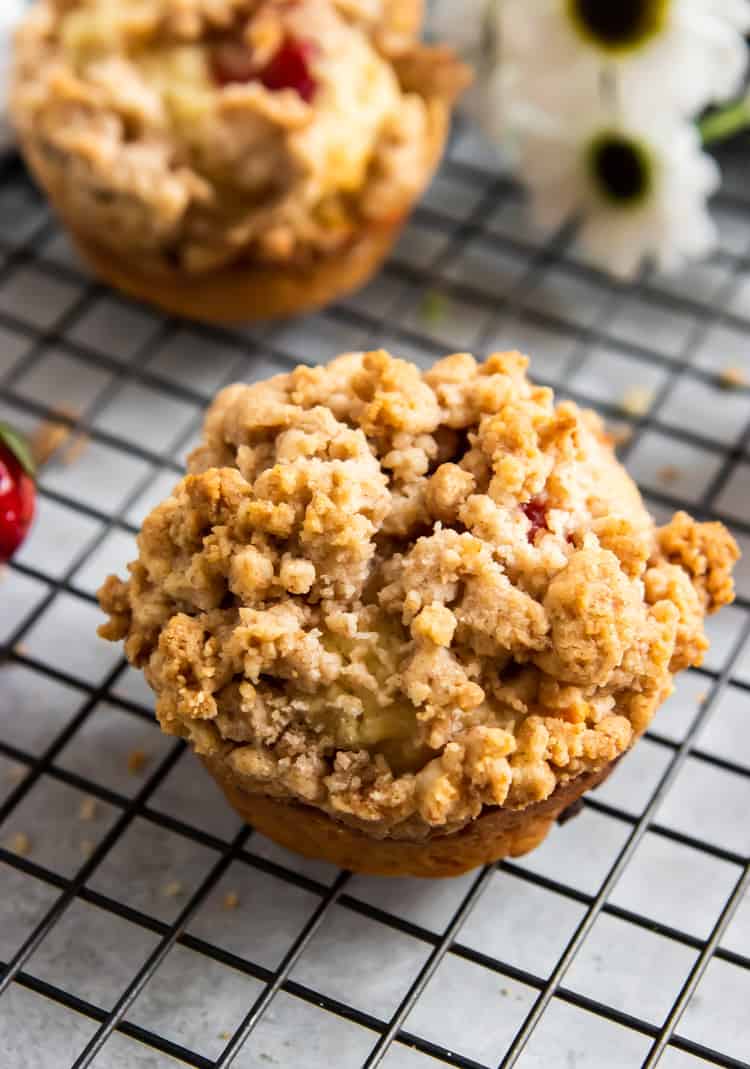 How to enjoy these Strawberry Crumble Muffins:
Fresh from the oven!!! If you are lucky enough then enjoy it!
Warmed up with a dollop of cream cheese–strawberry cheesecake crumble muffins–voila!
Butter, muffins and butter together, always a grand idea.
Would it be too much to break one of these up over a cup of yogurt? You could even make into a parfait with some fresh berries and a touch of granola. (oh dear, thank goodness I have these freshly baked. Want that right now.)
Make it a pb + j kind of muffin experience! Spread on some peanut butter and let the berries could as the "j"!
Freeze them! Yers, go ahead and enjoy them later. Wrap them up individually and grab one on the go.
At any rate, I hope you enjoy these muffins so very much! They are becoming a part of our regular routine around here!
Feeling like you need more muffins in your life? These Orange Cream Muffins are also my latest favorite!
DID YOU MAKE ONE OF MY RECIPES? LEAVE A COMMENT AND LET ME KNOW! I ALSO LOVE TO SEE YOUR LEMONS + ZEST RECIPES ON SOCIAL MEDIA–TAG ME @LEMONSANDZEST ON INSTAGRAM OR FACEBOOK!
Ingredients
2

c

flour

1/4

c

butter, melted

1

c

vanilla yogurt

3/4

c

sugar

2

eggs

2 - 2 1/2

c

strawberries, cut into small pieces

1

tsp

Vanilla extract

2

tsp

baking powder

1/2

tsp

salt
For crumble Topping:
6

T

butter, melted (3/4 of one stick of butter)

1

tsp

cinnamon

1/2

tsp

Vanilla

3/4

cup

flour

1/4

c

sugar

1/4

c

brown sugar
Instructions
In a small bowl, prep the crumble topping by whisking together the flour, sugars, vanilla and cinnamon. Add in the butter. Stir with a fork until it starts to become crumbly. Set aside.

In another small bowl, whisk together baking powder, salt and flour. Set aside.

In a medium bowl, whisk together butter, eggs, sugar and vanilla. Add yogurt and whisk to combine. Slowly begin to add the dry ingredients to the wet ingredients and stir to incorporate. Fold in berries.

Spoon muffin batter into a greased muffin pan and fill muffin cups about 3/4 of the way full. Sprinkle generously with crumble topping. (I mean be verrrry generous!)

Bake for about 18-20 minutes or until a toothpick comes out of a muffin clean. Allow to cool before eating. Store in an airtight container for about 2-3 days.