This post may contain affiliate links.
Rich, creamy and delicious, this vegan Lemon Garlic Cashew Cream Sauce tossed in pasta is going to be a new family favorite and they won't even miss the dairy! This dairy free recipe is simple to whip up in the blender or food processor and is ready in under 30 minutes!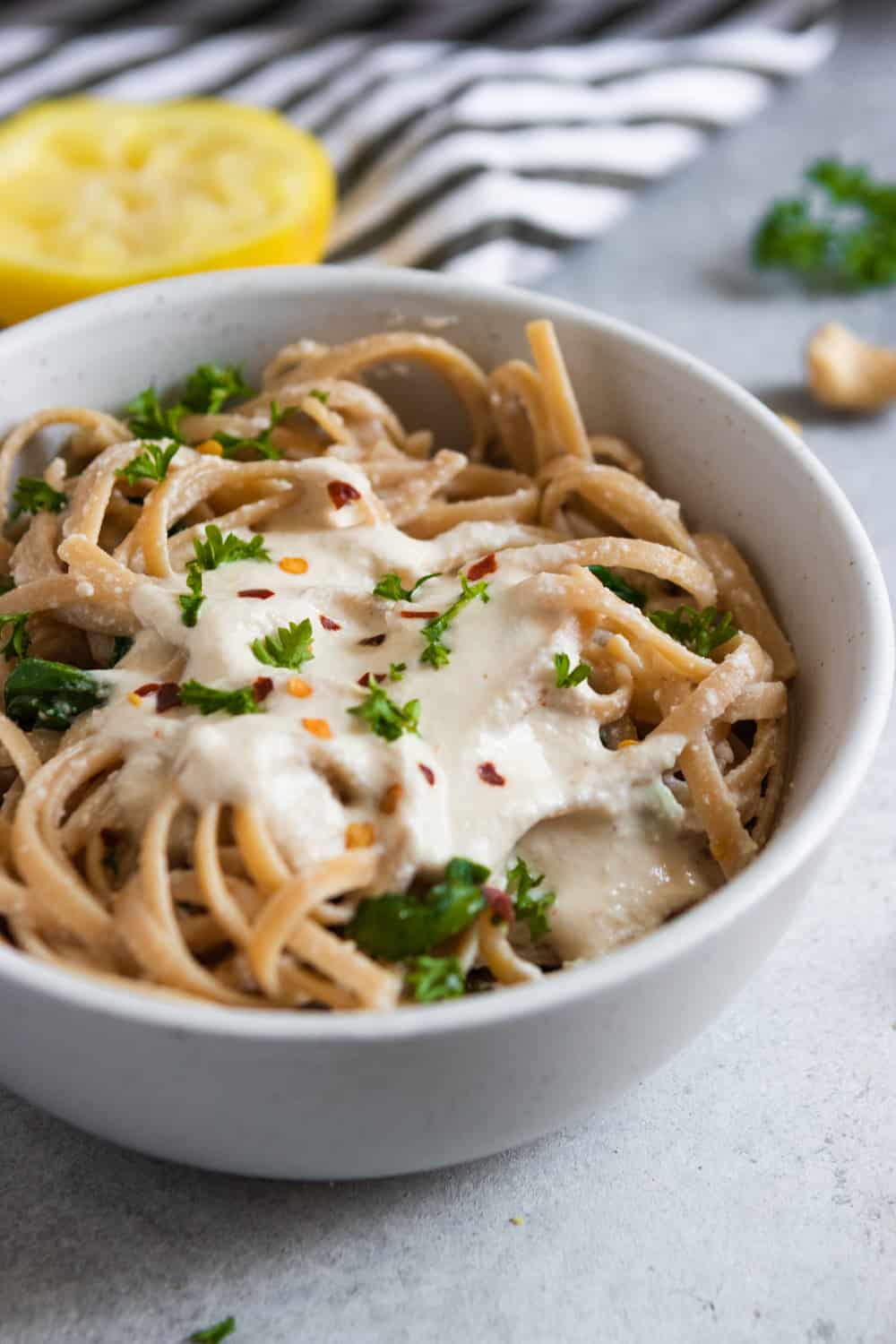 A little food for thought today...
The concept of choice has been showing up a lot for me lately. Since I am one who wants to always be in control and have all of the power over things in my life, it becomes so tough when I feel that I have no control over situations. It is in these times that I feel powerless, hopeless and slowly let myself fall into a deep downward spiral.
Recently, though I have found that in fact the power is actually all mine. I do have control and I do have the power. I just have been looking at my life from the wrong point of view. This magical power that I possess is none other than choice. It's been sitting there this whole time and yet I have failed to realize it.
So bad things happen in life, we all know that. And it's very easy in tough times to feel broken, defeated and even victimized in a way. We settle for the Why me? or Nothing ever goes right in my life. This sort of mindset diminishes our power and only makes us feel weaker. It allows us to use our situations as reason to pity ourselves and feel alone and separated.
We sometimes even act as though this is just the way it is, this is the deck of cards we have been dealt and there is nothing we can do about it.
But that's not true. We actually do have power. We actually do have control. Our power is in our own hands. In every situation no matter how powerless we feel, we always have a choice.
In tough times, we have a choice.
We can choose to take the next step. We can choose not to let our tough times define us, we can choose to respond to the tough times with the thought that we will come out stronger. Our choice lies in how we respond to bad times. Throwing in the towel is just as much our own choice as pulling ourselves up after the fall.
Think of that person you know who has been through the rockiest of roads in life and yet they always come up with a smile. Not once do you see them let their bad luck get the best of them. Sure, they have it tough, but they choose to have the power by not letting circumstances get the best of them. We all know someone like this.
That person battling cancer for the second or maybe third time, the person who doesn't let a disability stand in the way of their dreams, and so on. What separates these people from the rest? Their choices.
So the next time you're dealt a bad hand, before you let it get the best of you, take the power, take control, and choose choice.
Ok, sorry, just had to get that out. Some days, this space is a bit more like a journal to me. Now let's move onto this Lemon Garlic Cashew Cream Sauce with Fettuccini, shall we?
---
Lemon Garlic Cashew Cream Sauce is the Sauce dreams are made of!
Lately, I have been quite fascinated by the power of cashews. They are more than just a great snack. Cashews are quite versatile and they actually make a killer cashew cream sauce. After soaking these nuts for a few hours and tossing them in a food processor with some water and seasonings, you can have a rich creamy, sauce without the dairy!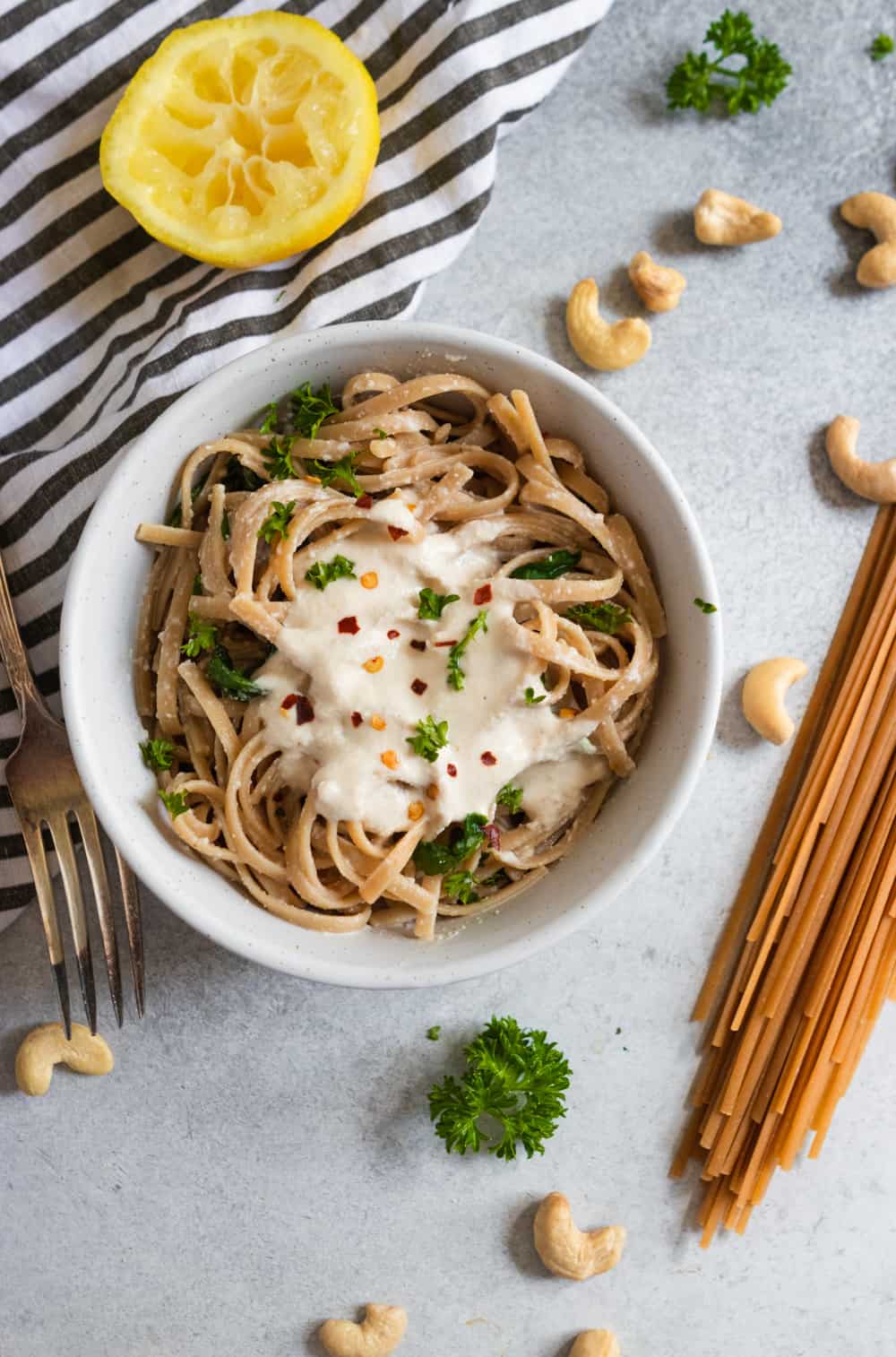 While I am not vegan or even a vegetarian, I can appreciate some of the amazing things we can make unexpectedly from certain foods. Cashews are one of these foods.
And I have lots of friends and readers who cannot have dairy for certain reasons, so I always love trying to make recipes that can accommodate them when I can. I eat dairy and still love this cashew cream sauce so that is a sign of how delicious this stuff really is!
It truly is fascinating that a handful of nuts can transform into a cream sauce. Who would have thought? As long as the cashews are soaked for enough time, this sauce is pretty fool proof. I have made it many times over the years and find it to be so simple. No need to boil it or anything. I just toss it with my pasta right after I drain it and then simmer for a few minutes.
These Zucchini Noodles with Lemon Garlic Cashew Cream Sauce can be ready in minutes. You can add grilled chicken or maybe some salmon if you are interested. Use whatever pasta you like--I just loved adding the fettuccini recently!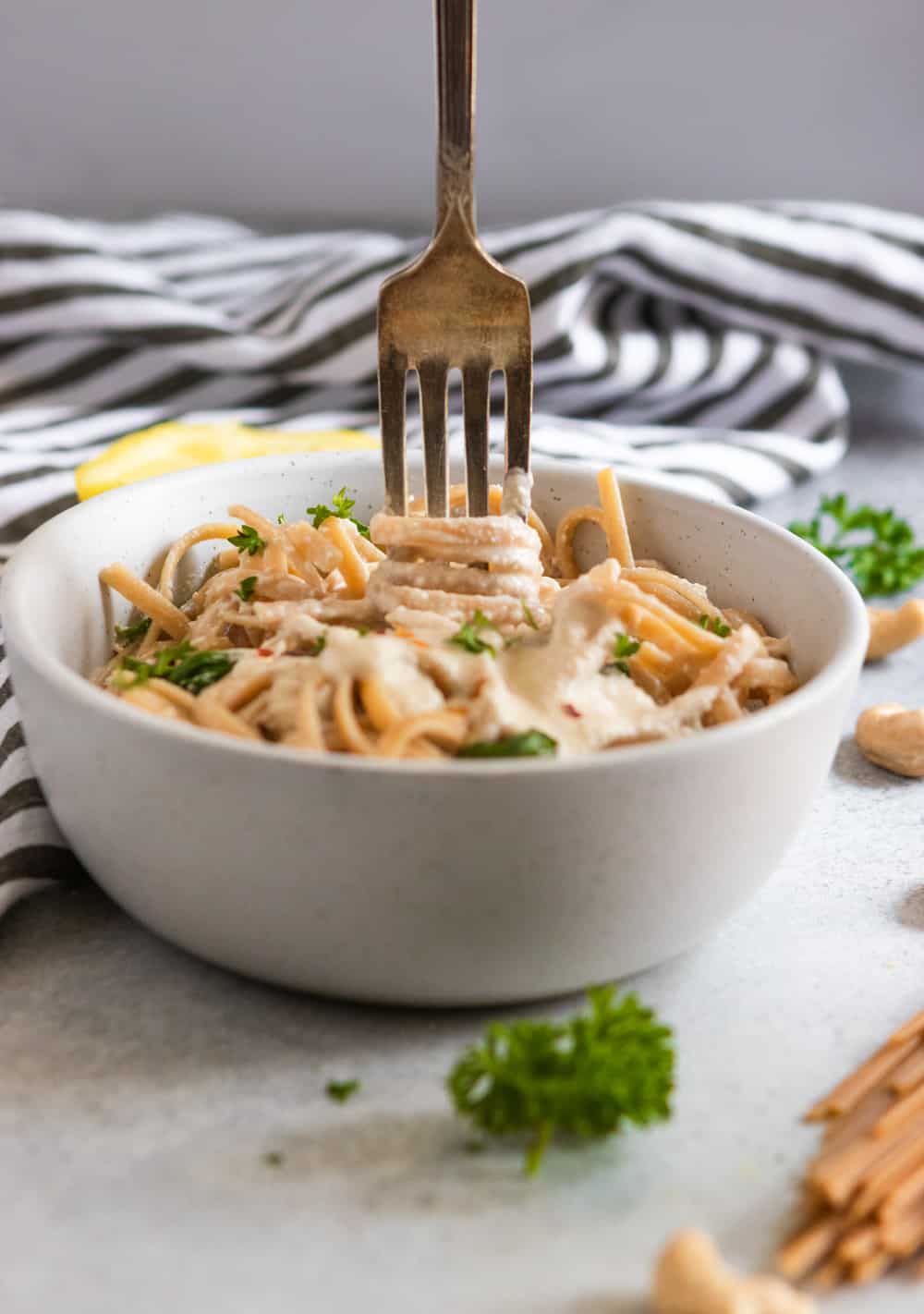 What you Need to make this Lemon Garlic Cashew Cream Sauce:
Cashews: Raw preferably. Soaked for a minimum of 2 hours. If you are super short on time, you can soak them in hot water for about 30 minutes or so and switch out the hot water as it cools. The longer you soak, the smoother and creamier the sauce will be.
Water: Tap, filtered, whatever you prefer.
Garlic: I prefer 2 cloves, but this may be too much for some so you can start with one if you are unsure.
Lemon: I used the juice and zest in this Cashew Cream Sauce to really bring out the lemon.
Crushed Red Pepper: To taste--I add more usually to give it a kick.
Salt and Pepper
That's it! So super simple and most of what you probably already have in the kitchen which is always a big win.
Notes and Pro-Tips for Making this Lemon Garlic Cashew Cream Sauce with Fettuccini:
Even if the sauce comes out super duper creamy, don't be surprised to see some little specks of cashew throughout the sauce was you may note in the photos. They are ultimately undetectable. You could run the sauce through a nut milk bag or blend for a another few minutes, but I have a little guy who freaks out from the blender so I just blend until it looks nice and smooth. The texture is still great!
Don't feel like you have to just use this one fettuccini. Switch up the pasta if you please! I originally had this recipe made with zucchini noodles but I prefer regular pasta and decided to change it to the fettuccini. For a long time I labeled pasta as "bad" food so the zucchini noodles were a piece of that restrictive phase I wanted to let go of.
The cashew cream sauce is a nice base but feel free to play around with some other spices and herbs. Add a bit of fresh basil (which is amaaaaaazing), some parsley or whatever else sounds delicious.
Add some grilled chicken or salmon into the mix if desired and take this dinner up a few notches!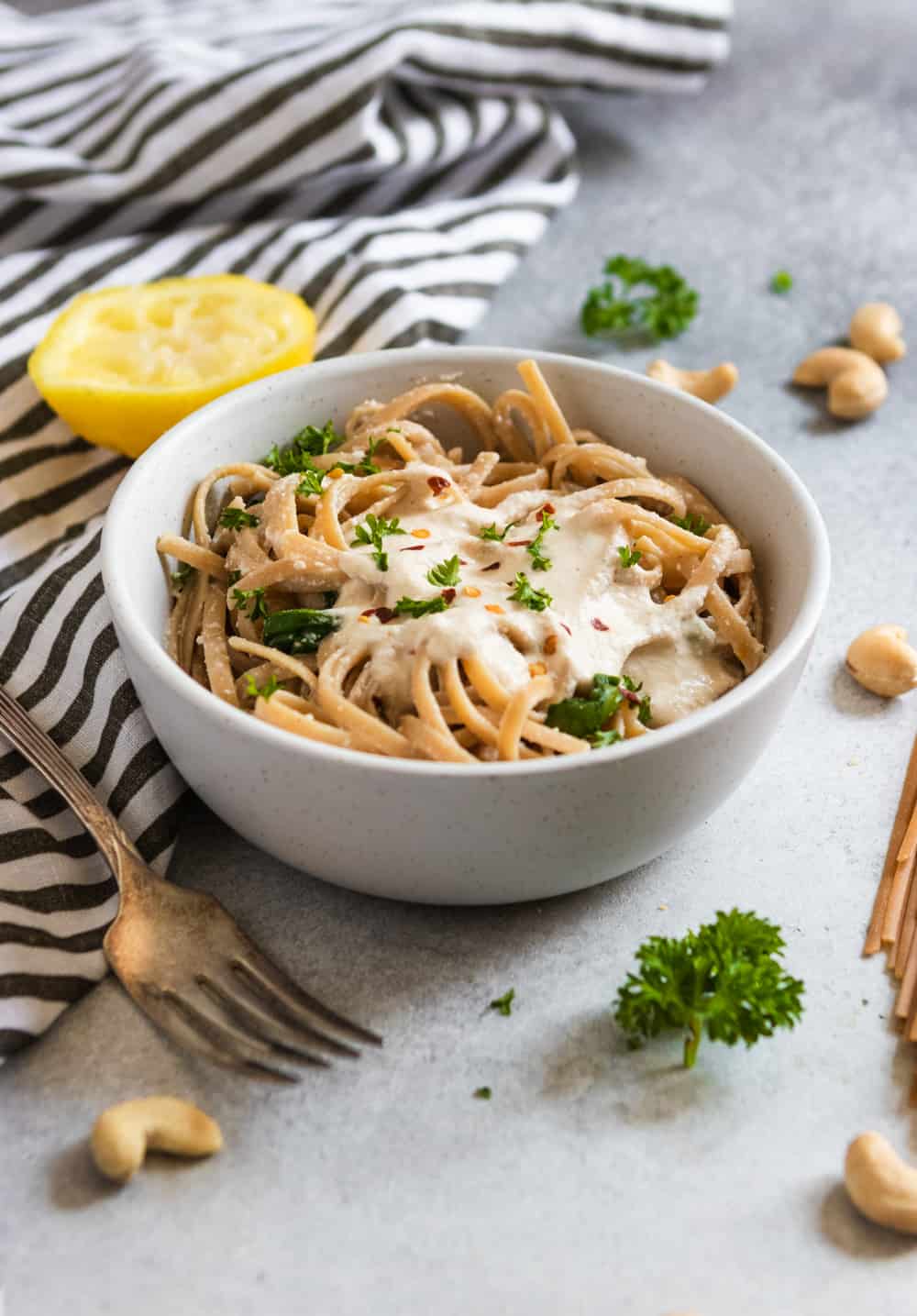 Check out more simple dinner recipes you will love:
DID YOU MAKE ONE OF MY RECIPES? LEAVE A COMMENT AND LET ME KNOW! I ALSO LOVE TO SEE YOUR LEMONS + ZEST RECIPES ON SOCIAL MEDIA–TAG ME @LEMONSANDZEST ON INSTAGRAM OR FACEBOOK!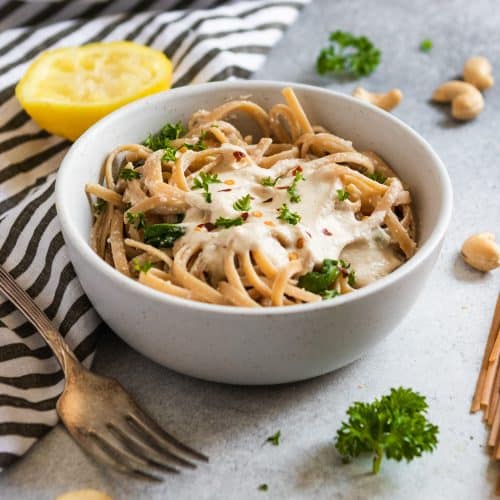 Ingredients
1

cup

raw cashews

Soaked in water for 2-4 hours

⅔ - 1

cup

water

more for thinner sauce

1 -2

garlic cloves

Juice of half lemon

1

teaspoon

lemon zest

¼

teaspoon

crushed red pepper

½

teaspoon

Sea Salt

½

teaspoon

Cracked Pepper

1

cup

baby spinach

8

oz.

fettuccini pasta
Instructions
Cook Pasta according to package instructions.

While pasta boils, combine soaked cashews (drained of water that were soaking in), water, garlic clove, lemon juice, lemon zest, salt and pepper in a high powered blender or food processor.

Process until a smooth creamy sauce, scraping down the sides as needed. Add more water one tablespoon at a time if it seems too thick.

When pasta is cooked, drain and put back into pot. Add in spinach and stir to wilt.

After spinach has wilted, add about half of the cream sauce and turn heat to low.

Stir to coat adding more sauce as desired.

Once sauce is heated, remove from heat and serve.
Notes
Add fresh basil or pine nuts to garnish if desired.
Also, crushed red pepper adds a little kick to this recipe!