Whole Wheat Carrot Cake Waffles will turn your breakfast into a wholesome and delicious meal. Simple and delicious with just the right amount of cinnamon, carrot and more.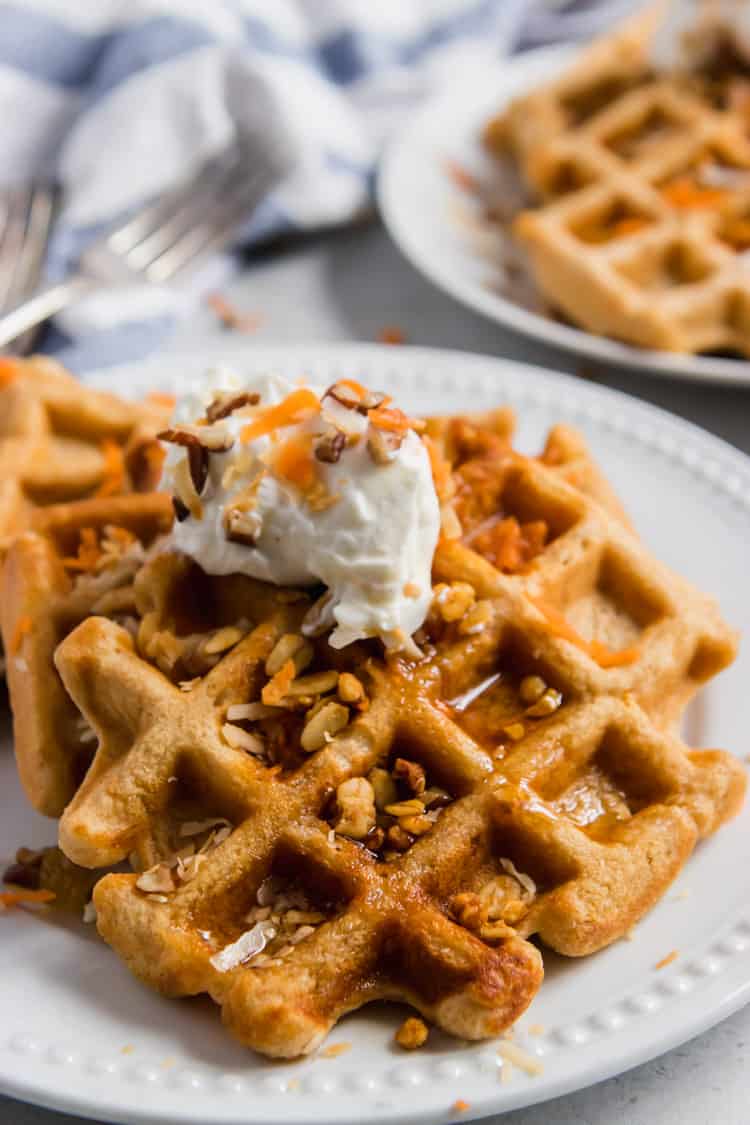 Siiiiiiiggghhh.
I wish I could say what a week. But it's so much more than just a week, month, even year. The last 6 weeks or so have felt more like years on end, and yet they are finally behind us. And thank God for that.
Since we shifted our journey to adoption, there have been MANY times where I have thought that getting shots in my rear end every day were nothing but cake compared to this. The time, sweat and energy that goes into the process of adoption is unreal and I applaud so many that have already gone before us. You have my utmost respect. I can honestly imagine that there would be so many more that would adopt if the process was a bit simpler but I have a feeling the process is a lot like the first year of nursing school or pre-med: it's there to weed out the ones who aren't up to the test.
Well I am so proud to say that we are NOT the ones who were weeded out. No form, no running all over town for this and that, no class full of pregnant couples informing us why breastfeeding is the way to go--NOTHING was gonna get in our way. And this week, we completed the home study. Siiiiigh. We can now breathe a bit more easily.
I have had the fortune of becoming part of a beautiful group of women that I would love to share with you all. I met Liz Shaw of Shaw's Simple Swaps not long ago through the internet of all things! We were connected via a friend of hers and I absolutely cannot to wait to meet her in person one of these days. Liz has had her own struggle along the path to baby and through that built a community for women like me to connect. Her other site, Bumps to Baby is a place for those struggling with infertility to connect and to feel supported. Liz is working to remove the stigma and the silence that surrounds this struggle. And she and I would never have met had I not been so vocal about our own story, so I urge you if you are on your own tough road, please, talk. Speak up. Do not go the road alone. There are so many of us, so many struggling and we do not need to be silent.
So when Liz reached out to feature me on the site as part of her series called Warrior Women Wednesday, I was excited and yet a bit wary at the same time. Me? A warrior? But how?
I am the woman that winces when I hear of yet another pregnancy announcement. I am the woman who goes home and cries when her friends tell her they are expecting. I am the woman who skips the baby shower so I do not have to deal with the unbearable pain. I am the one who stutters when asked if I have children because sometimes it's just too hard to even have that conversation. How in the heck can I be a warrior? Here I am, holding my breath as all the pregnant girls swap stories as I stand to the side, longing, aching, wanting nothing more to be a part of that conversation, and find myself getting so jealous, envious, and even angry. I feel the sting when someone laughs off a, "we weren't even trying" or when it seems someone gets pregnant practically by sneezing. How, why would I ever be considered a warrior??
And then I thought more. I thought that I actually don't want to be a warrior. This is not the road I asked for and I don't want to be applauded as the one who overcomes or the one who takes beating after beating and still gets back up. Nope. I actually want the easy ride. Take this medal back cause this girl doesn't want it. She wants to be the one who sneezes and poof! pregnant. Yep, that's what I want. A real warrior would take the challenge and rise up to it. Not me, I want to curl up and have it all handed to me. I would like to return the route we have been on for a nicely paved, smooth straight and narrow one. Please and thanks.
After much thought, and a lot of time even denying my own warrior ways, I decided that  a real warrior is one that is a fighter and is brave, but is also one that owns her weaknesses, her lowest points and her saddest realities. A real warrior does not make it look easy or without challenge. A warrior shows the rawest and most real pieces of it all, not just the sunshine and rainbows. She has the gold medals but also the scars and the wounds from along the road. A real warrior knows the joy and the pain, the wins and the loss, and tells it all. And so, I finally came to terms. And I decided that I am the warrior--not because I am brave, not because I am a fighters--none of that. I am a warrior because I do not hide, I reveal the lowest of lows, the rawest of raw, each and every bit of it--not for the glory of it, nope. But so that maybe, just maybe, my own story, my own journey will help another along their own journey. And THAT is the only warrior I ever want to be.
Thank you so much Liz Shaw. Thank you for bringing out the true warrior in me.
More from my feature on Bumps to Baby, click here.
_____________________________________________________________________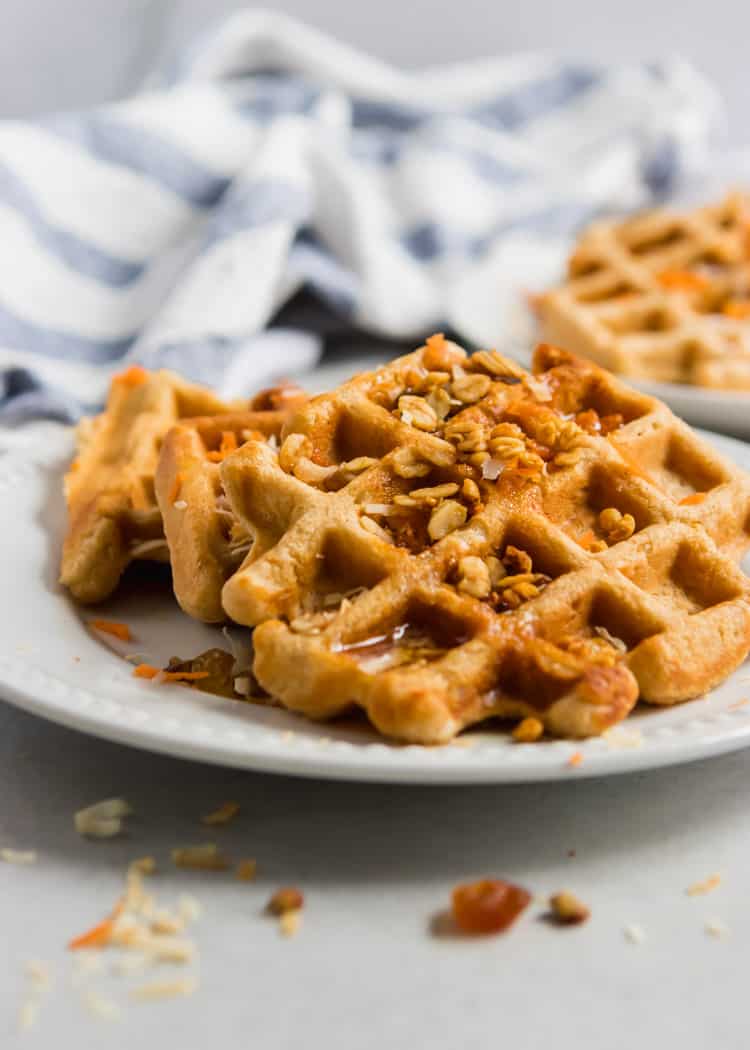 Okay, as for the food for the body today, I will be brief--you have plenty of food for the soul today!
My original plan was to share with you new Lemon Poppyseed Pancakes, but I have to put those off a bit. This weekend is Easter so obviously carrot cake is what you need! And these Whole Wheat Carrot Cake Waffles could be a great addition to your Easter brunch. Shredded carrots, coconut, juicy golden raisins and a hint of cinnamon--need I say more? Even the Easter bunny will be glad you made them!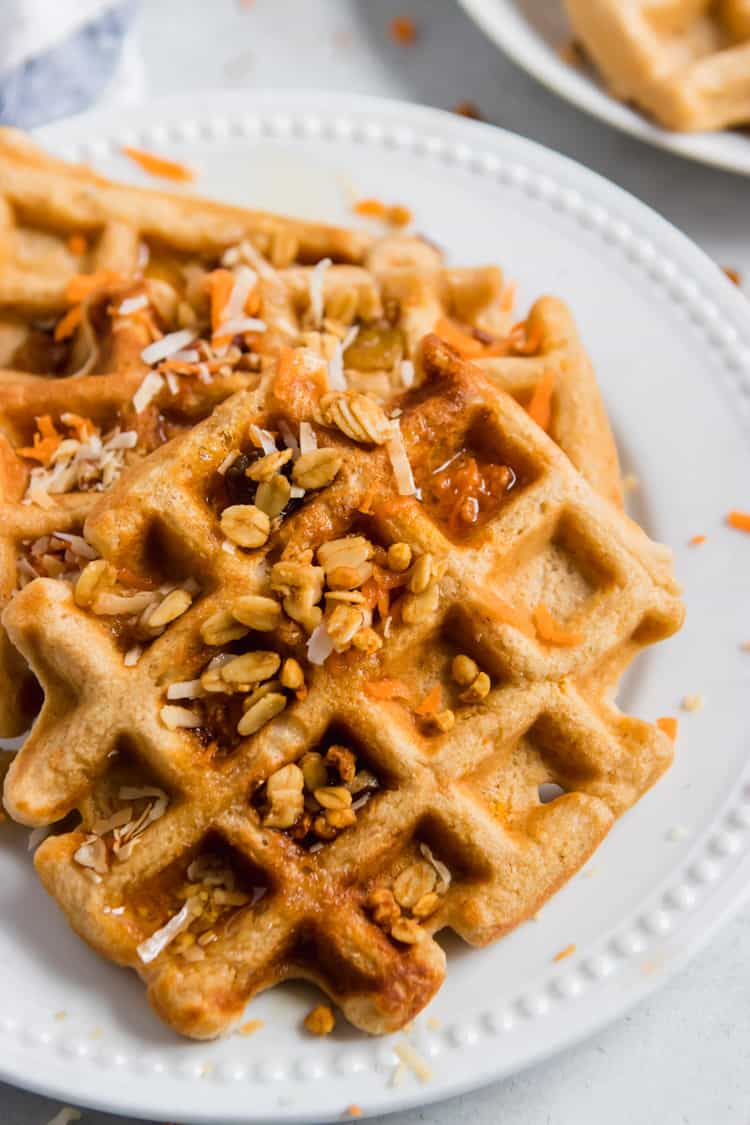 Instructions
Preheat waffle iron.

Whisk together eggs, milk, vanilla and coconut oil.

Combine dry ingredients and mix well.

Slowly add in dry ingredients into wet and stir.

Add in carrot, coconut, pecans, and raisins and stir.

Pour batter over waffle iron based on measurements for your waffle iron.

Cook based on waffle iron timeline or until golden brown.

Serve immediately with extra pecans, coconut and raisins if desired.