This post may contain affiliate links.
Sweet strawberries, a touch of cream and hearty oats make for a perfect breakfast on the go! This Strawberry Shortcake Overnight Oats recipe is a simple and delicious breakfast recipe. Prep them the night before and breakfast is ready when you are!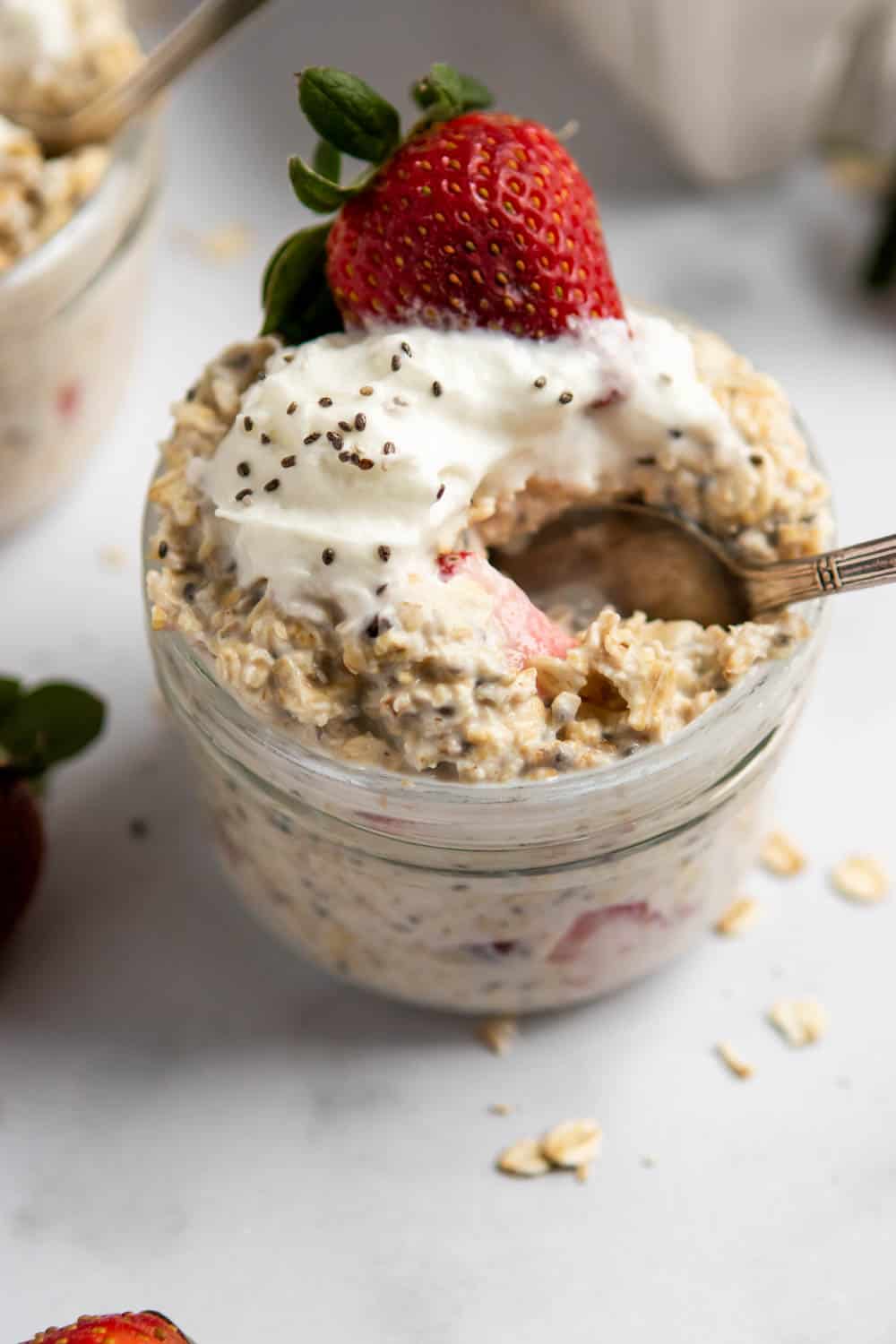 Strawberry Shortcake for breakfast? Why, yes, please!
Well okay, let's be honest, the name of this recipe is a little misleading. No, I did not technically figure out a way to morph strawberry shortcake into a bowl of oats, but I wouldn't say it's entirely off. There is a sweet and even creamy strawberry flavor to these oats that has a slight resemblance to strawberry shortcake.
But let's be real, if it sounds too good to be true, it probably is.
The only real thing missing in these strawberry shortcake overnight oats though is chunks of a light and fluffy cake so if you are feeling crazy, then have at it! Well and whipped cream as well!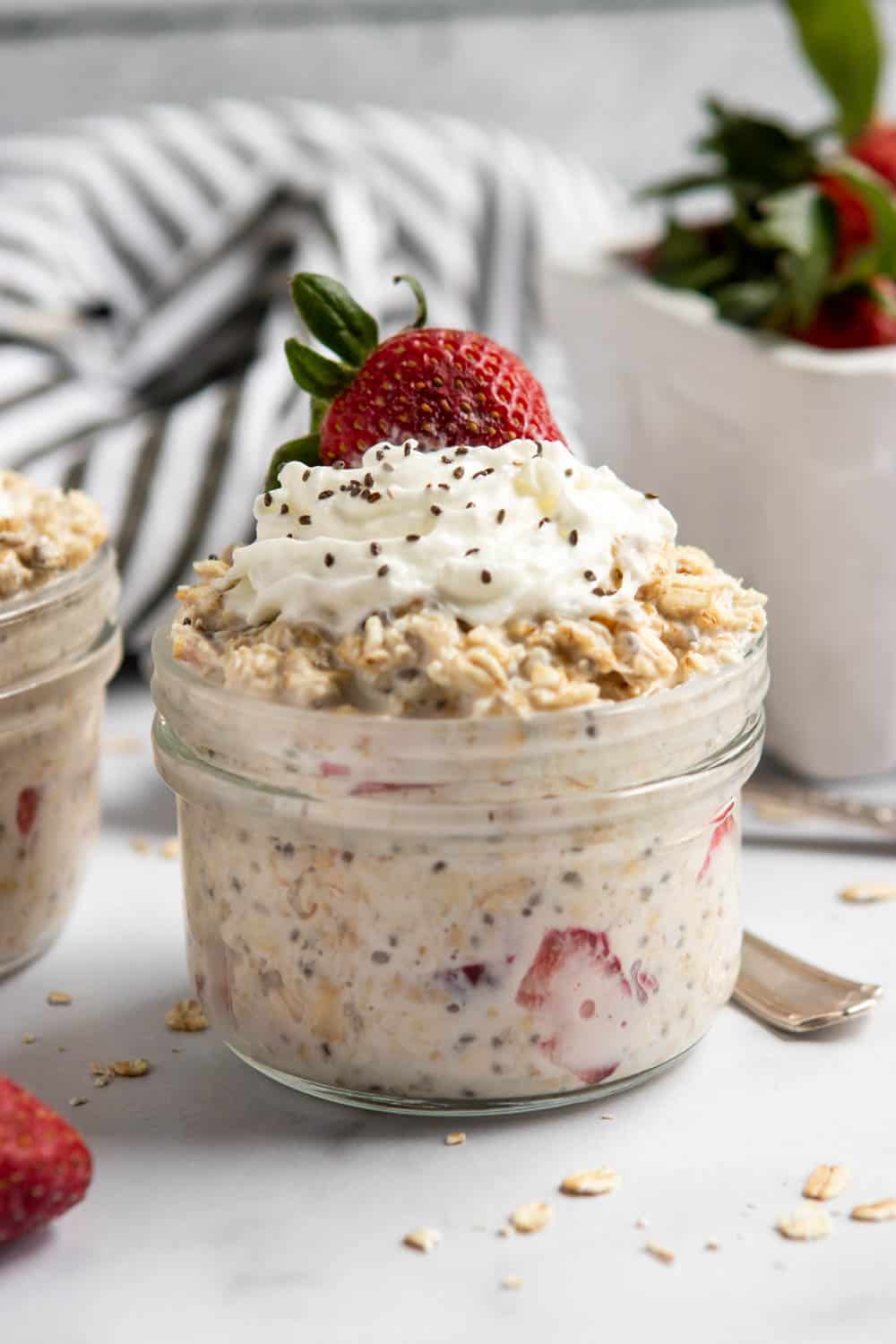 The part of this recipe that seals the deal to this is mashing the strawberries with a touch of maple before adding them into the oats. Sure, you could just slice up strawberries for these Strawberry Shortcake Overnight Oats and toss them in, but this simple step is what I think makes this more like the gelled strawberries in the popular desert.
I also am a big fan of cashew butter and adding this into the overnight oats adds a thickness and richness to the flavor. I am getting hungry now as I type this!
Breakfast on the go is typically what happens in our house. So having pre-made jars of overnight oats in the fridge ready in the morning makes life so much easier!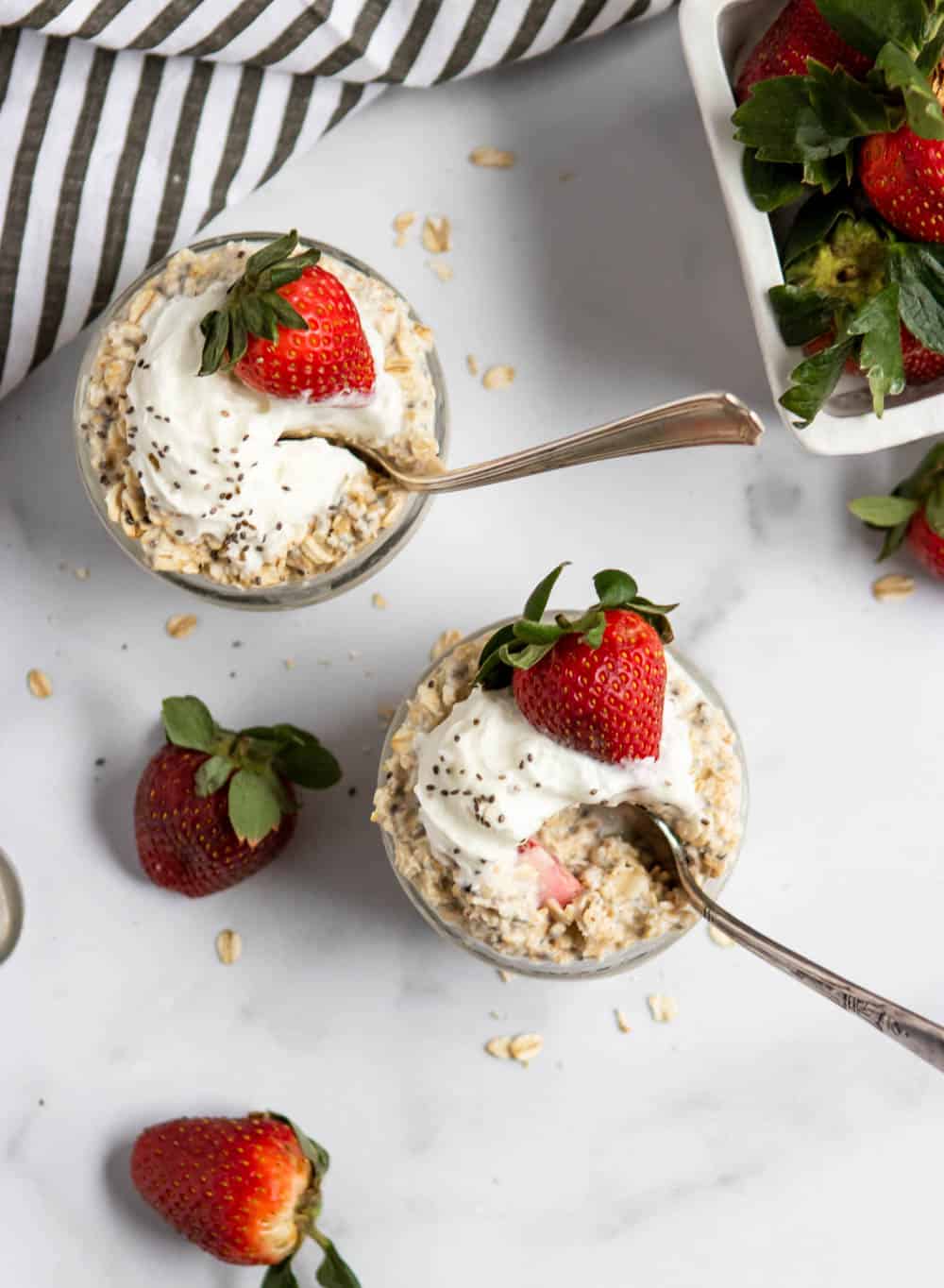 Things to know about this Strawberry Shortcake Overnight Oats recipe:
The cream in this recipe is totally optional, but just a touch of it turns your basic breakfast to WOW. It is so creamy and delicious with just a little.
Cashew butter--it's not the cheapest nut butter out there, I know. I get it pretty nicely priced at Aldi here and there, but everywhere else I feel like it is almost ten dollars for a jar and that isn't cool. To be honest, sometimes I add it to this recipe, and sometimes I don't I find that it thickens up the oats and adds a rich nutty flavor, but if you don't have any, don't stress.
Need this gluten free? Use gluten free oats. Do you need to skip the dairy? Almond milk or any other plant milk will work just fine.

SOME THINGS TO KNOW ABOUT OVERNIGHT OATS IN GENERAL
I have learned a few things since I have pretty much been making overnight oats on repeat since I first got hooked. Thought I would answer a few questions while I have you here–I am sure the drool-worthy oats are really what you are here for but stick around, you may learn a thing or two!
HOW LONG DO OVERNIGHT OATS LAST?
I typically make 3 or so day's worth at a time. 3-5 days is the range that they will last and certain ingredients in different flavors impact this. Overnight Oats with mashed banana that I make are typically not good after 2 or 3 days due to the mashed banana but this peanut butter overnight oats recipe is good a few days longer. Just keep fruit out of your oats until serving and that should typically help.
WHAT KIND OF OATS DO YOU USE IN OVERNIGHT OATS?
I prefer rolled oats in mine–I find that they soak up the milk perfectly and are nice and soft after sitting overnight. I have seen others suggest steel cut oats for their overnight oats recipe but that is NOT for me. They are too hard and chewy for me. I have found that steel cut oats are best for me in the Instant Pot--check out these Banana Bread Instant Pot Steel Cut Oats!
DO YOU HAVE TO MAKE OVERNIGHT OATS IN A JAR?
When the overnight oats trend hit, it was all the rage to scoop your breakfast out of a ball jar. Heck, I still do. But don't go out and buy cute little jars just yet. If you have a bowl that you can seal, then you are in perfect shape. Don't feel like you have to buy anything extra to make your oatmeal in, bowls can be great as well. I have seen lots of people use the end of a peanut butter jar–that's always a great idea in my opinion!
CAN YOU WARM OVERNIGHT OATS?
Yes, Yes, Yes! I have had readers comment or reach out saying they don't want to eat cold oats. No one says you have to–promise! Pop them in the microwave in the morning and you are all set! Love them chilled? Great, you just get to eat them about a minute sooner!
Check out these other amazing overnight oats recipes if you love these strawberry shortcake overnight oats:
DID YOU MAKE ONE OF MY RECIPES? LEAVE A COMMENT AND LET ME KNOW! I ALSO LOVE TO SEE YOUR LEMONS + ZEST RECIPES ON SOCIAL MEDIA–TAG ME @LEMONSANDZEST ON INSTAGRAM OR FACEBOOK!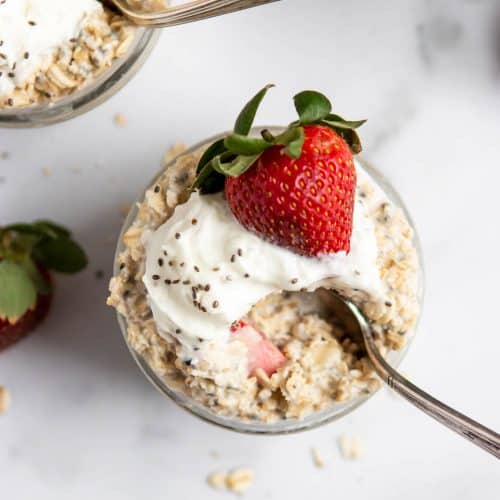 Instructions
In a small bowl, mash strawberries along with 1 teaspoon pure maple syrup, until jam like.

In a jar or bowl that can be sealed, combine all ingredients and stir well to combine.

Cover and allow to chill overnight.

Enjoy hot by warming in the microwave for 1 ½-2 minutes or eat chilled!