This post may contain affiliate links.
No eggs? No problem! This Easy Vegan French Toast cooks up in a mug in just two minutes! Even if you are short on time, you can still enjoy this delicious and simple cinnamon French Toast recipe!
So here is the deal, some recipes come to be based on experimentation and others grow from little ideas. But some recipes come by accident, and quite honestly they tend to be some of the best.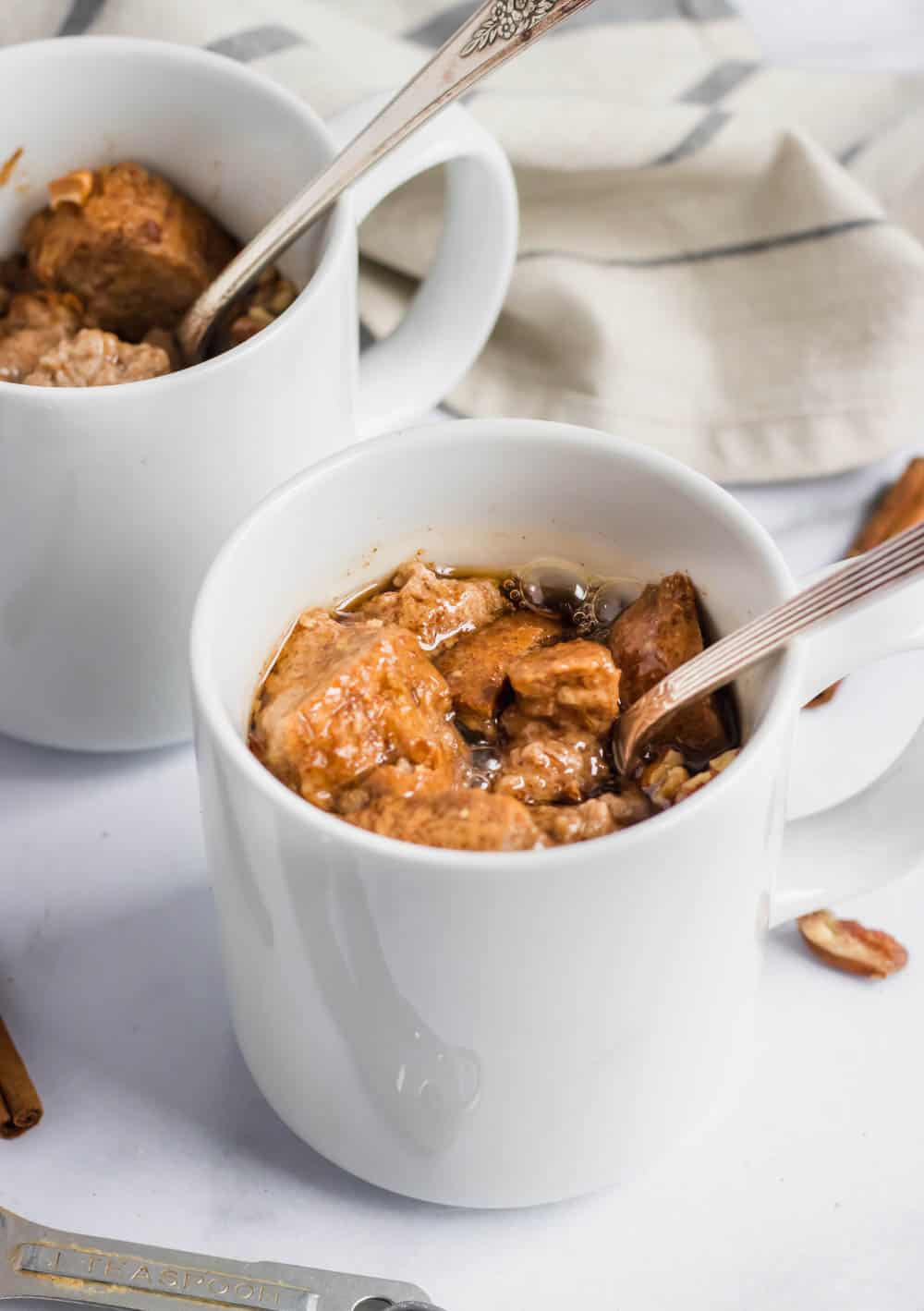 So there I was a few weeks ago, hungry for breakfast. And I wanted French Toast.
I opened the fridge and of all things, I was fresh out of eggs. What?! How can I make French Toast without eggs?! And that day I learned a beautiful thing. You can. You can have French Toast still if you are out of eggs. And so that means, those with egg allergies or those who are vegan can also enjoy this Easy Vegan French Toast!
If you can believe it, the story gets even better. Not only can you make French Toast without the eggs, you can also have it hot and ready in just a few minutes or so. Mind blown yet? I saw a video on Facebook where a man whipped some eggs, milk, sugar, and vanilla and then cut up buttered bread, mixed it together and then popped it in the microwave. The result? Well he was certainly excited by it so I was eager to try.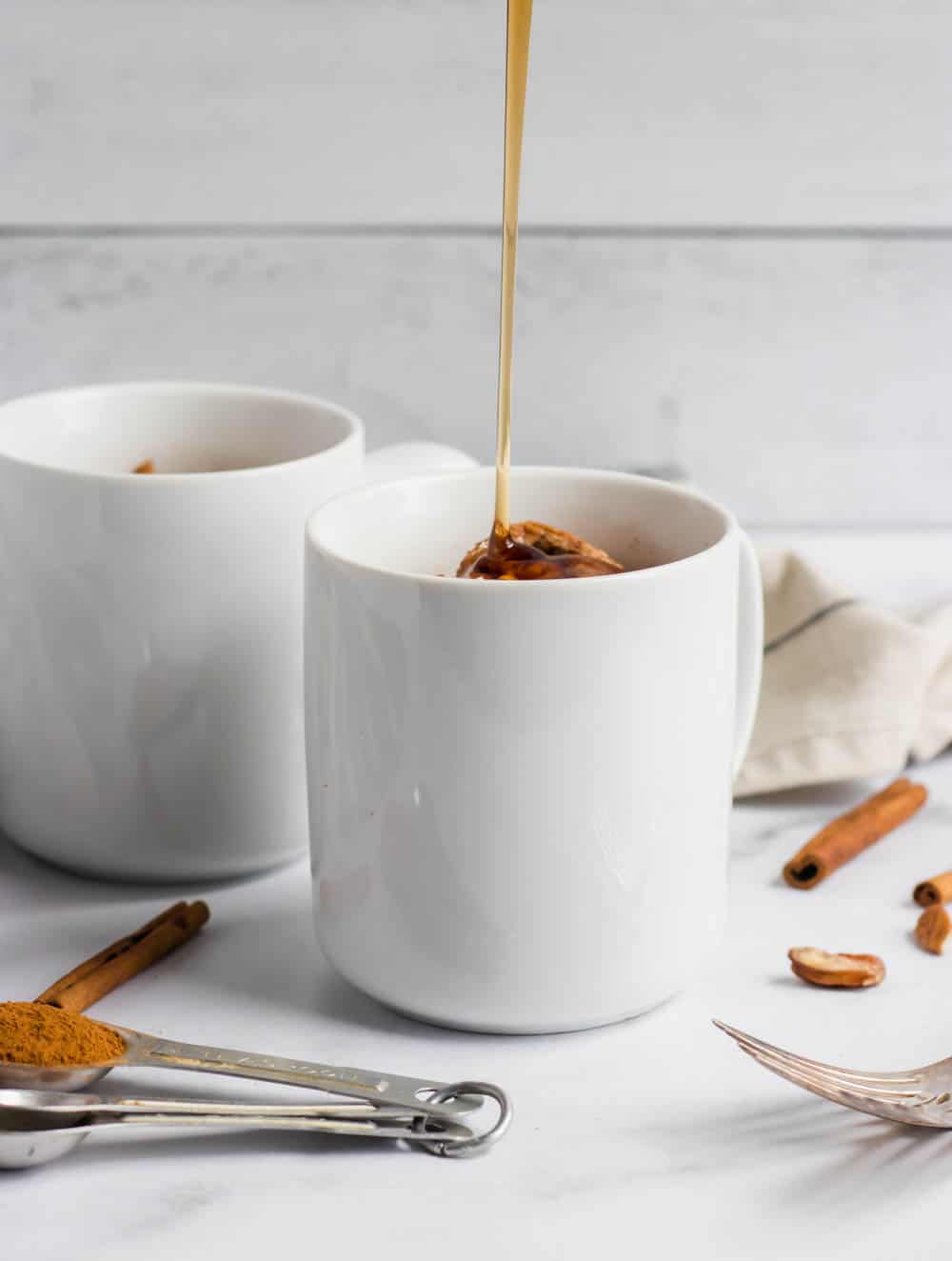 So that morning, I set to my task. I whisked together ingredients I thought would make a nice and easy vegan French Toast. And I was quite happy with the results!
Avoiding gluten? You can really use whatever bread you choose. If you prefer to use egg but really want the two minute recipe, leave out the flax and add one egg. You may want to lessen the milk just a tad if you do the egg instead of flax.
Regardless of how you make this, it's quick, easy and really hits the spot on those days you go to the fridge and find you are out off eggs!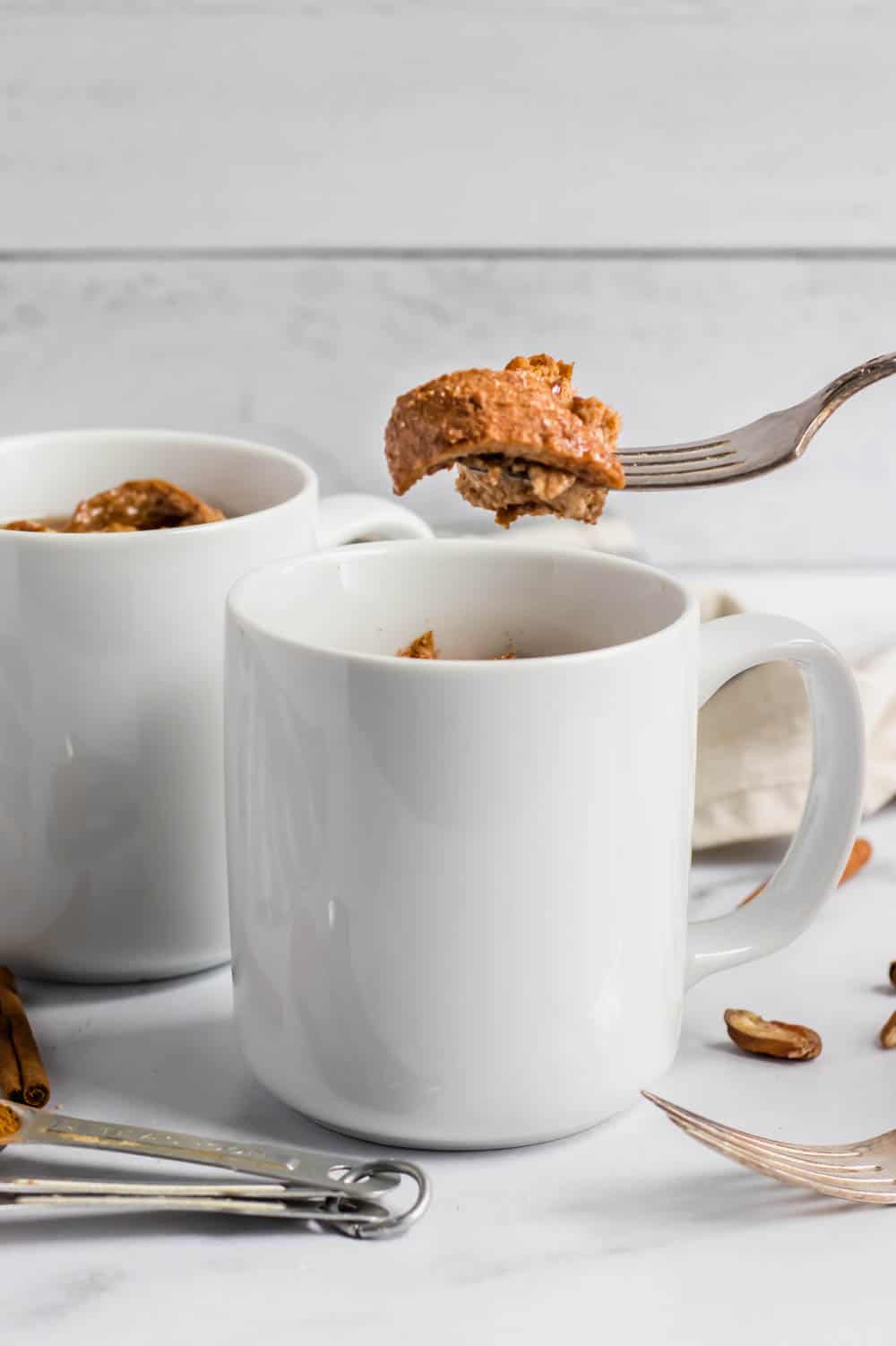 I am a huge fan of crusted French Toasts, are you? Wait, not sure what that means? Well you coat the crust of the bread with some sort of crunchy goodness and it cooks up extra, if you know what I mean. Try these versions orrrr you can go with some of my baked French Toast recipes:
DID YOU MAKE ONE OF MY RECIPES? LEAVE A COMMENT AND LET ME KNOW! I ALSO LOVE TO SEE YOUR LEMONS + ZEST RECIPES ON SOCIAL MEDIA–TAG ME @LEMONSANDZEST ON INSTAGRAM OR FACEBOOK!
Ingredients
3

pieces

bread of choice

⅔

c

unsweetened almond milk

or milk of choice

1

tsp

cinnamon

1

tsp

vanilla extract

1

T

ground flax meal

heaping

2

tsp

pure maple syrup

more for garnish if desired

Dash of sea salt
Instructions
In a bowl, whisk all ingredients aside from the bread well.

Chill for about 10-15 minutes to thicken and set.

Meanwhile, slice bread into one inch bite sized pieces.

Using two small microwave safe mugs, divide the bread evenly into each. (you could also just use one bowl instead)

Pour half the chilled mixture over each mug of bread and gently stir to coat all of the bread pieces.

Place in microwave and heat for approximately 1 minute and 30 seconds. (microwaves will vary some will need more and some will need less time.)

The bread will be fluffy and warm when ready, it may rise slightly as well.

Allow to cool for about 30 seconds before removing from microwave and then drizzle with maple syrup and maybe even some berries and enjoy!