I feel like fall is just now here, a month late of course. Sure the food has been in full swing but the weather is finally coming through for us as well. There is nothing like a crisp cool day with the sun shining while the leaves are painted reds, oranges and yellows. What is not to love? I am sure the fact that I was born in this perfect season adds to my love for it. It's. Just. Perfect.
Just last year, I became obsessed with butternut squash. However, I did not become obsessed with the amount of time and effort it takes to cube it. Whew, not the most fun at all. But I have decided it is so well worth it. Halving the squash and roasting it as such is much easier, but cutting it into one inch cubes and roasting it with an array of other ingredients is truly where it's at. So if you are up to spending a handful of extra minutes, do it.
Whole Foods had a similar butternut squash recipe last year that was amazing. The price? Not so amazing. You could make 10x the amount on your own for the price of of one serving. Don't get me wrong, the cost of convenience sometimes is just worth it, and this recipe was worth it!
This Cranberry Almond Roasted Butternut Squash is my own celebration of fall. It's here, and I hope it sticks around for a long time. The toughest part is cutting up the squash but everything else is a breeze. I know you can buy pre-cut frozen butternut squash at some groceries but trust me, it's not the same.
This is the perfect fall side and looking forward to Thanksgiving, I am sure it will a great addition to the spread. You can use fresh or dried cranberries for this recipe. I prefer the fresh cranberries but they are not always available. If you use dried cranberries, aim for the cranberries sweetened with apple juice versus sugar. Enjoy!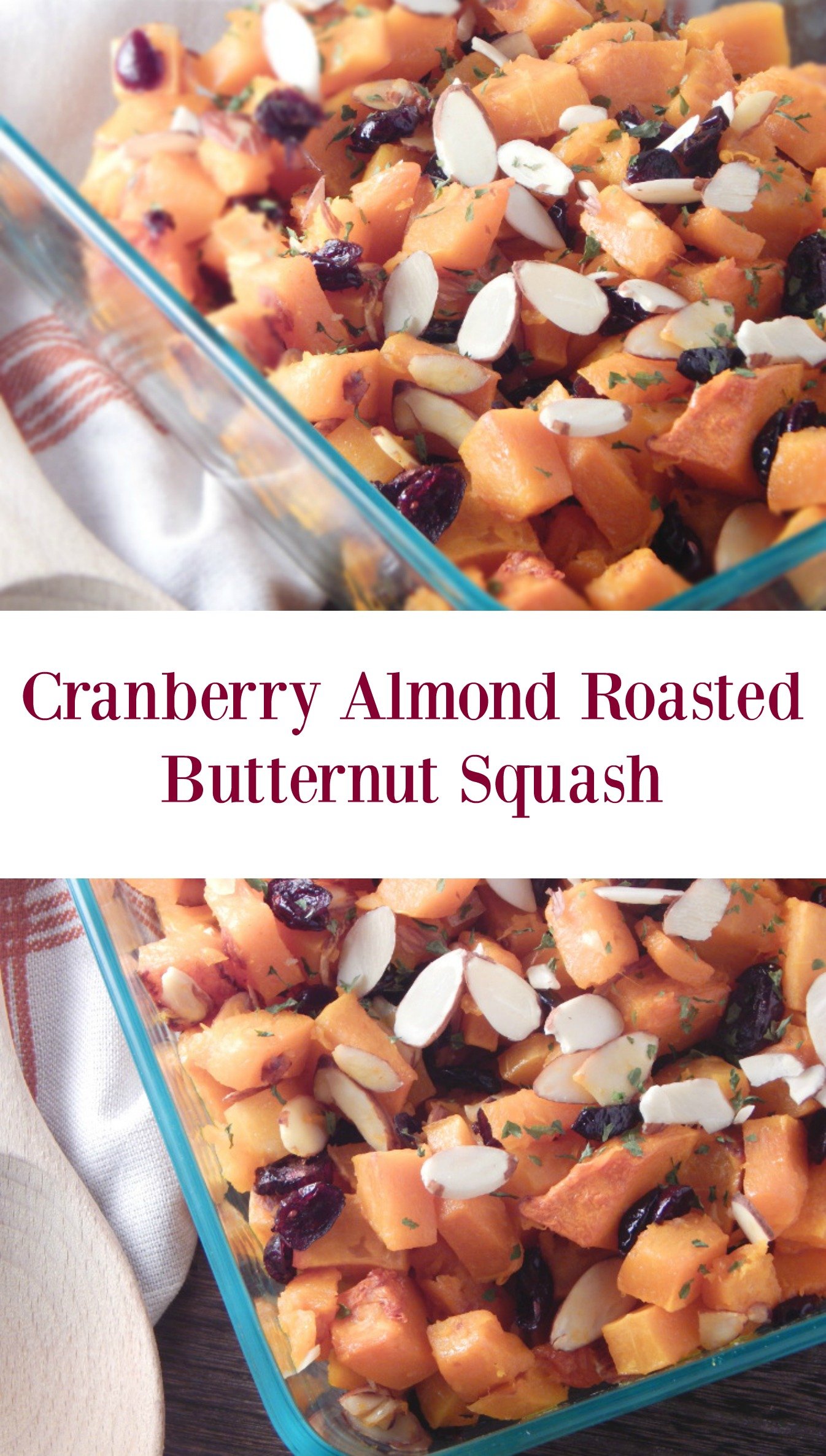 Ingredients
1

large butternut squash

skinned and cut into one inch pieces

1

T

olive oil

1

T

pure maple syrup

1

cup

fresh cranberries or ½ cup dried cranberries

½

cup

slivered almonds

½-1

garlic clove minced

Sea salt to taste

Parsley for garnish
Instructions
Preheat oven to 400°F.

In a bowl, toss cubed squash with maple syrup, olive oil and garlic.

Spread squash evenly in a single layer on a baking pan lined with parchment paper.

Bake for about 30 minutes or until a soft golden brown.*

*When there is about 10-15 minutes left, add fresh cranberries on top of the squash. Return to oven and bake until the cranberries have soften and "bursted" a bit. If using dried cranberries, add these when adding the almonds.

*In the last 5 minutes, add the almonds and allow to toast for the last several minutes.

Remove from oven and allow to cool for a few minutes before serving.

Sprinkle with dried parsley for garnish.