This post may contain affiliate links.
This post has been sponsored by Brown-Forman on behalf of Korbel California Champagne. All thoughts and opinions are my own.
Love hosting during the holidays? Want to be the host with the MOST? (To be fair, don't we all?)
You are going to LOVE treating your guests to this simple Blood Orange Champagne Sangria recipe thanks to Korbel California Champagne!
When it comes to having guests over the holidays, we often make it a lot more stressful than it needs to be (or at least I always do). We put so much pressure on ourselves and focus so much on how everything looks that we often forget the most important part of bringing our special people together.
Making memories over the holidays is all about:
great company
great conversation
great food and drink
Did any part of that list mention the pillows being fluffed? No, it didn't. The living room being spotless? Nope! Decor set up ever so perfectly? Again, NO!
The cleanliness of everything is so often what we bend over backwards about when guests arrive, but it is so often the least important piece. Do I need to say it again? Stop sweating the stuff that doesn't matter, ok?
Now that we have gotten that out of the way, let's talk all about the fun stuff: what to eat and drink. Especially the drink of the hour—this extra bubbly sangria thanks to Korbel.
Where does everyone tend to congregate when it comes to holiday festivities? Wherever the food and drink is located! So, first thing is first: make sure you are stocked with plenty of goodies. HOWEVER, there is no need to spend any extra time on all of the goodies.
This Blood Orange Champagne Sangria takes less than 10 minutes to whip up—I think you can handle that! Drinks? Covered!
As for some simple snacks to whip up for your guests? Here are some of my favorites:
Caprese Skewers: take some mozzarella balls, cherry tomatoes and basil, thread them on a toothpick or small skewer, and drizzle a touch of olive oil and balsamic glaze. So simple but the best!
Crackers and Dip: Who can ever resist?! Take a block of cream cheese and top it with some preserves. All set.
Crostini: One of my favorites includes brie with a dollop of cranberry sauce or even some fig jam.
Memories are made wherever the food and drink is located. Be a great host by having a few essentials in the cupboard to pull out and your guests will stick around and make the most magical moments.
To be safe, keep a nice, bubbly, fresh bottle of Korbel for those moments when you get a surprise group of guests. We love having it for more than just a New Year's Eve toast. A Brut is always our first choice—a crisp medium-dry is the way to go!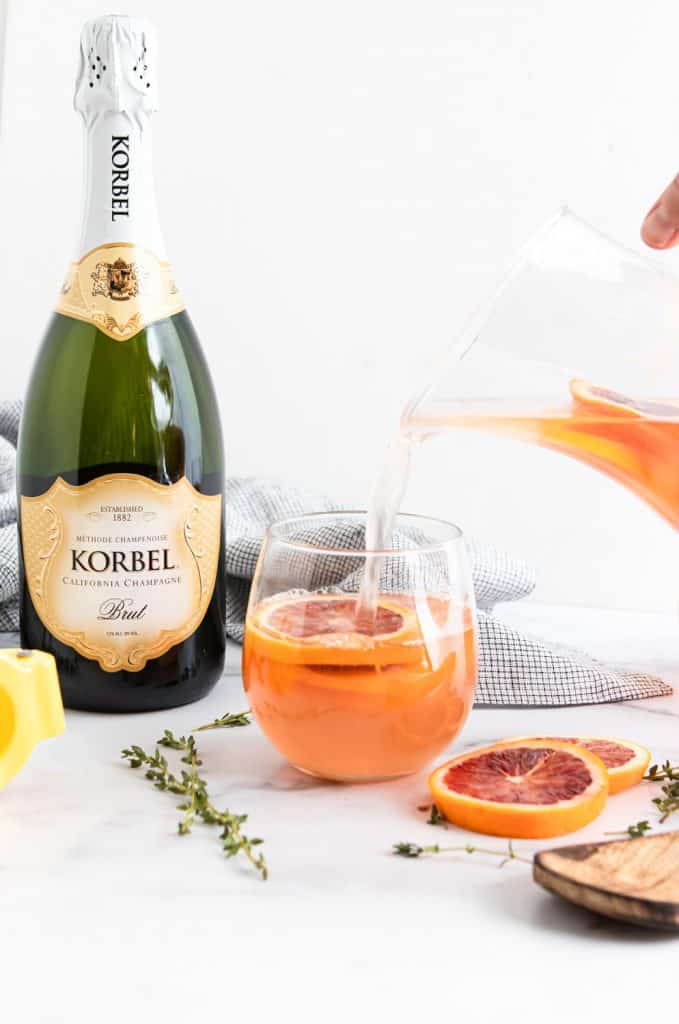 And now for the Blood Orange Champagne Sangria!
Citrus season comes into full effect around the holidays, and blood oranges always add some extra flair to cocktails and mocktails alike. They look like an orange on the outside but they have all the pizazz on the inside.
If you haven't had a blood orange before, you are in for a treat with this simple cocktail recipe.
What exactly is a blood orange?
A blood orange looks a lot like a regular orange but on the inside, they are something else entirely. The oranges almost look stained with dark crimsons and reds—some darker than others.
The flavor can be a touch sweeter than other oranges, and it's said that they have a hint of raspberry flavor. That is my kind of fruit!
What you need to make this blood orange sangria:
Korbel Brut
Blood Oranges
Lemon
Sugar
Orange Liqueur
Seltzer Water
How to make this sangria recipe:
It seriously is as easy as one, two, three—doesn't get much easier!
Juice ½ of the blood oranges and slice the rest along with the lemon.
Pop open a bottle of Korbel and stir it in with all the other ingredients.
Chill until ready to serve!
I add a sprig or two of thyme to make the cocktails a little more fun, but that's about all it takes for this festive and gorgeous drink to be ready for the party.
A couple things to note any time you may be hosting friends and family that are so important to me:
make sure you have non-alcoholic options as well. We love to keep plenty of flavored seltzer, lemons, and limes around just for that. Warm cider in the crock pot is also a great, comforting option.
Ensure that everyone has a safe ride home. You want everyone to have a great time, but a great host also makes certain that everyone will get home safe and sound.
Looks like you are all set for this bright and festive season! Whether you are hosting a big party or just a couple of old friends, don't worry so much about how everything looks. Make sure you have a few great things to eat and drink and start making all the memories!
Check out these other fun cocktails:
TROPICAL BERRY SANGRIA
GINGER ORANGE PUNCH WITH MUDDLED RASPBERRIES
Blood Orange Champagne Sangria
Get festive with a bubbly Blood Orange Champagne Sangria! A simple and delicious cocktail with fresh blood oranges, orange liqueur, a touch of seltzer and Korbel Brut!
Print
Pin
Rate
Ingredients
1

bottle Korbel Brut

8

blood oranges (4 juiced, 4 sliced)

1

lemon

⅔

c

orange liqueur

2

c

seltzer water

2

T

sugar
Instructions
Juice half of the blood oranges and slice the others into ¼ inch rounds. Slice the lemon as well.

Place oranges and lemons in the bottom of a large pitcher. Pour in orange juice, liqueur, sugar and seltzer and stir to combine.

Pour Korbel Brut into the pitcher and gently stir to combine. Chill for about 1-2 hours before serving. Garnish with fresh sprigs of thyme if desired.
Buy the ingredients at Walmart, Albertsons, Safeway or Jewel-Osco here:
Find Korbel at Total Wine & More or Target here:
Looking for more hosting inspiration? Check it out here!
Please Drink Responsibly.
California Champagne F Korbel & Bros ,Guerneville CA. Korbel is a registered trademark (c) 2019 All rights reserved. Intended for readers 21+. Please do not forward or share this content to anyone under the legal drinking age.