This is a sponsored post written by me on behalf of Bob Evans Restaurants. All opinions are 100% mine.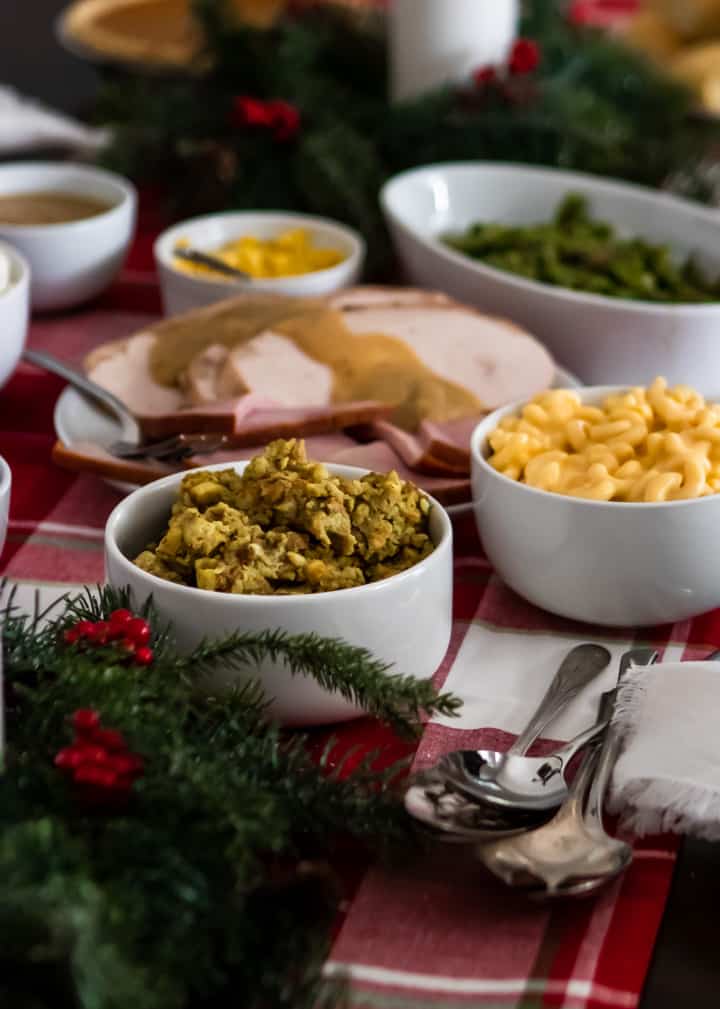 No recipe today--unless you are interested in the recipe for the easiest holiday dinner to enjoy this season! That I have for you!
You all know that I am very selective about brands I partner with on the blog. My partnership with Bob Evans today could not be a more natural fit because, guess what?!
This food blogger doesn't prepare a single thing for Thanksgiving with my husband's family! We literally let Bob Evans do the work, and have been doing so for the past several years.
Our first Thanksgiving as a family of 3 was on the quiet side. Sam, Anthony and I stayed in and relaxed and savored every moment. We were so grateful, so very grateful.
Anthony's parents showed up with carryout from Bob Evans, one of their favorites. Dinner was served, and we didn't have to do a thing.
We typically do our Thanksgiving meal with my husband's family the week before or the week after Thanksgiving. It's quiet and relaxing. We don't have to run all over on Thanksgiving Day then so the kickoff to the holiday season is always so nice for all of us.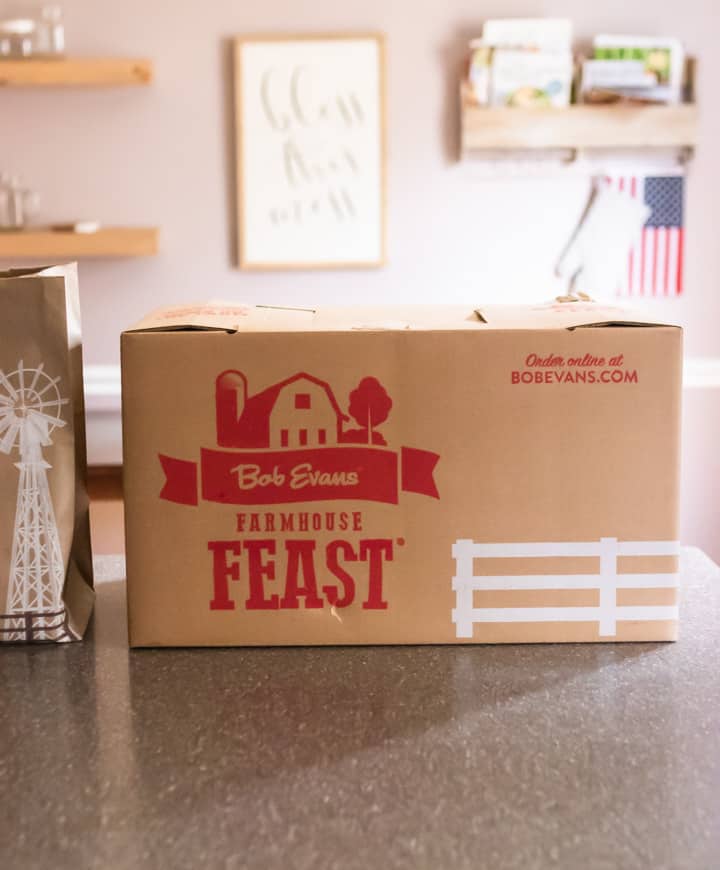 This Year, we had a feast!
A Farmhouse Feast, that is! When I found out Bob Evans was doing their own heat and serve meal for the holiday season, I was excited to take our typical carryout dinner up a notch.
I rang my mother in law and told her that WE were taking care of the dinner this year. And not to worry because it would still be her very favorite! No carryout this year, we were going to enjoy a full dinner, and all we had to do was pop it in the oven!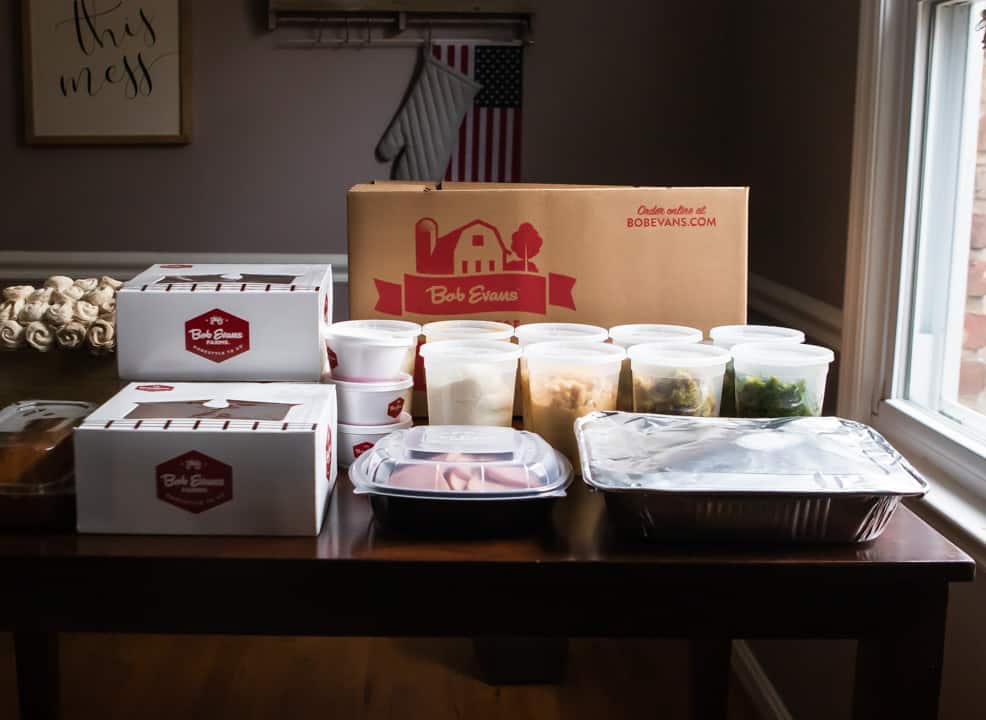 With a toddler in the house, making an entire Thanksgiving meal would just not allow us to truly enjoy our time together. The number of circles Sam runs around the house makes cooking a tough task. I do it everyday for the blog--so I want a holiday to be what it truly is meant to be: a time to be together. And that is what our holiday was this year!
It was a holiday made simple with Farmhouse Feast. And for that, I was so grateful.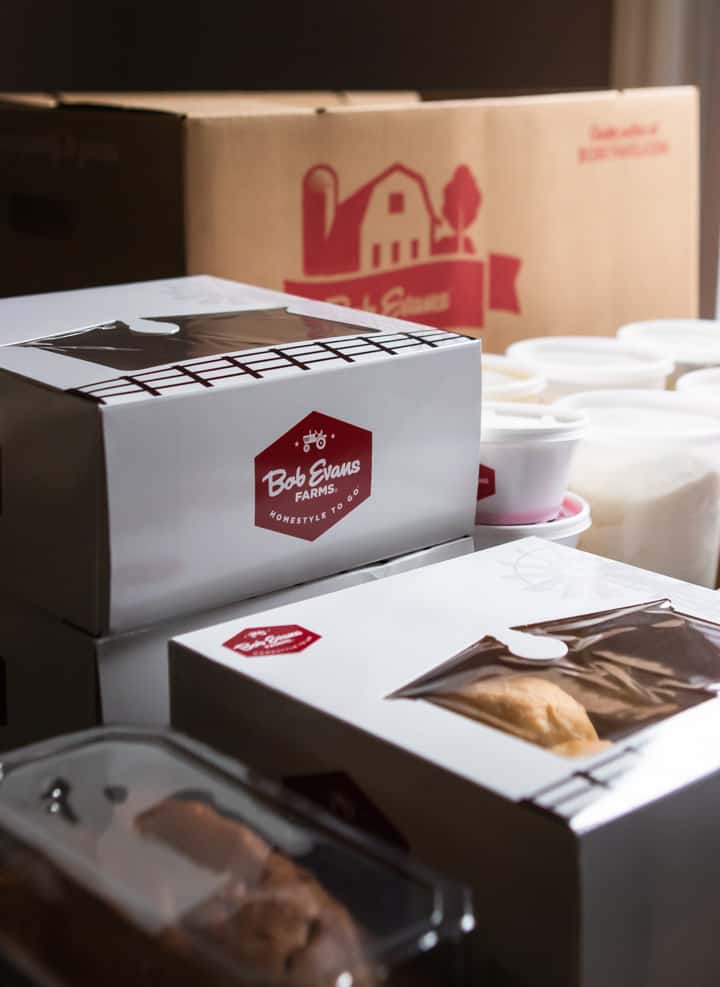 So who is hungry? I know I am.

I know you are thinking, Lorie, Thanksgiving is over! What do we do now? There are still so many occasions to enjoy a nice Farmhouse Feast with your favorite people:

1. A late Friendsgiving
2. Christmas dinner
3. Holiday luncheon with coworkers
4. A cozy New Year's Eve with family
5. New Year's Day dinner

And so many more. I am sure you can think of other ideas as well!

So now let's talk about what you really want to know about: the food!

First off, we ordered the Premium Farmhouse Feast. It serves 8-10 people for $124.99 and comes with the following:
Slow Roasted Turkey
Hickory-Smoked Ham
Bread and Celery Dressing
Sweet Buttered Corn
Mashed Potatoes
Gravy
Green Beans with Ham
Macaroni and Cheese (Sam's favorite!)
Cranberry Relish
Rolls
Pumpkin Pie and Whipped Cream
Double-Crust Apple Pie
All of this comes packed up in a large box and if you live in an area with delivery like we do, it can be delivered straight to your house.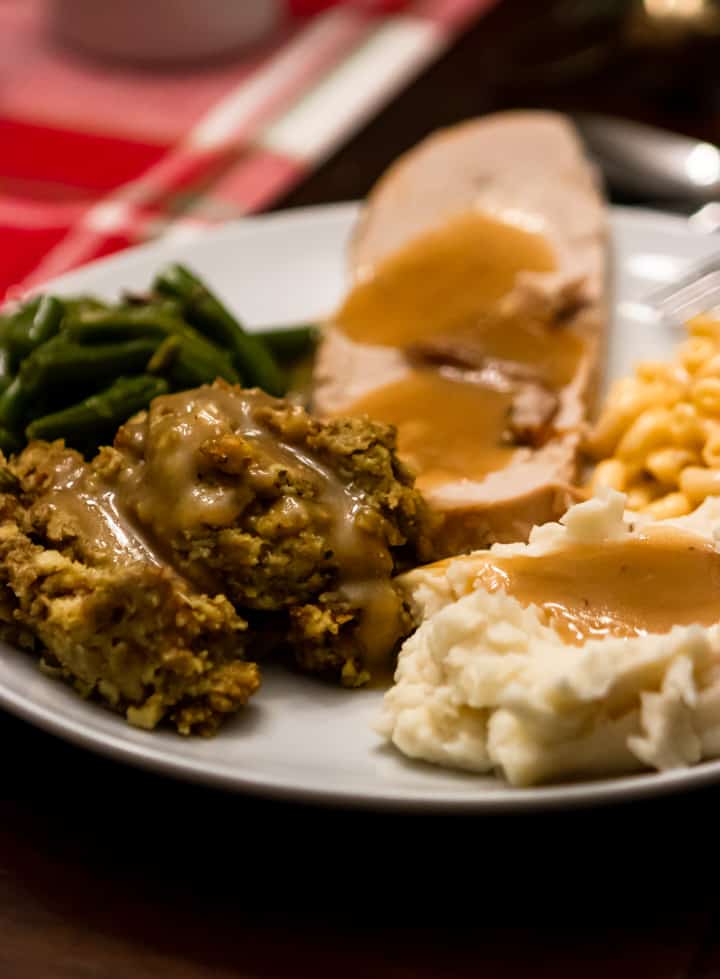 You can easily order online, call your local restaurant, or order in store. I was able to call and order it over the phone easily. Anthony grabbed it for us the morning of our Thanksgiving dinner and brought it all home.
A few hours before dinner, I popped the turkey in the oven. Then I just followed the step by step directions (and didn't miss one step which is not typical for me!). Pulled everything out of the oven and set it up on the dining room. Voila, dinner was served. And we were able to have some drinks and conversation all while it cooked. Oh, and plenty of laughs thanks to Sam!
A few things to note from our experience:
The pies are full pies, not just pieces. There is plenty of dessert to go around and then some. My father in law was thrilled to take some extra home as well.
You will need several oven safe containers with lids to cook the food in. Everything fit in the oven and we even opted to bake the dressing for a crispier top layer versus the microwave as directed.
I am not sure the exact amount of meat but we had more than enough for the 5 of us and I have no doubt that there is enough for 10 people. We ate leftover turkey happily for several days and even added it to a few other recipes. Leftovers are the best, aren't they?!
We are a family of dressing LOVERS. If that is you as well, I would suggest ordering extra dressing. Between the 5 of us we only had a serving or so left in the end. It's our thing, what can we say.
The rolls do not have to be warmed but we loved them baked for a few minutes in the oven before dinner.