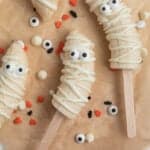 Print Recipe
Halloween Banana Mummy Pops
Looking for a fun and easy treat to make with the kids this Halloween? These Halloween Banana Mummy Pops are simple and fun for all ages to make and eat! Just a white chocolate drizzle, fun candy eyes and some bananas and you are set!
Peel bananas and cut in half. Place on parchment paper.


Gently press a pop stick into each banana.


Melt white chocolate chips by heating in microwave safe bowl for 25 second increments and stirring well until melted fully. Do not over heat. (You can use double boiler method as well if preferred.) Transfer to an icing or plastic bag.


Cut a small slit in the icing bag and make a small half inch line where you would like the eyes. Press eyes onto the white chocolate and allow to set for about 30 seconds. Drizzle the white chocolate back and forth to make your own mummy designs.


Allow white chocolate to cool and dry. Freeze to eat frozen or eat right away!

Handle the bananas gently when adding the popsicle sticks. I would make sure a grown up does this part! It's pretty easy to pop the stick right through the banana if you aren't careful. You can add a drizzle of white chocolate around the base of the banana where the popsicle stick is to help "glue" it in place.
Feel free to make these your own! You can use another candy for the eyeballs, decorate the Halloween banana mummies with festive sprinkles, add shredded coconut, dye the chocolate and more. It's a great way to allow the kids to freely express themselves and make a tasty treat as well!
Unless you plan on freezing them, these banana pops are best eaten immediately. The bananas will brown and refrigerating is not ideal either. Freeze any leftovers and they will keep for up to 2 months.
Calories:
214
kcal
|
Carbohydrates:
31
g
|
Protein:
2
g
|
Fat:
10
g
|
Saturated Fat:
6
g
|
Polyunsaturated Fat:
0.3
g
|
Monounsaturated Fat:
3
g
|
Cholesterol:
6
mg
|
Sodium:
28
mg
|
Potassium:
297
mg
|
Fiber:
2
g
|
Sugar:
25
g
|
Vitamin A:
47
IU
|
Vitamin C:
5
mg
|
Calcium:
63
mg
|
Iron:
0.2
mg