This post may contain affiliate links.
Packed with protein, these White Bean Apple Pie Bars are the perfect fall recipe to share! Rich and moist, baked goodness with white beans, apples, oats and a white chocolate drizzle, these will be a hit for any occasion this season!
There's a lot I want to say about this recipe but I am not really sure where to start. I guess what I am trying to say is that there is so much more than meets the eye with this one.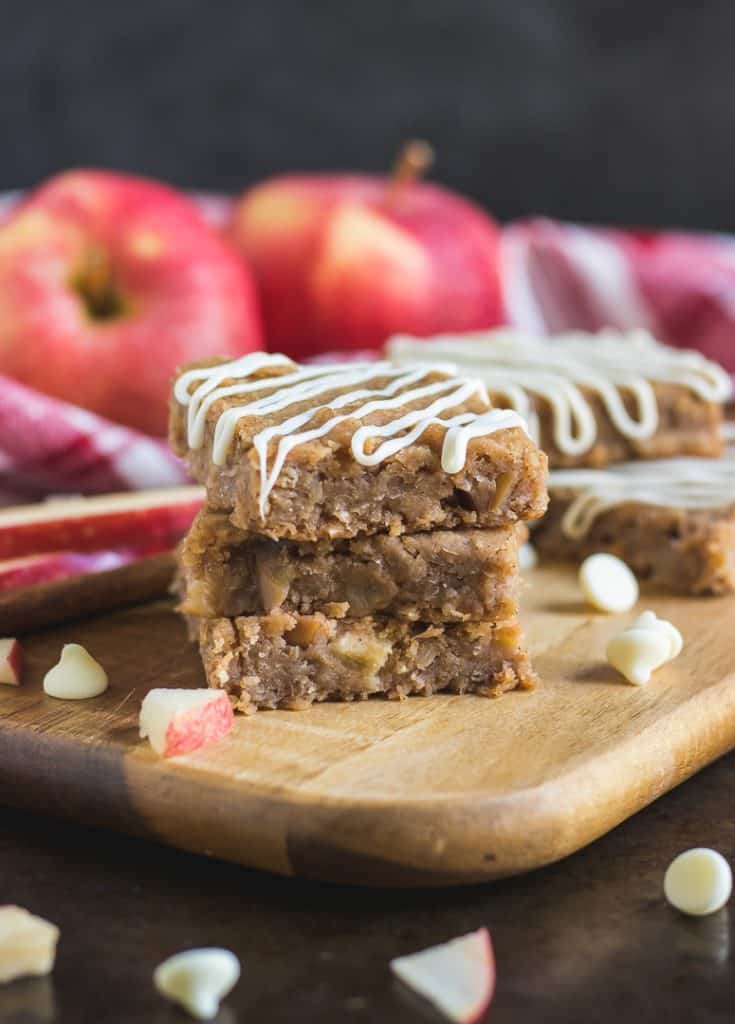 What you may see is nothing more than some delicious, moist bars full of juicy apples and a pretty white chocolate drizzle.
What you won't see is the girl who for years had such a hard time making baked goods becasue she was always afraid of bingeing on the entire batch if she allowed herself more than just one. And when she baked these, just one wasn't enough because they were just that good.And that was ok!

What you may see is a recipe with beans. Beans, really??! Again!?
But what you won't see is a can of beans, only a few eaten by a precious boy and a mom being creative and finding a fun way to get even more beans into his growing body.
Perhaps you see a recipe that is aiming to make a "guilt free" version of the real deal.
However, you won't see a girl choosing ingredients like butter and brown sugar--ingredients that years ago were deemed "bad" in her book. A girl who would have made these with ingredients like coconut oil, coconut sugar or other "better" and "healthier" options instead of the ingredients she craved and knew would taste delicious.
You may see a pretty picture. Don't worry, so do I.
It's funny though because this was one of the more stressful shoots in a while thanks to my very clumsy hands and lots of smudged white chocolate, a cute little boy using peanut butter as hair gel in his high chair, lighting that wasn't quite as I hoped it would be, etc. etc. etc. But the peanut butter hair gel was worth it. 😉
They say a picture can tell a thousand words, but looking at these pictures, I see so much more than some pretty apple bars. I see growth. I see how far I have come. I see balance. I see freedom. Sometimes what we think we see in a picture is so much more than will ever meet the eye.
---
I made these yesterday and I am getting them to you today because they are soooo INSANELY delicious. That rarely happens, but you need these Apple Pie Bars. NEED.
I added some white beans to Sam's lunch yesterday and then was left with the rest of the can. The last time this happened, I made a Brownie Batter dip using black beans so I was thinking I needed to embrace that same creativity and make a fun treat.
Oh, and these Double Chocolate White Bean Brownies are killer as well!
I have made other bars with beans but this is the first time I have added butter to the mix and it was a total game changer--like better than I dreamed.  The touch of brown sugar is also magical--both ingredients are in apple pie so naturally they both need to be in apple pie bars. Yes, I know, there aren't beans in apple pie, but just stay with me here. I promise I wouldn't lead you astray.
Sam literally gobbled these up (I didn't add the white chocolate to his.) and gave them the seal of approval so that's a good sign because the boy doesn't like oatmeal and this helps get some oats into his system as well.
I am pretty sure these would be acceptable as both breakfast as well as dessert--just don't forget the vanilla ice cream if you go for the dessert option!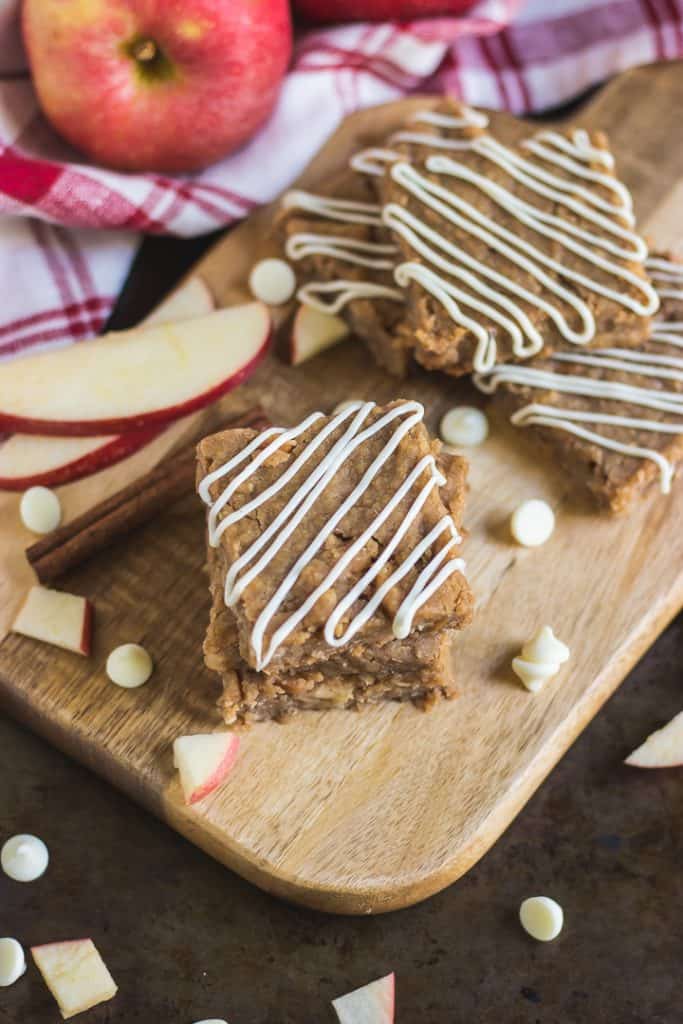 I used Gala apples but I think Fuji would also be a great option for these bars. Also, northern beans or cannelini beans both should work fine. I used northern, but I imagine either would work. I drained but did not rinse my beans--my beans also did not include any extra salt. Other than that, this recipe is a matter of popping into the food processor and then baking. Doesn't get much easier!
Try this simple Apple Crisp or Baked Oatmeal + Apple Crumble for more apple goodness!
Ingredients
1

can white beans

drained not rinsed

¼

c

butter, softened

½

Gala Apple, small diced (skin on or off )

½

c

quick oats

¼

c

maple syrup

¼

c

brown sugar

2

teaspoon

cinnamon

1

teaspoon

Vanilla

½

teaspoon

baking powder

½

teaspoon

sea salt

½

c

white chocolate chips (optional)
Instructions
Preheat oven to 350°F.


Place all ingredients except for the diced apple in a food processor and process until a smooth batter.


Fold in apples. Pour batter into a greased 8x8 baking pan (or 6x8 for thicker bars) and bake for 30-35 minutes or until a toothpick comes up clean.


Allow to cool completely before cutting.


If desired, melt white chocolate chips and drizzle over bars.