In preparation for baby time, I have been maxing out on all the most basic, simple meal ideas that I can. In doing so, I have been trying to be more creative than frozen pizzas and the like. I have lots of pre-cooked meals in the freezer such as my Sweet Potato Chili and Anthony's favorite, our Chunky Italian Vegetable Soup. I have quite a few meals ready to go in the freezer that we will just have to thaw out.
But I can guarantee soup and chili is not always going to cut it, and we are not going to be in the mood to do anything major in the kitchen, but you can only do take out or delivery so many times. So that's why I have been working so hard on this. And I think I have some goodies up my sleeve.
Have you tried Naan pizza? If your answer is no, you are going to want to run to the grocery now and get some. Naan on it's own is AMAZING, but when you make it into a flatbread pizza with all sorts of goodness on top, it is out of this world. And the greatest part? It only takes about 5 minutes to prep. That's what I mean when I say no fuss in the kitchen. None.
Wait, how can one remove the skin and cut a butternut squash in less than 5 minutes? That is a feat on it's own! Well friends, it's called shortcuts. I was recently at the grocery and came across frozen pre-cut butternut squash. Huge win if you ask me! So for this recipe, I just thawed enough for the pizza and the rest is still in the freezer for next time. I also happened to have more kale in the garden than I know what to do with at times so that went straight onto this as well. Spinach could work as well if you prefer. And then it comes down to some chopped walnuts, Italian seasoning and mozzarella. Seriously, you could make this one in your sleep.
But when you taste it, you will be amazed by how such a simple recipe could pack so much flavor. I swear it's the naan. The chewy flavorful flatbread adds a whole new level to your pizza. And with so little time and effort!
The next time you are at the grocery (if you haven't run up there already), grab a few packages of naan and toss them in the freezer for those times you need a quick and easy dinner but don't want to settle for delivery!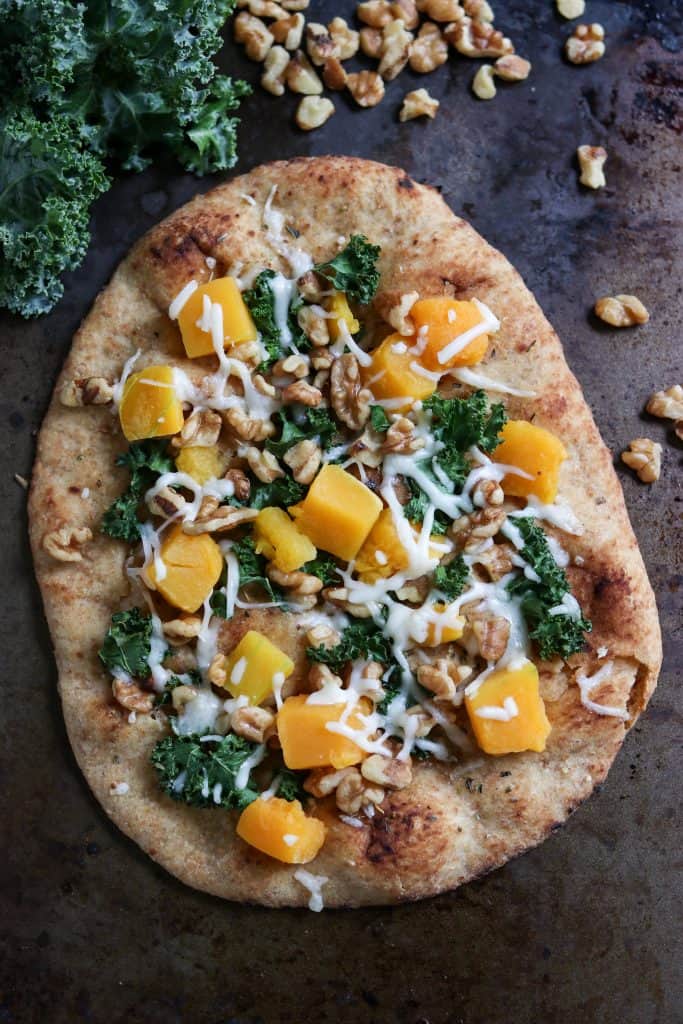 Ingredients
1

piece

of naan

1

handful fresh

chopped kale

1/2

frozen butternut squash

thawed

1/4

c

chopped walnuts

1/3

c

mozzarella

1

tsp

Italian seasoning

1

garlic clove

minced

Olive oil

Sea salt and cracked pepper to taste
Instructions
Preheat oven to 375°F.

Gently massage kale in a light drizzle of olive oil, set aside.

Place naan on a baking sheet lined with parchment paper.

Lightly coat naan with olive oil. Sprinkle minced garlic and Italian seasoning all over the bread. Add sea salt and cracked pepper if desired.

Spread butternut squash and kale evenly across the bread and then sprinkle walnuts evenly as well. Sprinkle cheese and an extra dash of Italian seasoning if desired.

Place in the oven and bake for about 7-10 minutes until cheese is melted and edges of naan are browned.

Allow to cool for several minutes and then cut and serve.
Notes
Feel free to add more cheese to your pizza if desired!
If you want to use unfrozen butternut squash, roast the cubed pieces at 425°F for about 10 minutes before adding to the pizza.