If you are anything like me, you essentially bought stock in sweet potatoes this week when you saw the price for Thanksgiving. And then you only used about half of them to make the dish you were planning to make–perhaps you had the extra as back up. You know, just in case.
But now, here you are with a load of sweet potatoes and not sure you can handle another marshmallow covered casserole. I am here to say that is A-OK. In fact, I have this recipe I will share along with a few others to help switch things up for you!
Sweet Potatoes. One of my FAVES. So much goodness in them and so versatile. I could eat them every day roasted with a touch of sea salt. As long as they are just slightly burnt–not too much though. During the fall and winter, the way we eat sweet potatoes the most is in chili. I put them into essentially every chili I make and in reality, most of my chilis are some version of my Slow Cooker Sweet Potato Chili. Sometimes I add meat, sometimes I dice up a few red and green peppers. The last time I made it, I put in some Siracha and that had to be the best I ever made.
Have you ever tried sweet potato noodles? I actually love them even more than zucchini noodles, yes it's true. They are much more sturdy and are less prone to becoming water logged. They go great with a good cream or cashew cream sauce, oh and pesto as well. I love these Sweet Potato Noodles with Chopped Spinach and Thyme. A great side dish or add a protein on top and dinner is served.
But what about sweet potatoes for breakfast? Now THAT is where they need to be! From savory in a hash like in these Breakfast Tacos or nice and sweet in my favorite Sweet Potato Pie Smoothie! Plenty of old options, but let's get onto today's recipe, that's what we are really here for.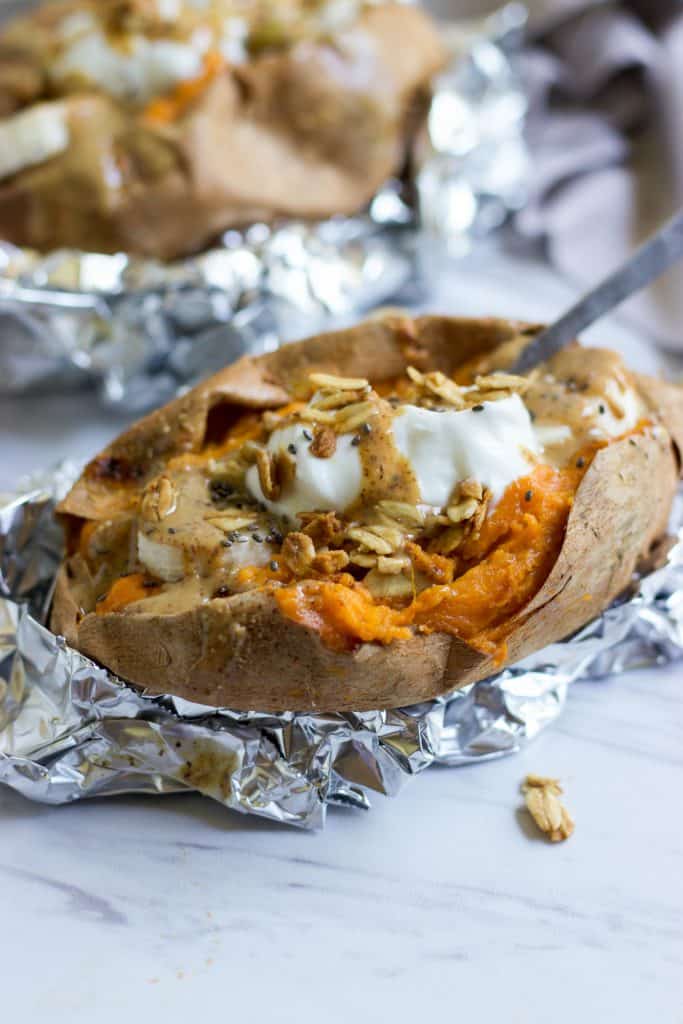 I've been to Waffle House maybe once or twice in my life, but the time I was there, I remember their hash browns as having all of these options. You could have them smothered and covered and so on. Please forgive me you are a Waffle House pro and I am not 100% accurate, but I felt that these breakfast sweet potatoes are a bit of a knock off of that concept.
All you need is a perfectly baked sweet potato, and then you stuff it, smother it and even cover it with all of the goodies! Makes for a perfect, filling breakfast and something different from my typical meal so it adds some variety which I love. Now, there is also a lot of creativity that can happen with these as well. While this is my go to version, please feel free to improvise with your favorites. But please make sure to share with me because I am pretty certain I will want to try your version as well. In fact, perhaps next time I will skip the yogurt and opt for this Coconut Whipped Cream. What do you think?? This recipe can easily accommodate food allergy needs. Use dairy free yogurt, gluten free granola and any nut or seed butter to fit your needs!
Ingredients
1

medium baked sweet potato

warmed

1

T

almond butter

or your favorite nut or seed butter

1/4

c

plain yogurt

sweetened with 1-2 tsp honey or maple

1

tsp

chia seeds

1

heaping T granola

your favorite kind!

1/2

banana

1/2

tsp

cinnamon

extra for on top

dash of sea salt
Instructions
Cut sweet potato down the center and open.

Add cinnamon and sea salt and mash to allow cinnamon to spread throughout.

Slice banana and add on top of potato.

Drizzle almond butter on top.

Top with yogurt and granola. Drizzle extra almond butter and a dash of cinnamon to garnish.

Enjoy immediately!
Notes
My favorite granolas right now are Whirly Bird and Purely Elizabeth if I am not eating one of my own homemade. Whirly Bird is local to Cincinnati so I love supporting them and it's a tasty way to do so!