If I am closing the chapter of Be Whole. Be You. then I know I have to close it out with a BANG. And that's exactly what this last recipe will be–if you can't already tell from the photo!
While essentially not a whole lot is changing, it still feels like something big. There is something about a name, even a blog name, that becomes your identity in a way. But I am really excited to move forward, to shift, and to change, because in reality, I have grown and evolved a LOT over these past 3+ years.
Not long ago, I looked at the "About" section of the blog and realized how outdated it was. And that made me realize how much really has changed over the years. I even quickly deleted a few pieces so it at least aligned with who I am now.
When I started here, the word "whole" in the name was first because that was what I was trying to figure out how to be. I was completely lost and so broken after we lost our first baby and so this space would be a journal where I could go and set my words free. It became exactly that and bit by bit, piece by piece, I started to come back together.
However, the word "whole" had a double meaning and that had to do with my diet. The blog started on the foundation of strictly clean eating, "whole" foods–no white flour, no refined sugar, nothing that I looked upon as un-whole. And so the more and more I looked at the word each time I booted up the site to get to work, the more and more I realized it was time to let go of that.
Like I have said here so many times in the past year, deeming foods as good or bad, giving food moral codes or policing your food in the name of good health is just another form of dieting and restricting in disguise. It took me over three and a half decades to learn that and now I am LIVING.
So here's to what Be Whole. Be You. has been to me, and what it has taught me, and what we have been through together. It's been a ride–and in reality, the "zest" is yet to come!!! (Seriously, could that have been any more perfect?!!!)
(Ha!–oh and if you missed it, the blog is changing to lemons + zest–so now that will make much more sense!)
---
Now this is the way to do a grand final if you ask me!
These Strawberry S'more Pretzel Bites are so simple to make and are the perfect quick and sweet treat with my favorite sweet and salty mix. If I have sweet, then I have gotta follow it up with salty so why not just do it all at once!
This recipe was certainly a bit of trial and error. I felt like Goldilocks and her porridge as one batch the marshmallows came out way too big, one batch too small, until I got them just right. There were some marshmallows that were slipping and sliding when I tried different arrangements of the ingredients. Don't worry, it was a tasty way to spend an afternoon.
I saved you all the trouble of experimenting and you get to go straight to the jackpot!
There truly is a science to this treat, but after you make a couple, you will get the hang of it.
Who doesn't LOVE a S'mores? The reality is you don't need to be around a campfire to enjoy them. These little bites are ready in just minutes. I broiled them on low and they were ready in 5 so imagine how quick they would be done on high!
What kind of S'mores person are you? I always love my marshmallow on FIRE. I let a few of mine of these get really dark and they were nice and crispy after cooling down a bit. It was hard to wait for the chocolate not to scald my tongue but I was able to hold off for a few minutes at least!
I will tell you the actual products I used in case you are hving trouble with sizing. The photo below shows how to start setting them up. I used the Snyder's of Hanover Gluten Free Mini Pretzels as they seemed to be the perfect size. I am actually obsessed with these pretzels. A girlfriend at work who has celiac shared them with me one day and I was in love with them. I don't find Snyder's regular pretzels to be as tasty for some reason. Any mini pretzel should hopefully work. I used Ghiradelli dark chocolate chips because they are a bit larger than most chips out there. I also tried a variety of chocolate pieces and candies but the chips where perfection. As for the marshmallows, I bought the Kroger brand and they are the smaller/miniature sized, not the large Jumbo. The size and combo of these three worked perfect but I am sure plenty others will work as well! Top those babies with a strawberry slice and a pinch of crushed graham crackers and you are all set for this fun, delicious treat!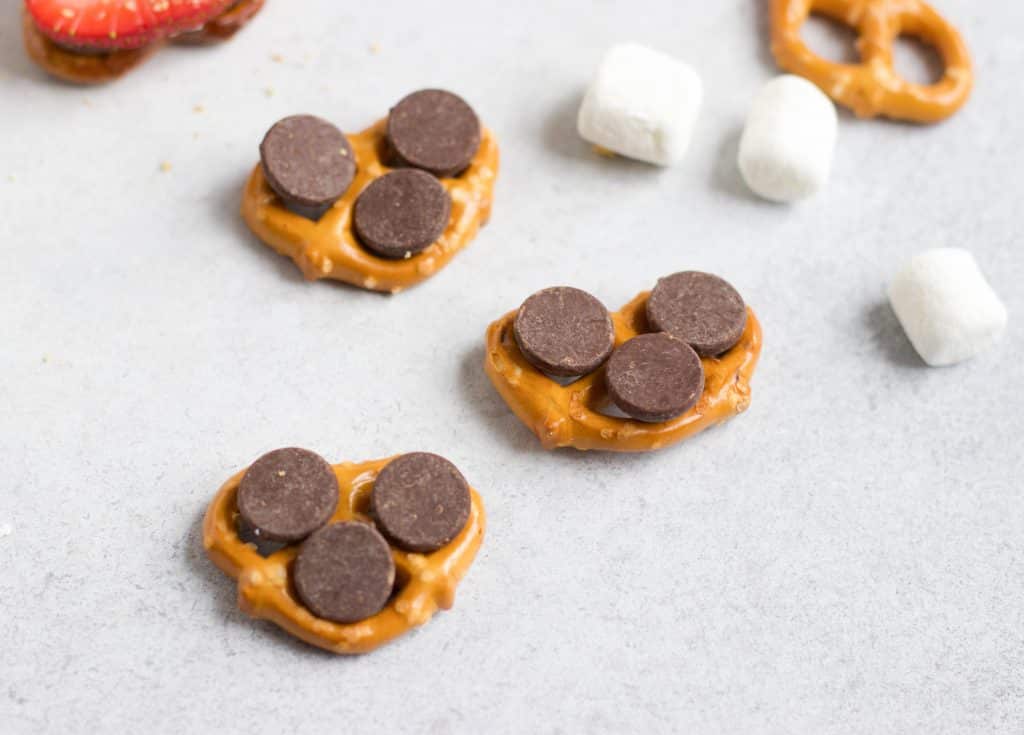 Ingredients
12

mini pretzels

24

miniature marshmallows

36

dark chocolate chips

12

strawberry slices

crushed graham cracker

optional
Instructions
Turn broiler of oven onto Low.

Place a piece of parchment on a baking sheet.

Line the pretzels on the pan. Place a chocolate chip, face down (as pictured in post) in each hole of the pretzel.

Place 1-2 marshmallows on top of the chocolate chips. (Sometimes only one will stay on so I just rolled with it!).

Place in oven and stay nearby, checking in at about 3-4 minutes. Marshmallows will rise quite a bit and turn brown fast once they start to change color.)

Remove from oven when desired brown and place strawberry on top of each.

Allow to cool for several minutes before eating.

I recommend only making what you plan to eat as these aren't the best after an hour or so.