Cheesecake for breakfast? Of course! These Strawberry Cheesecake Overnight Oats are a simple and delicious breakfast that can be meal prepped and ready when you wake up. Fresh berries, cream cheese and a hint of maple in this hearty oatmeal will have you excited to wake up!
Strawberry Season is Here!
Can't contain my excitement–all things strawberry are on my summer list. And these Strawberry Cheesecake Overnight Oats are on the top of the breakfast rotation currently.
There is nothing like a hearty bowl of oats in the morning, but there is NOTHING like a cheesecake inspired bowl of overnight oats, am I right? Ooooh, I am right. I discovered last year with these Maple Pecan Cheesecake Overnight Oats how amazing oatmeal tasted with just a touch of cream cheese.
Why hadn't I tried this so much earlier in life!?
I am bummed I am not growing my own strawberries this summer. Our 20 month old believes he is part gardener and by that I mean he digs up every last bit of mulch and dirt he can find, tastes it, and then tosses it somewhere else in the yard. He has his own unique set of gardening skills, but he is sure getting really good at them.
No fresh from the backyard strawberries doesn't mean I won't enjoy all the berries I can get my hands on this year, don't you worry. There are several farmer's markets and places you can pick your own berries so I will take full advantage of both.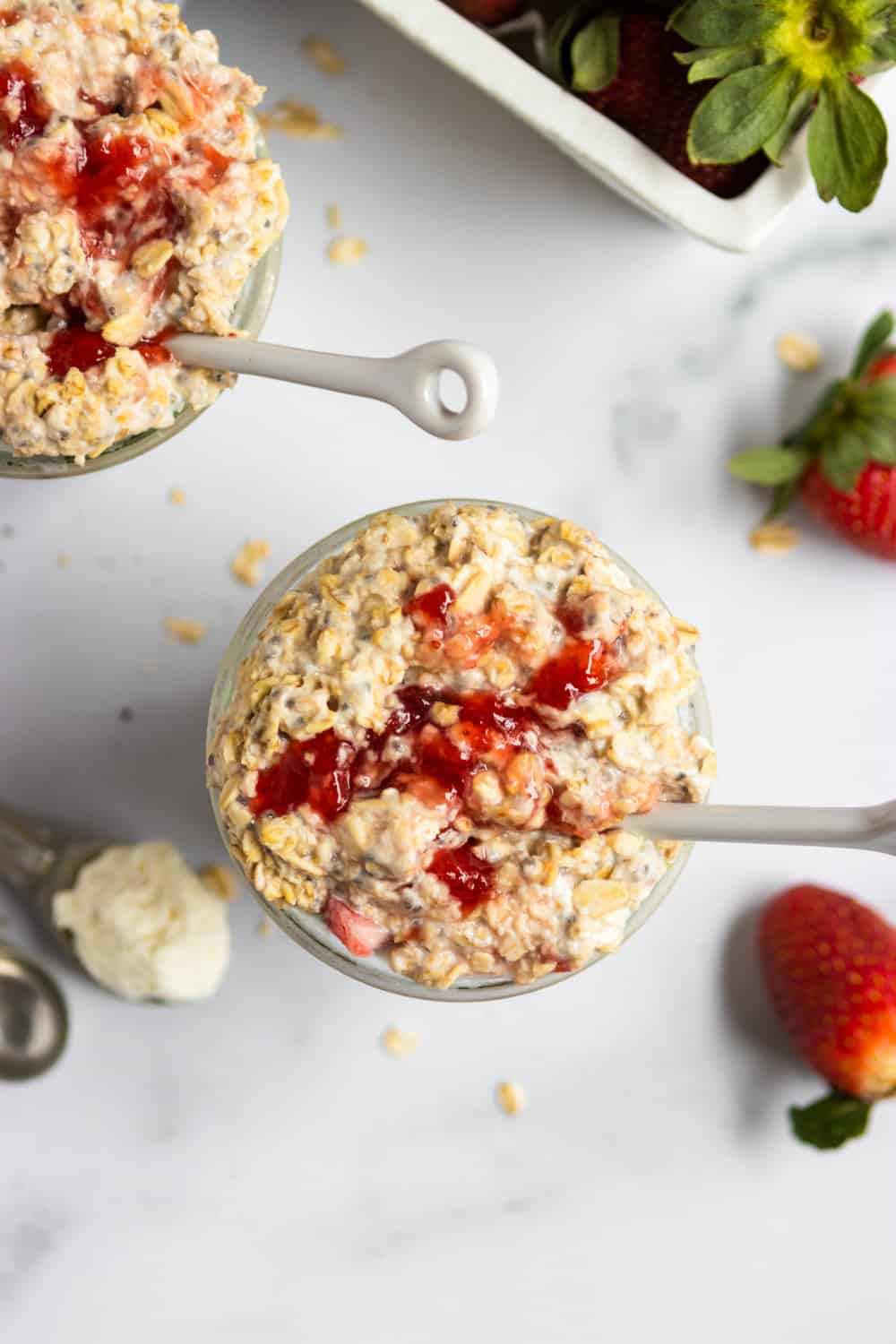 These Strawberry Cheesecake Overnight Oats are ready when you wake up!
There is nothing I love more than a breakfast that is ready and waiting for me the minute I wake up. Whether its homemade waffles I froze, overnight oats, or some of my favorite Freezer Friendly McMuffin Sandwiches–I just love breakfast to be ready for me.
I don't want to spend a lot of time making anything in the mornings–even when I have the extra few minutes. I would personally rather spend that time sipping my coffee or actually sitting down for a few minutes to eat before the toddler takes off running.
So these Strawberry Cheesecake Overnight Oats can be just this for you all, my friends. You can make several day's worth of breakfasts at a time too! A hearty and delicious breakfast that is already for you the moment the alarm goes off in the morning. Heck, they may even have you hopping right out of bed without hitting snooze a single time!
SOME THINGS TO KNOW ABOUT OVERNIGHT OATS IN GENERAL
I have learned a few things since I have pretty much been making overnight oats on repeat since I first got hooked. Thought I would answer a few questions while I have you here–I am sure the drool worthy oats is really what you are here for but stick around, you may learn a thing or two!
HOW LONG DO OVERNIGHT OATS LAST?
I typically make 3 or so days worth at a time. 3-5 days is the range that they will last and certain ingredients in different flavors impact this. Banana Bread overnight oats are typically not good after 2 or 3 days due to the mashed banana but this chocolate peanut butter overnight oats recipe is good a few days longer. Just keep fruit out of your oats until serving and that should typically help.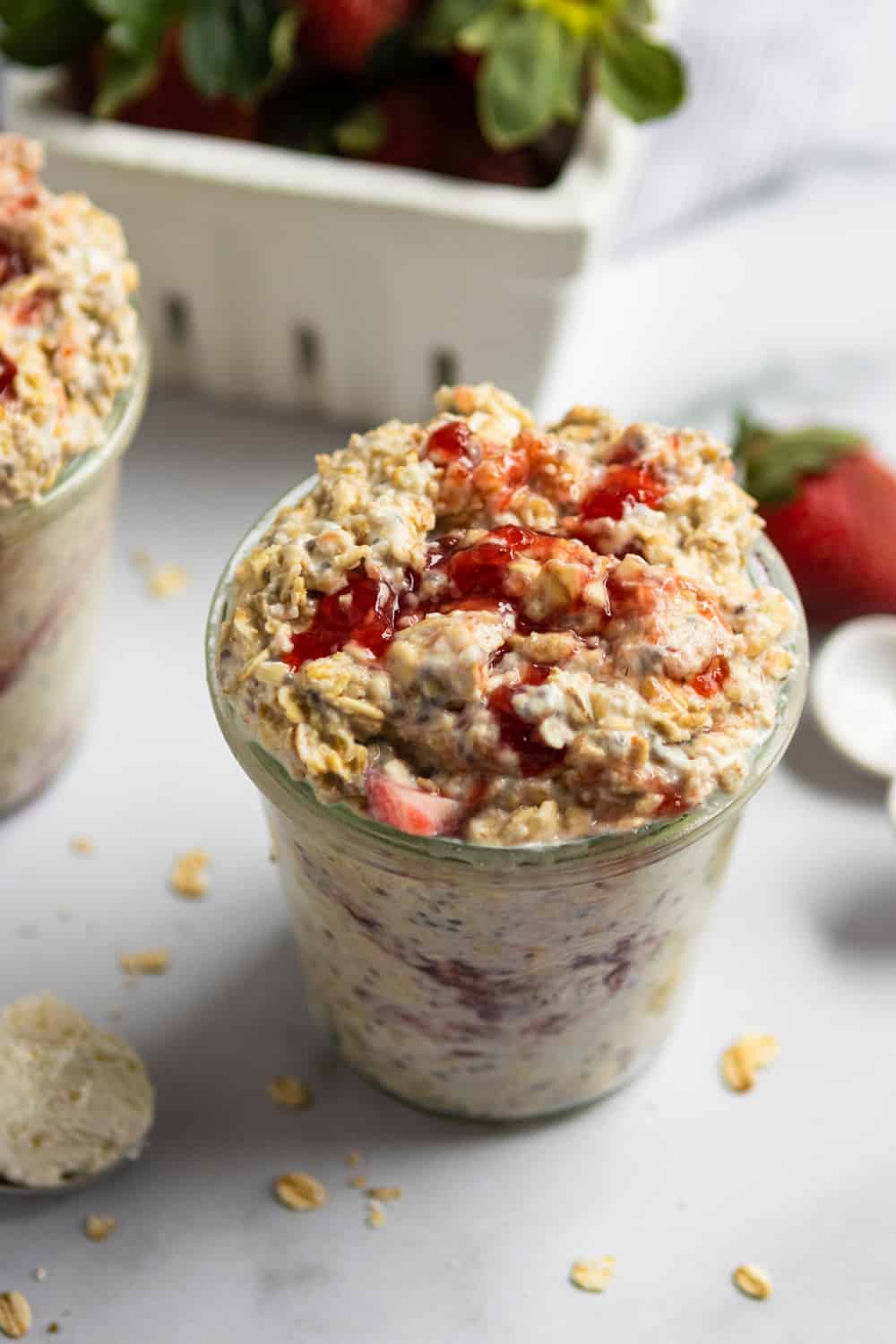 WHAT KIND OF OATS DO YOU USE IN OVERNIGHT OATS?
I prefer rolled oats in mine–I find that they soak up the milk perfectly and are nice and soft after sitting overnight. I have seen others suggest steel cut oats for their overnight oats recipe but that is NOT for me. They are to hard and chewy for me. I have found that steel cut oats are best for me I the Instant Pot. (Check out these Banana Bread Instant Pot Steel Cut Oats!)
DO YOU HAVE TO MAKE OVERNIGHT OATS IN A JAR?
When the overnight oats trend hit, it was all the rage to scoop your breakfast out of a ball jar. Heck, I still do. But don't go out and buy cute little jars just yet. If you have a bowl that you can seal, then you are in perfect shape. Don't feel like you have to buy anything extra to make your oatmeal in, bowls can be great as well. I have seen lots of people use the end of a peanut butter jar–that would be fun for these as well–Peanut Butter and Jelly Cheesecake Overnight Oats, anyone??
CAN YOU WARM OVERNIGHT OATS?
Yes, Yes, Yes! I have had readers comment or reach out saying they don't want to eat cold oats. No one says you have to–promise! Pop them in the microwave in the morning and you are all set! Love them chilled? Great, you just get to eat them about a minute sooner!
What you will need to make these Strawberry Cheesecake Overnight Oats:
Rolled Oats: regular or gluten free will both work great.
Strawberries: Fresh or frozen will work.
Cream Cheese: I use the whipped cream cheese in the tub for easier stirring–you can use cream cheese form a block, just soften it first. Keeping this one dairy free? Lots of dairy free cream cheese options out there these days!
Milk: Your favorite regular or dairy free milk should be great!
Chia Seeds: optional, but almost always in my overnight oats
Maple Syrup: This is my favorite sweetener, but feel free to add your sweetener of choice instead.

Some delicious variations of these Strawberry Cheesecake Overnight Oats:
Add chocolate chips–because all things are better with chocolate.
Make your strawberries into a compote before mixing in. Simmer strawberries with a pinch of sweetener and a squeeze of lemon juice on your stove top for about 20-30 minutes. Top your oats in the morning with extra!
No strawberries? No problem! Try another berry–blueberries are amazing to sub for the strawberry cheesecake overnight oats, but raspberries or blackberries would be amazing as well!
Add a couple of tablespoons of vanilla or Strawberry greek yogurt. Give a flavor boost and protein boost to your overnight oats!
As far as overnight oats go, it's fair to say that I have waaaaaay too many versions on the blog. However, every time I survey readers, I hear the feedback that they still want more overnight oats. So I gotta give you guys what you want, and what I love!
IF YOU ARE NEW AROUND HERE, SOME OF MY MOST POPULAR overnight OATS RECIPES INCLUDE:
THESE ARE ONLY A FEW OF THE LONG LIST ON THE OVERNIGHT OATS PAGE SO CHECK THEM OUT!
DID YOU MAKE ONE OF MY RECIPES? LEAVE A COMMENT AND LET ME KNOW! I ALSO LOVE TO SEE YOUR LEMONS + ZEST RECIPES ON SOCIAL MEDIA–TAG ME @LEMONSANDZEST ON INSTAGRAM OR FACEBOOK!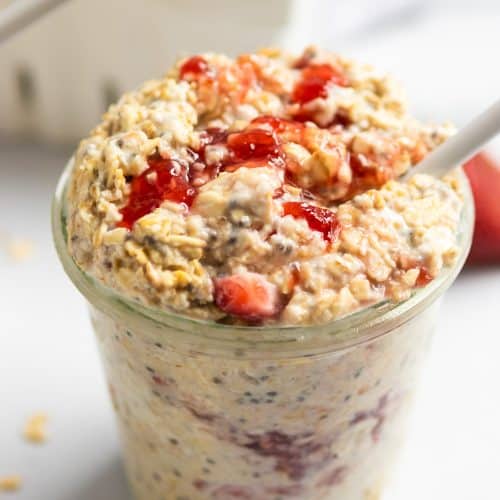 Strawberry Cheesecake Overnight Oats
Cheesecake for breakfast? Of course! These Strawberry Cheesecake Overnight Oats are a simple and delicious breakfast that can be meal prepped and ready when you wake up. Fresh berries, cream cheese and a hint of maple in this hearty oatmeal will have you excited to wake up!
Print
Pin
Rate
Total Time:
4
hours
5
minutes
Ingredients
1/2

c

rolled oats

regular or gluten free

1/2

c

milk of choice

1

T

cream cheese

5-7

strawberries

1/2

tsp

vanilla extract

2

tsp

maple syrup

separated

pinch

of sea salt

1

tsp

chia seeds (optional)
Instructions
In the bottom of a jar or small bowl, mash strawberries and 1 tsp maple syrup.

Add all other ingredients into the jar or bowl and stir well to combine. Cover and refrigerate for at least 4 hours. Warm before serving if desired. Stir in some strawberry jam or add some sliced strawberries before serving.