These simple Crockpot Steak Fajitas are packed with smoky flavor and a hint of lime the whole family will love. A perfect weeknight recipe that requires little time and will have everyone begging for seconds!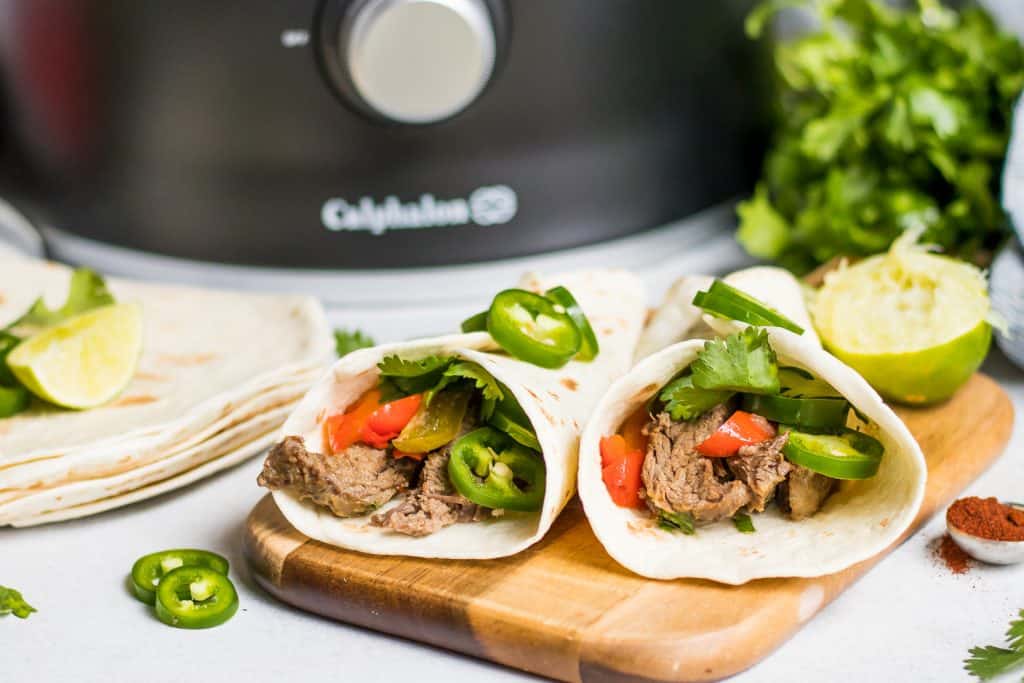 This shop has been compensated by Collective Bias, Inc. and its advertiser. All opinions are mine alone. #MyCalphalonKitchen #CollectiveBias
---
I Live for my crockpot!
Over the weekend Sam turned 1… ONE! I was an emotional sap the entire day but in the best way possible. My little boy is a dream come true and to celebrate this milestone surrounded by family was almost surreal. I will share more on that soon, after we dig ourselves out of all the new presents he got to tear into!
Speaking of presents, Sam isn't the only one who got a gift for his birthday. And that is what I am excited to share with you today. If you walk into my kitchen, you will see Calphalon EVERYWHERE. It is the brand that Anthony and I registered for the most when we got married and we continue to use today.
And you all know I am very selective as to who I partner up with on here as I want to be as authentic as possible, so naturally a partnership with Calphalon was perfect in my eyes. I have always loved the quality of their brand and it is a brand I believe in.
But you want to know about gifts, right??? Let me tell you about my latest gift from my friends at Calphalon. They recently launched a brand new exclusive line of appliances at Target and I am going to talk to you about the Calphalon Precision Control™ Slow Cooker.
My New Calphalon Slow Cooker is a total game changer
You all know how much I use my slow cooker right? All you have to do is search Slow Cooker on the blog to see. I use it at least once or twice a week all year long. I have had the same slow cooker for the past 20 years and while it "does the job," there is one thing that always bothered me about it.
The only settings it has are high, low, and keep warm. There's not much more you need, however, I have been known to overcook a few things in my day for cooking things on the 'high' setting a bit too long. The thing it was always missing was the ability to set a timer and then have it go to the "keep warm" setting from there.
For years I told myself it wasn't a big deal, but now that I have a timer on the new Calphalon Slow Cooker, it's a complete game changer. Some things, like steak, are not meant to be overcooked. And letting these juicy strips of steak sit all day on high would be an absolute nightmare in the end. (Ok, ok, that may be a bit dramatic, but technically it's just not ideal).
So now when I make these crockpot steak fajitas, I literally do not have to be around at all because I set the timer for how long I need it on high knowing it will shift to 'warm' after the time is up.
Does this slow cooker stand up to my other one?
To be fair, a lot of slow cookers have this feature but it is brand new to me so I am loving it. What really sets this slow cooker apart is that I can sear, brown and sauté in the removable pot!
Do you understand what this means?!! I am not going to tell you how many times I have skipped searing a big piece of meat because that's just another dish I don't wanna do, or I have really wanted to sauté my veggies before putting them in the slow cooker but again, more dishes.
No more! This pot is oven safe as well, and the entire slow cooker is nice and light and super easy to carry–as compared to my almost 10 pound slow cooker. Yikes!
But the real question is: can it cook?! The removable pot is made of ceramic and this is what allows for more even heating. This is key in a slow cooker. Remember, the word precision is in the name of this slow cooker. Since I have already used it so many times, I can say that I am amazed by the difference in tender, juiciness of the meats I have been cooking.
I am usually fearful of putting steak in the slow cooker because I find it can have it's own issues with staying tender but with these Crockpot Steak Fajitas, the boys in my house spoke for all of us. Did we have any leftovers for the next day? None! I was dreaming of a nice steak salad I could make on day 2, but it's pretty hard to do that when there is no steak!
Crockpot Steak Fajitas are so simple!
We love fajitas in our house. When Anthony and I first started dating, we would frequent a Mexican restaurant and split a single Fajita skillet between the two of us as it was an enormous dish. Typically we got a mixture of steak and chicken, and then I would try to cook them at home. They never seemed to be quite the same.
Now that we have Sam, cooking dinners like fajitas can be a bit more challenging. In fact, cooking dinner in general is a lot more challenging. It's hard to watch him and be standing at the stove at the same time. Recently I tried to fill up a pot with water to boil noodles and he had managed to dart down the hallway and start up the steps in just that time. Like I said, challenging.
The beauty of using my slow cooker so often is that I can do all the work while Sam is napping. So I decided to test out how one of our favorite meals would work in the slow cooker. I have been hooked on Chipotle Chili Powder. It adds a touch of smoky spice that I really love.
I have been adding it to soups and chili's and the spice pairs so well with the lime in these Crockpot Steak Fajitas. The Chipotle powder is a pretty mild heat.  Don't be worried that these will be too spicy. The flavor is bolder.
What kind of steak do you use for these Crockpot Steak fajitas?
A good flank steak works well for fajitas and that is my preference for this recipe. No need to add any water or broth, there will be plenty of juices as the steak cooks. All that stands between you and these juicy steak fajitas is a little chopping, mixing up and then brushing on the marinade and that's pretty much IT. Slice up the steak before serving and then roll this goodness into a tortilla and pair it with all your favorite toppings! Who knows, maybe Fajita Friday will be the new tradition for your family!
What should you serve with these Crockpot Steak Fajitas?
The answer may be what doesn't go well with them! Ha! For starters: toppings! Shredded cheese, cilantro, sour cream or plain Greek yogurt, sliced avocado, tomatoes, a squeeze of lime. What else friends??
Guac, guac and more guac–because always be extra! This Spicy Mango Guacamole is perrrrfect with it!
This Roasted Sweet Potato Mexican Quinoa would be great, but skip the black beans or you may regret it later on.
Grilled Corn of any kind!
Chips and dip is always a great side dish option for fajitas. Try this 3 Bean Cowboy Caviar if you would like!
Black beans and rice, cilantro lime rice–rice of any kind really!
I really prefer regular rice, but this Creamy Avocado Cauliflower Rice is a great option as well!
Love these Crockpot Steak Fajitas? Check out my other favorite slow cooker recipes on the blog:
DID YOU MAKE ONE OF MY RECIPES? LEAVE A COMMENT AND LET ME KNOW! I ALSO LOVE TO SEE YOUR LEMONS + ZEST RECIPES ON SOCIAL MEDIA–TAG ME @LEMONSANDZEST ON INSTAGRAM OR FACEBOOK!
Ingredients
1 1/2

lb

flank steak

1

red bell pepper

1

green bell pepper

1

onion

3

T

olive oil

Juice of two limes

1/2

tsp

pepper

1

tsp

cumin

1-2

tsp

chipotle chili powder

1/4 - 1/2

tsp

red pepper

1-2

garlic cloves, minced

Sea salt

1/3

c

chopped cilantro
Instructions
Slice bell peppers and onion and place at the bottom of slow cooker.


In a small bowl, whisk together oil, lime juice, garlic and spices. Add salt to taste. Rub both sides of steak evenly with marinade. Place steak on top of vegetables and pour on any leftover marinade.


Cook on high for 4-6 hours (depending mainly on the thickness of your steak.)


When steak is done, remove and slice and add back into slow cooker to allow it to absorb more of the juices.


Before serving, add in cilantro.


Serve on tortillas or as desired with your favorite toppings!

Check out the NEW Exclusive Calphalon Appliances Suite at Target today!