In a recent post, I talked about all of the things I was going to work on to take care of myself during this crazy holiday season. I have been doing pretty well, but there is one thing I have cheated on, a lot.
I can't seem to keep my phone out of bed. I know it's a bad habit, but I just can't keep the technology out of my nightly routine. I guess I've become quite dependent upon it. And trust me, I have a whole line of "reasons" why I need my phone with me. Anthony wants the lights off before me, so I can't read a book in bed. Solution? I download a book on my phone or other device. Oh, yea, that means I have to hop into the sack with the technology. Oops. Or I tell myself I have to do something mindless like play solitaire or some other game to really settle in. An hour later, I still don't seem to be settled.
I am doing to give this one another go. I am gonna stick to it this time. Once I hit the sheets, no more phone. (ipad, desktop, etc. included). Tech free in bed. And I am going to do it. I am. I. AM. GOING. TO. DO. IT.
I really can't be that pitiful that I need some sort of contraption to put me to bed. So here's to really trying this time! I will keep you posted on how it goes!
---
This Roasted Sweet Potato, Black Bean + Kale Mexican Quinoa never started out as a recipe I was planning to share. It literally was one of those things that I just always threw together. I found myself starting to make some version of it a lot more frequently and people at work would ask what I was eating on my break and now here we are.
I will say that I don't make this exactly the same every time so nailing the actual measurements and ingredients was not the easiest. I will also say that this is my FAVORITE recipe to freeze single servings and then eat with cubed avocado on top. I more than likely have at least 7 mason jars frozen now with this recipe and probably eat it twice a week.
Sometimes I add some corn to the mix or some diced red onion. Sometimes I heat it up with some red pepper flakes or change up the spices with smoked paprika. For the most part, I use frozen chopped kale. What I don't ever do is spend a lot of time on this recipe. I cook the quinoa, roast the sweet potatoes and then toss everything together. Done. I usually make a double batch and stack the mason jars in the freezer so I have a healthy lunch at my fingertips for days I don't have time to pack something. We all have those days, right!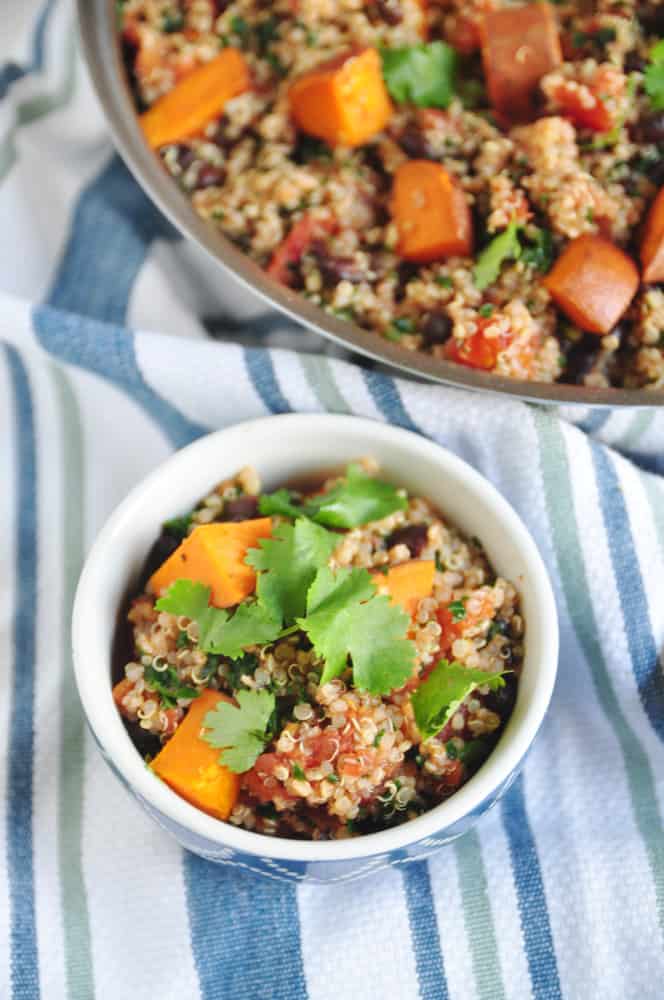 Ingredients
1

c

quinoa

uncooked

1

can or 2 cups cooked and rinsed black beans

2

medium sweet potatoes

1 1/2 - 2

c

chopped kale

2

cans or 4 c diced tomatoes

unsalted

2

tsp

chili powder

2

tsp

cumin

2

garlic cloves

minced

olive oil

sea salt and cracked pepper

cilantro

optional
Instructions
Preheat oven to 425°F.

Chop sweet potatoes (I leave skin on) Into bite sized pieces.

Mix sweet potatoes with a drizzle (about 2-3 tsp) of olive oil to coat evenly.

Line sweet potatoes evenly on a parchment lined pan.

Roast for about 15-20 minutes or until lightly browned and soft.

Cook quinoa according do package directions.

Once quinoa is cooked, combine it in a medium bowl with kale, tomatoes, black beans, garlic and spices. (Kale should wilt nicely with the hot quinoa.)

When sweet potatoes are cooked, mix with all other ingredients.

Salt and pepper to taste and add more chili powder or cumin if desired.

Serve with diced avocado or cilantro.

Store leftovers in the fridge or freeze and reheat as desired.
Notes
If using canned tomatoes, drain most of the liquid first.
This can be a whole meal or a great side for taco night!