They say patience is a virtue. Well to be honest, patience is not my virtue. When I want something or go after something, I want it NOW. And I make sure I do everything in my control to make it happen right now. When  everything in my control doesn't lead to what I am going after, then I lose patience. Oh wait, I don't really have patience to lose. So I don't even know what you call it from there! I pretty much just go crazy.
They also say a watched phone never rings,  a watched pot never boils, etc. Well, I am the one who will stare ferociously at both until they do! And when they don't? I just keep on watching, and watching and watching.
Naturally my impatience for things in life stems from my need for control. When things are out of my hands and not happening in the manner I want them to, I go into a frenzy. I can't tell you the hours and hours, and possibly days I have wasted over this. The first thing I do? I stop breathing. I notice it every time and yet I let it happen. This force builds up inside of me and I just want to scream because I cannot wait another second. But you know what? Once I have tried absolutely everything in my power and control, and I still haven't gotten the answer I want, I still have to wait. And I do, but I do it in a way that is agonizing.
What I forget is that the way I sit and wait will not change the outcome. If I allow my entire being to be so consumed by the fact that things are not going the way I want them to, then I only make the time pass more slowly and painfully. If I could JUST figure out a way to let go. Just. Let. Go.
As I sit here and write this, I know what it is that I need to do. I know that I need to let go. But how? Well, that's the tricky part.
There are a few things I am trying to work on that are helping me to find this virtue we call patience.
1. Breathe, breathe, breathe. Inhale, exhale. Inhale, exhale. I forget that the tools I use in my yoga practice can also be transferred over to my real life. I forget how soothing 10-20 slow breaths can be. And to be quite honest, it has taken probably closer to 50 slow breaths to really get me centered lately so it takes a bit of, what's that?? patience to get that point.
2. Move! When you sit and twiddle your thumbs just hoping that answers will find you then the clock just ticks, ticks, ticks. The ticking seems slower and slower. Simple things like a walk around the block, a few sun salutations or maybe even a tango through the living room will get the heart pumping and distract you from looking at the clock every 10 seconds. Movement may even help you clear your mind a bit and allow you to see things in a more positive light than before.
3. Write. The more and more I blog, the more and more I realize how therapeutic writing can truly be. Whether I am writing here or journaling, I bring my pen to the page sometimes not knowing what I am thinking or feeling and then when I read over it I am amazed by what is on the paper. The underlying feelings that I had no idea of come to the surface and I am able to see what I am really feeling past all the fog and haze.
4. Sit. Wait, didn't I just say to move? That doesn't make any sense! Oh, but it does. In the end, patience is also about being able to be still, to be calm. If I have to move and escape every time I am feeling agitated then I will never learn to show my impatience who is really boss. A big part of learning this new behavior is to be okay with the quiet and the stillness. This kind of stillness goes hand in hand with the breath. I sit with my back straight up and supported. I close my eyes and I breathe. And I breathe. And I sit.
5. Talk. A lot of times I let things bottle up until I explode. If I open up rather and share with someone, then things turn out a lot less messy. The hard part about this is not waiting for someone to ask. When I am feeling out of control and about to lose my patience, one of the things I do at times is emotionally eat. This doesn't solve a darn thing at all as I have learned, but it typically stemmed from wanting to have someone lend an ear and then failing to reach out. Reach out. Who is it that calms you? your mom? Your best friend? Your spouse? Whoever it is, don't wait, just call!
So these are the things I am working on. Maybe patience will never be my greatest virtue, but I think if I can stick to this list, then I have a better chance of being successful! I know that when I want things to go a certain way or when I want something so badly, that the way I respond is just not healthy. It wreaks havoc on my body and mind and I have just got to stop the cycle. I know things will happen when they are meant to but I do not always accept that easily. So today, I will start inching my way to finding more of this virtue we call patience.
---
Perhaps my lack of patience is why I typically approach recipes in the kitchen with a no fuss attitude. I want recipes that are simple and quick and don't make too big of a mess. Well, I am still a bit messy regardless. My husband always enjoys that!
I typically don't get home at night until at least 7:30 most evenings so I don't want to have dinner at 10:00. I want quick and easy options. This recipe is just that. One pan, and about 20-30 minutes or so and dinner is ready. You can eat it as a meal as it is or add your favorite protein to the mix.
If you have never made cauliflower rice, you are missing out. Rice can take quite some time to cook and we just don't always have 45-50 minutes to wait. Sure there is microwave rice, but I try to skip those kinds of things most of the time. Plus this "rice" gives you an extra dose of veggies for the day. If you don't want to use the cauliflower, feel free to use brown rice as it will work just fine in this recipe. I use Bragg's Liquid Aminos in place of soy sauce. It tastes just like soy sauce and is ultimately soy sauce without the additives and preservatives. Also, I like my fried rice with a little kick so I added in red pepper flakes. Ease up on these if you don't like it to hot! I hope you enjoy!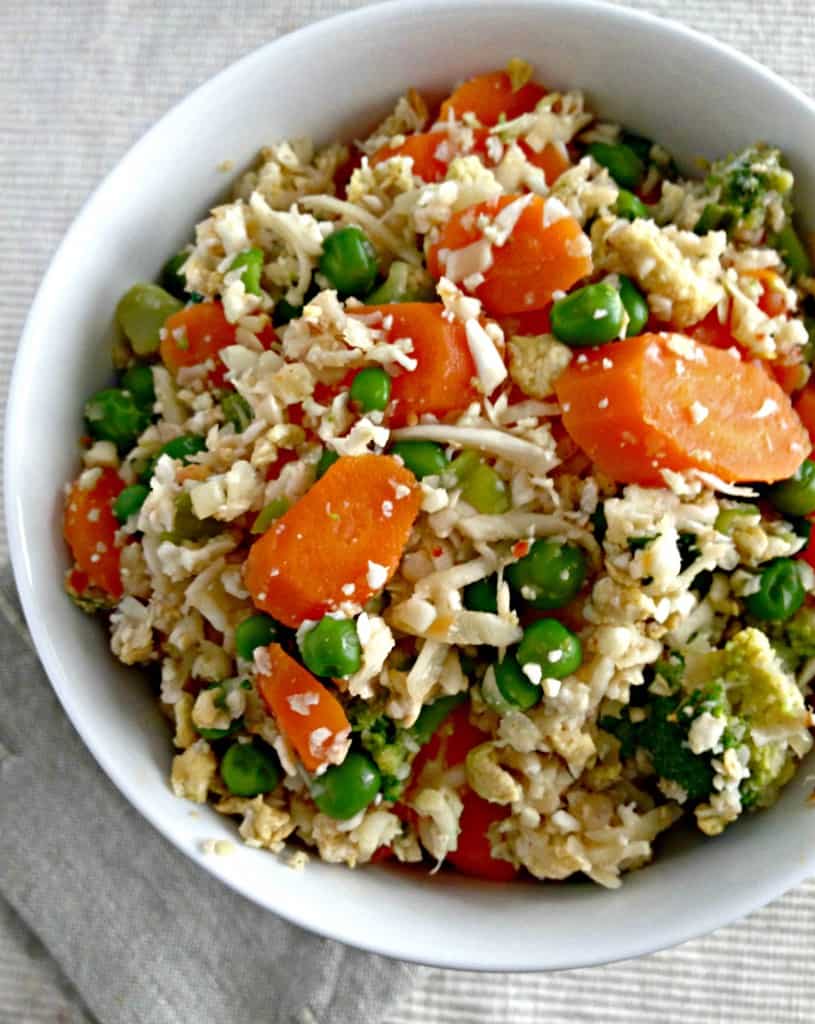 Ingredients
5-6

large carrots

sliced thin

1

cup

peas

preferably not canned

2

cups

broccoli florets

fresh or frozen will work

2/3

head of large cauliflower

4

green onions. chopped

4

garlic cloves

minced

1/2

cup

liquid aminos

3

eggs

beaten, free range organic

1/2-1

tsp

red pepper flakes

2

T

toasted sesame oil

Sea Salt and cracked pepper to taste
Instructions
To make the cauliflower rice, simply use the shredding blade of your food processor. Insert stalks of cauliflower through the chute at the top of the machine and push in to shred. It forms a nice rice like consistency.

In a skillet or wok, heat sesame oil.

Add carrots, onion, and broccoli and stir fry until softened.

Add in peas and stir until hot.

When veggies are heated, push them to the side of the wok or pan. Add a touch more sesame oil if necessary and add the three eggs into the pan.

When eggs are cooked stir into the rest of the mixture.

Add garlic, red pepper and liquid aminos, salt and pepper and stir to combine.

Finally toss in cauliflower rice and stir to combine.

Serve immediately.
Notes
As noted earlier, you can add any protein to the dish that you wish!