There's some irony in this new recipe in regards to what I was aiming for. These Gingerbread Chickpea Blondies were meant to be a recipe in which the old me and the new me would collide. But as irony would have it, it didn't go exactly as planned.
And it all started with a little bit of brown sugar.
I was planning on trying out some Gingerbread Blondies the other week. I LOVE gingerbread. I know it's not a flavor for everyone, but it certainly is for me. And so as I started to think about how I would maneuver the recipe–baking scares the heck out of me since I know it usually takes several tries to get a recipe right–I realized something.
It's been quite a while since I have let go of the food rules and allowed all foods into my diet, but not completely I realized. I looked through my pantry and realized there was an ingredient that would make these bars amazing and yet, it was nowhere to be found. What was the ingredient?
Brown Sugar.
You see, in the world of sweeteners, I realized I was still not being completely open and labeling things as "good" and "bad." And in this case, it was the fact that coconut palm sugar was good and brown sugar was bad. So therefore, I always went with coconut sugar. I mean, I know sugar can be a sticky topic for a lot of us and while I still like to reduce refined sugar in my diet, it's still never an all or nothing like it used to be. But I was still making it an all or nothing and it was time to stop.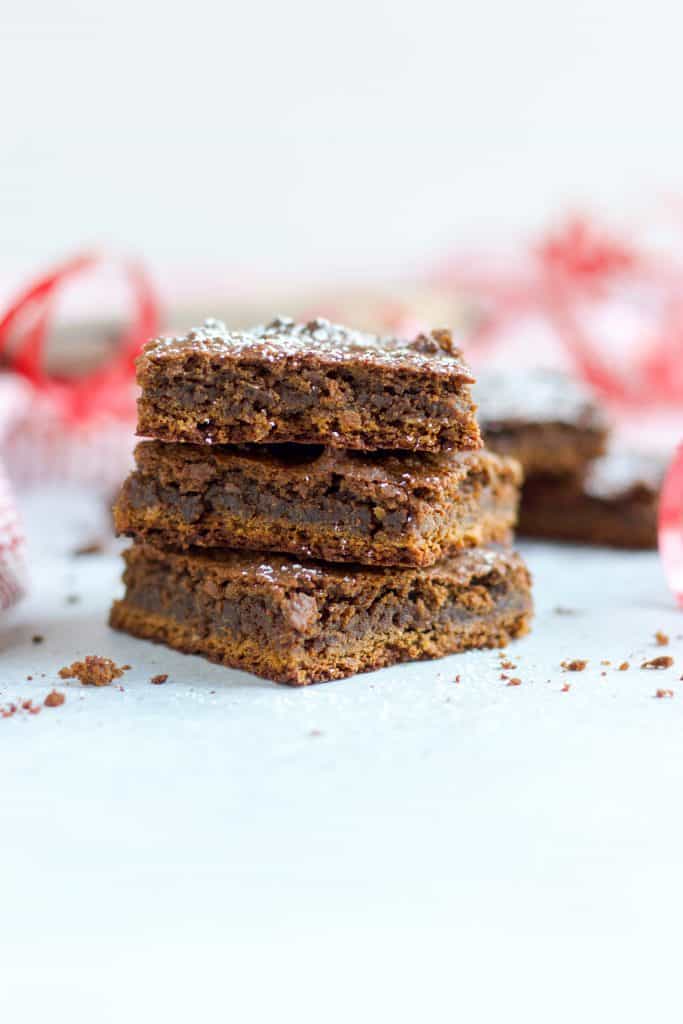 So there I was at the grocery, doing something I hadn't done in years. I was buying brown sugar. And it was going to help me make the most delicious treats. It was pretty painless to be honest.
So why chickpeas? Well, I find it a fun challenge still to take some nutrient dense foods and turn them into something decadent. It's a fun little game I guess. And when they taste so good, who can resist? I have a lot of sweet treats that include beans of some sort or hidden ingredients that no one would ever know!
Don't believe me? Well then you can start with the Loaded Chickpea Blondies. Peanut butter, chocolate chips, chunks of pretzels and more, oh and chickpeas of course. These were the game changer for me. My other FAVORITE are these Double Chocolate White Bean Brownies. I mean, why would you ever do just regular old chocolate when there is double chocolate? You shouldn't. Especially with these bad boys. Ok, so beans hiding in your treats aren't your thing? No worries, try these Chocolate Chunk Avocado Brownies. They are the perfect place to start. Just be warned, you will walk away from these dreaming up what other secret ingredients you can hide in your goodies. It's too much fun, I swear.
Ok, I got waaaay off topic, so let's bring it back. To the brown sugar.
Now mind you, brown sugar was once on the absolutely no way uh-uh, NEVER list. This was during the time when the concept of 'clean eating' ruled my life which was really just another restrictive diet. And so now that I allow all foods, I find that I have a very healthy and balanced way of eating. And it just happens naturally and intuitively. Best place I have ever been with food. So obviously when I realized I wasn't being 100% true to the no food rules, I had to remedy it quick.
I came home with the brown sugar and got to work. Batch one was actually Pecan Gingerbread Chickpea Blondies. I am a huge fan of pecans, but was not so much in this recipe. And there was just a touch of gooie-ness (poetic license???) that wasn't quite right. So onto batch two, took out the pecans and lessened the brown sugar a bit. Um, no idea what happened there but yuck. They were complete goo. Even after I baked them for an extra 10-15 minutes.
Hmmmmm.
Batch 3? Well, that one doesn't even count because I fell asleep on the couch for a few and have no idea how long they cooked. But even with burnt edges, the center was goo. I scrutinized my other chickpea blondie recipe and could only determine that the only major difference in ingredients was–you guessed it, the brown sugar.
Onto batch 4. Tried this one without brown sugar, and wouldn't you know, they were just right. Ironic? I'd say so! The one thing I was trying to be "open" to was the one thing that seemed to be ruining my recipe!
But it's more than just forcing brown sugar into this recipe. It's the fact that I learned something. I realized that I was still not fully broken of the food rules and just doing something as simple as buying brown sugar was a step in the right direction. May sound silly, but it's true.
So in the end, these perfectly gooey, chewy gingery bars are just right and oh so delicious! Toss all the ingredients into your food processor and you're already half way there! It's the holiday season. You don't need anymore hassle or work so you can spend as much time as possible with the people you love!
Ingredients
1

can chickpeas

liquid drained

1/2

c

drippy almond or cashew butter

you don't want dry or thick almond butter

1/4

c

pure maple syrup

2

T

molasses

1/4

tsp

baking soda

1/2

tsp

baking powder

1/4

tsp

sea salt

1 1/2 - 2

tsp

ginger

1

tsp

cinnamon

1/2

tsp

cloves
Instructions
Preheat oven to 350°F.

Add all ingredients to a food processor.

Process until smooth.

Pour mixture into a parchment lined 8x8in pan.

Bake for 30-40 minutes or until a toothpick comes out clean and edges are browned.

Allow to cool for about 10-15 minutes.

Cut and serve!