If you are a fan of warm, frothy drinks and all things clean and healthy, then you may have noticed this new trend of golden hued lattes. You may have also noticed the up swing of bright green matcha lattes. Spices, green teas and other healing ingredients are giving espresso a run for it's money and I am so on board!
I am the crazy person who drinks decaf coffee. Trust me, I hear enough about what an oddity I am, but I just love the flavor of coffee and will never give it up. Caffeine does CRAZY things to me and so I just avoid it as much as possible. So when I was at one of my local juiceries recently, I was quite surprised to see someone walk out with a coffee cup. Of course, I had to get the scoop on what was up. They had just started serving a long list of hot drinks, lattes, with an assortment of spices and ingredients your body needs over the winter months to boost the immune system, fight colds and also just to relax and enjoy.
So I indulged. I went for the Golden Latte. What I was really intrigued by was the fact that there was no espresso machine or any form of tool that would froth milk as one would for a real latte, so I was unsure as to how they would achieve the thick frothy perfection. But boy oh boy did they deliver! And all it took was a high powered blender and some cashews from what I could see. Amazing. Seriously, mind blown. Another reason my Vitamix is my favorite kitchen purchase.
The drink was a bright yellow color, from the turmeric of course and also consisted of some Indian spices, dates, coconut milk and a few other things. I am not a huge fan of turmeric even though I know it boasts a long list of health benefits. If you love turmeric though, you would be all over this one.
For some reason I just always think of lattes as an espresso drink, but in reality, they do not have to be at all. And so of course, I had to get straight to work to start creating my own blender lattes. And this Ginger Spice Latte is the taste of fall wrapped up into one thick, creamy drink. If you are a PSL person, then think of this as the best drink without any coffee, k? If not, you will be amazed by how simple it is to make this drink!
Ginger is great for the immune system, reducing inflammation, and so much more. Get it into your diet as often as you can. And with this drink, you will be very happy to do so! So go get cozy, curl up with a good book, and sip away!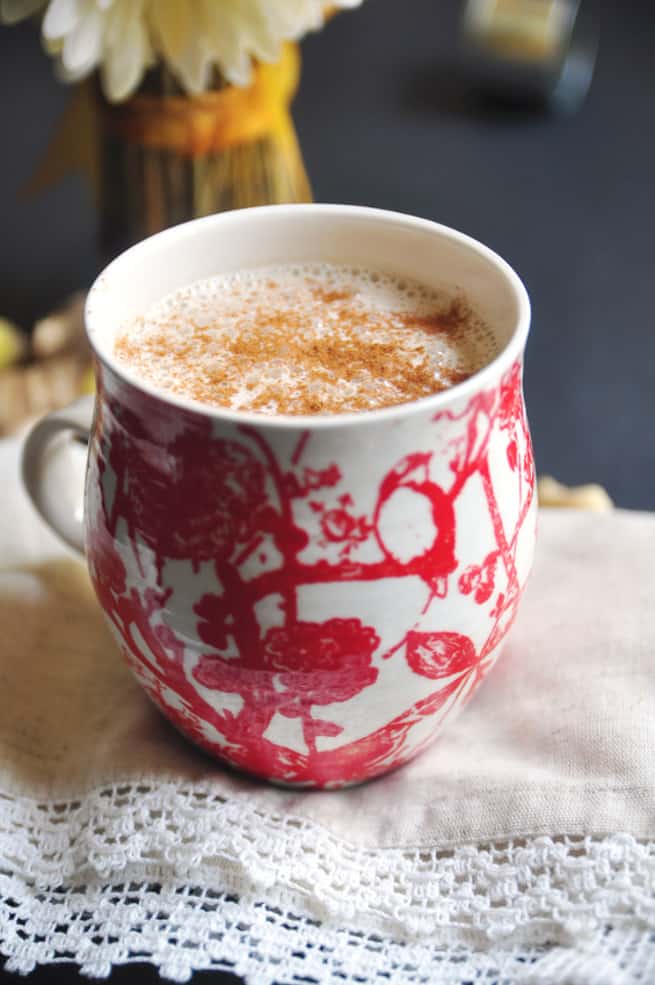 Print Recipe
Ginger Spice Latte
Ingredients
1

c

unsweetened almond milk

heated, unless your blender has the ability to heat as in soups

1/4

c

raw cashews

2

medjool dates

pitted

1

in.

piece ginger root

skin removed

1

tsp

pure maple syrup

1

tsp

cinnamon

1/4

tsp

vanilla extract

dash of sea salt
Instructions
In a high powered blender, combine all ingredients.

Blend on high for about 2 minutes or until smooth, thick and creamy. (no cashew bits left.)

Serve immediately with a cinnamon stick or dash of cinnamon on top.