This Mother's Day recipe is part of a Simply Orange #shop at Whole Foods hosted by Collective Bias, Inc. This is my story with my opinions. #SimplyMothersDay #CollectiveBias
I noted in my last post that everything coming your way this week was all for one reason: celebration. And partnering up with Simply Orange and Whole Foods to kick off this coming Mother's Day made perfect sense.
I am not even sure where to begin. This week kicks off the mother of all Mother's Days for me. Every Mother's Day since I started this blog has been so painful and we have essentially hidden away from everyone to grieve our babies, our empty arms, our losses. So my gratitude going into this week, this season, is hard to contain.
I never set out on this journey thinking our end point would be adoption–but before our struggles with infertility, I distinctly said during one conversation that if we couldn't have kids then it was God's way of telling us to adopt. And every time we met with a doctor, or went in for a treatment, that statement seemed to run through my mind, as if I knew all along, but just took a while to come around to it.
And then, that perfect, yet anxiety ridden day in October, I held my son for the first time and knew he was 100% mine. He was my baby, my meant to be, my greatest gift–better than anything I ever imagined. And from that very moment, I knew he was who we were waiting for all this time. He was the reason we had to go through hell and he was perfectly picked just for us.
I sometimes think Sam is even more special because he is adopted. Or maybe I just think I am more lucky because he was placed with us. It's a feeling I assume only adoptive mommies and daddies probably get, but there is a sense of pride I get knowing just how special our situation was and how special it is that Sam came to be ours. It was not the story I thought would be ours, but I wouldn't want another story written in any other way.
As I mentioned, this week is the kickoff to Mother's Day for me and that is because this week, Sam's adoption becomes officially finalized by the state. Yes, since day one he was ours, but now it will be official by law. He will be a Yarro, officially and forever. And that is something we will never stop celebrating EVER.
---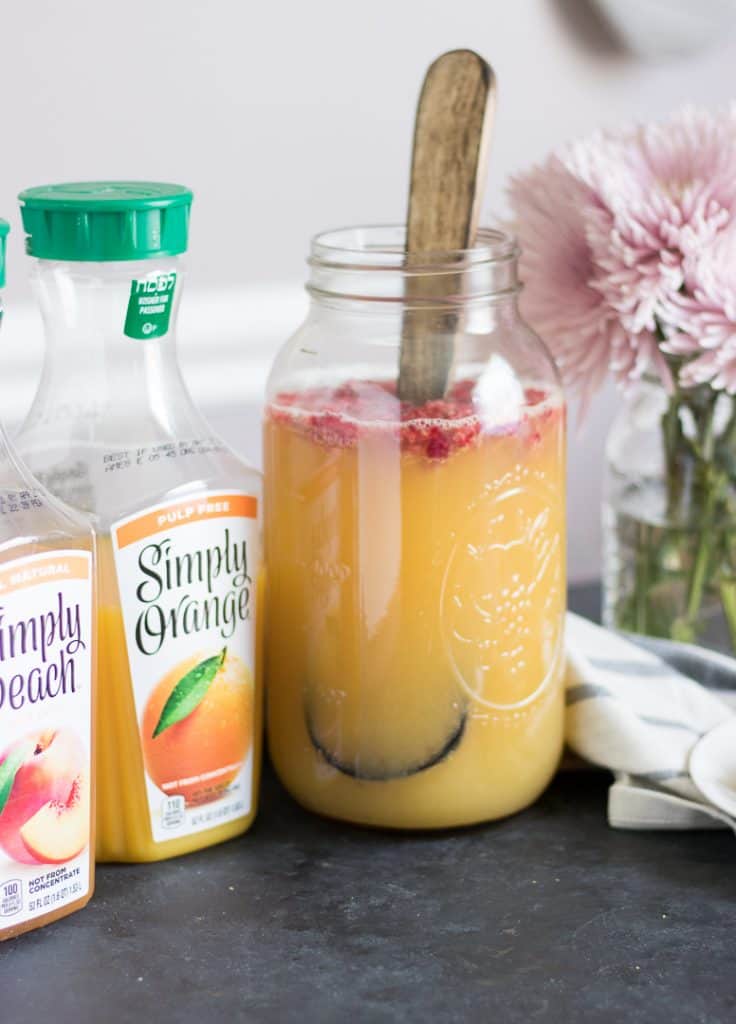 I am very selective about the brands I partner with–I only like to share things with you that I love and am already using in my own kitchen. We have been big Simply Orange fans for YEARS and my newest obsession is their Simply Peach. This stuff will be in just about everything I drink this spring and summer for certain. I always appreciate the fact that the juices are never from concentrate–OJ made from concentrate is always easy to detect in the flavor. I will pass on that! I love grabbing Simply Orange at my local Whole Foods because the price is RIGHT. I am all about saving and I have found Simply Orange cheaper at Whole Foods than some of the other places I grab groceries. Aaaaand, I can also get my juice and groceries right to my door in two hours. For a mom with a little guy, that is GOLDEN.
Since Mother's Day will be a big celebration this year, I am already planning the brunch spread. Breakfast food is my absolute favorite thing in the world so that is what I will be demanding for the big day. The real problem is that I am afraid that I may be the one who has to fix it all. But honestly that's okay because there are plenty of mothers in the family I want to serve as well.
Some of the things I know I want include are my Blueberry Baked French Toast Muffins, my Spiralized Sweet Potato and Baby Arugula Fritatta and then this Ginger Orange Punch with Muddled Raspberries of course! Oh, and I have been dying for these Lemon Poppy Seed Greek Yogurt Scones from Kroll's Korner so another part of the spread for sure. Great, now I will be dreaming of this for the next 3 weeks!
As for the Ginger Orange Punch, this recipe takes me back to my childhood. At a lot of special gatherings, we had some sort of punch. I loved them all–sweet and refreshing. Some had the frothiness of a good sherbet mixed in and others were light and fruity. I always loved getting to spoon my own in from the punch bowl. And now that we get to spend our first Mother's Day as a family, I want special little traditions as well for our little guy. So many fond memories are from when we came to the dinner table, or the brunch spread, or to a meal as one big family.
The beauty of any punch is that it is typically pretty simple to toss together. It's all about the right mixture of the right fruit juices and something a little bubbly helps as well. Something to note about this recipe: I am a huge fan of the taste of real ginger. It is hard to get that out of a ginger ale, so I opted to make my own fresh ginger "juice" in the blender. If you have a juicer, you can juice fresh ginger as well, but many more people have blenders than juicers so I opted to use the blender. If you are not interested in another step, you could skip it and use ginger beer for a stronger ginger flavor. Just be aware if you are using the real ginger to start slow. Ginger is very powerful so you don't want to overdo it. Play around a little and start light before you commit. I am a the more the better, but it's not for everyone.
This Mother's Day, I will raise a glass of this refreshing punch with the perfect hint of ginger to my little one, and to this journey that made me his mommy.
**Find your nearest Whole Foods and stop in from May 2, 2018 through May 15, 2018 to save $.50 on Simply Orange Juice!**
Ingredients
4

c

Simply Orange Pulp Free Orange Juice

4

c

Simply Peach Juice Drink

4

c

Ginger Ale

2-3 in. piece of fresh ginger, peeled and sliced

1

c

water

2

c

fresh raspberries
Instructions
Combine ginger and water in a high powered blender. Blend on high until smooth. Use a strainer to separate liquid from pulp. Set the liquid aside.


Using a large pitcher, pour orange juice, peach juice and ginger ale, stir to combine.


Add in ginger "juice" 2 tablespoons at a time until desired flavor. For light flavor, about 1/4 c (4 T) and then more to your liking. Stir well and chill.


Muddle or mash raspberries in a bowl and add to punch before serving.