When I am in the kitchen, it is like I am stepping up to an empty canvas. My media? Oats, dates, almonds, cacao, maple, vanilla, spices, fruits, veggies and more. It is most certainly my happy place. My time to create. But it is also a place of struggle, of anxiety and even pain. How can a place where I can create warmth and balance be such a battleground? It doesn't make much sense at all but there are years of truth behind it that I can never completely erase.
I have shared many times that for so long food was my enemy. Our relationship was so dysfunctional and toxic. I counted calories and I drew a dark bold line to separate "good" foods and "bad" foods. No in betweens, no ifs, ands or buts. The guilt that I held when I gave in and ate from the "bad" foods list was unbelievable.
This horrible relationship went hand in hand with extreme discomfort living in my body. I loathed what I saw in the mirror. I expected no less than perfection but this perfect body didn't really exist. The smaller I got, the more I demanded. Weighing less never made me happy because in the end it was never good enough. Never.
Years and years of this way of thinking, this way of living, takes a toll. And it's hard to undo. Really hard.
There are still days when I revert back to that place, back to the darkness. There are days when I doubt and when I look in the mirror and wish things would change. Some days when I am working my art all over my kitchen canvas, I fall down into a spiral back to that place where food is the enemy. And it's hard to snap out of it. Really hard. But I have to, because that place is not where I ever want to be again. EVER.
Recovering alcoholics are advised to stay away from alcohol. Others recovering from addiction are told to avoid situations where they know temptation will lie. But what does one do when the enemy is food? Stay away from it? Avoid situations where food is present? Absolutely not. This just is not feasible. So one just has to learn to mend the relationship or life will be nothing but misery.
And so that's what I had to do. My journey has been to find balance. My journey has been to let go of "good" and "bad." I have had to learn to find moderation. I have worked to become friends again with food, to not find solace in it when I am in pain but rather to use it to nourish myself, to enjoy and to savor. This journey has been bumpy and I have certainly fallen back on the dark path more times than I would like to admit.
When I find myself falling into old patterns or notice that I am connecting food with perfection, it's not always easy to get back up. But at the end of it all, I do. And I try to make the next positive choice for myself and then move on from there. I can surely wallow in shame and guilt, but there is no better time to take a new fresh step forward than right NOW. If I wake up the day after I found myself emotionally eating all day, it is so easy to spend the day scolding myself and forcing myself to be "good" and achieve absolute perfection that day for the way I "behaved" the previous day. But those days are over. That's not going to happen anymore. Now I make the next best choice for me. I don't lament or shame myself. I take the next step forward. Because you know what? I have been down that road before and I am NOT going back.
The road forward has taken plenty of detours and had a few swerves along the way. The road has been bumpy and it hasn't always been easy to pick myself up. And there are days when I feel like I am back where I started. But you know what? I am not back where I started, nor will I ever be. I will never go back to that place. I know too well how sweet the life of balance and moderation can be. I know how good my body is meant to feel and I am not going to exhaust it and keep it from being at it's very best. Just like the kitchen is my empty canvas, so is each and every day for me now. Each and every moment. Whether I backtrack or fall down, I know every new moment, every new day is a brand new, fresh canvas ready to be made into a masterpiece.
---
So let's create!
Oh wait, you don't have time for that today? Don't you worry then! If you have 5 minutes then you can have this decadent treat!
Looking to add more coconut oil to your diet? This recipe has you covered then. I am not even sure this 5 Minute Dark Chocolate Mint Freezer Fudge takes even that much time. Coconut oil, cacao and maple syrup are whisked together with peppermint oil or extract to create the perfect sweet treat to satisfy any sweet tooth.
I know it is still the time of pumpkin spice and we aren't thinking peppermint and candy canes just yet, but this has been my after meal treat all week and I just couldn't wait to share it. These will MELT in your mouth! So keep it for the holiday season or have some right now! It's so worth it!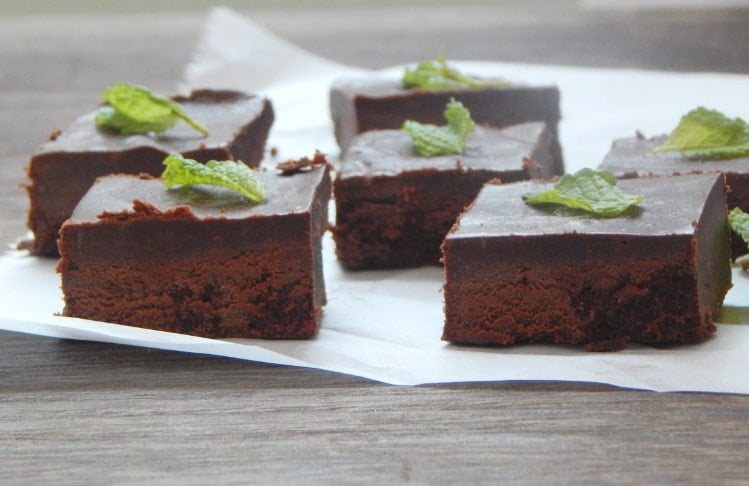 Ingredients
1

cup

unrefined coconut oil

melted

1

cup

cacao powder

1

tsp

vanilla extract

2/3

cup

pure maple syrup

more for extra sweet

1/4

tsp

peppermint extract or 2-3 drops peppermint oil

dash of sea salt
Instructions
Whisk all ingredients thoroughly until very smooth.

Pour mixture into individual silicone molds, parchment lined small pan, etc.

Place in freezer to chill for at least 30-45 minutes.

Cut or remove from molds after set and enjoy!
Notes
If you let these set overnight or for several hours, allow to sit out for about 5-10 minutes before enjoying--if you can wait!