This post may contain affiliate links.
You all know how OBSESSED I am with oats--just look at my Overnight Oats page on the recipes page or the Breakfast section! So when Flahavan's reached out to partner up, you know I was in! We have an incredible sweepstakes to share and it's all in the name of some good, hearty Irish oats. I am so excited to share with you a bit about this family owned company that has been around for over 200 years!
Flahavan's oats are the base of these incredible double chocolate pancakes--so delicious and so simple. Got a blender? Then you are set to whip these up.
This post is sponsored by Flahavan's Irish Oats. All opinions expressed are my own, as always. Thank you for supporting the brands I love and that help make lemons + zest possible!
We all have goals. We want to achieve things, we want to reach for the stars. Some of our goals are small, and some are what we may call BHAGs (Big Hairy Audacious Goals). Some things we set out to do, we may not achieve but we learn something in the process and that is sometimes even more powerful than the actual achievement.
But do you have #OatGoals? Hmmmm, what are Oat Goals you may ask? That's a great question.
There are these things we call New Year's resolutions. We set out to completely change something, something big usually. The percent of New Year's resolutions that are successful is pretty measly. Sometimes we get discouraged that it didn't go so well. A big reason for falling off the wagon is that we make our goals way too much or sometimes not even healthy--not sustainable overall.
And that's where #OatGoals comes in. This is a movement created by Flahavan's to push us to think differently. It's all about simplicity. Just make simple choices that will make you feel better. Think instead of setting out to "lose ten pounds" or "stop eating sugar" or "go on a cleanse,"  to finding ways to nourish yourself. A simple, hearty breakfast, a nice refreshing walk, a bath at night to relax. Start doing things that make you feel good, instead of looking at your life as one big thing you have to overhaul. You will feel better about yourself, you will feel the success of simple choices and you will become more and more happy with being YOU.
So what do I need to know about this hashtag that can win me some amazing prizes you ask? #OatGoals can win you a trip to Denver this year to participate in Slow Foods Nations, and that's a pretty big deal--so you will want to know. Flahavan's is partnering up with Slow Foods USA (think: a movement that supports the opposite of fast food and the fast paced life we live in.) And what we want you to do is to start sharing pictures of you doing these simple things and sharing it with your breakfast of course! If you share your photos on social media with the tag #OatGoals, you can win some amazing prizes and it includes some of Flahavan's amazing Irish Oats of course.
The winners will be announced on St. Patrick's Day because that is obviously the best way to celebrate Ireland's favorite oats!
Click here to enter the sweepstakes, and start on your #OatGoals today!
---
I am pretty excited that these oat pancakes are coming to you on National Pancake Day. Didn't even plan it! How crazy is that?!
One of my favorite pancake recipes of all time on the blog is my Banana Oat Blender Pancakes. When you can make pancakes in almost the same way you can make a smoothie, it doesn't really get much easier. I love the convenience of tossing all the ingredients into the blender and then moving directly to the skillet.
It's sad but very true that I don't think I have ever had a chocolate pancake until I made these. But now that I have had them, I really have no clue why it took me so long.
Using Flahavan's Irish Oats in this recipe really brought out the flavor and consistency of the pancakes. If you have never tried Irish Oats, you are really missing out. Flahavan's oats are harvested in small batches and milled in a way that allows the most flavor to be sealed in. Who doesn't want the most when it comes to flavor?
I preferred to douse my stack with a combination of drizzles of peanut butter (almond or any other nut or seed butter would work), more chocolate chips and crunchy granola. I used up all the bananas for the actual pancakes or I would have sliced a few on top as well.
While overnight oats are usually my go to, these pancakes are most certainly my #OatGoals for sure! Enjoy!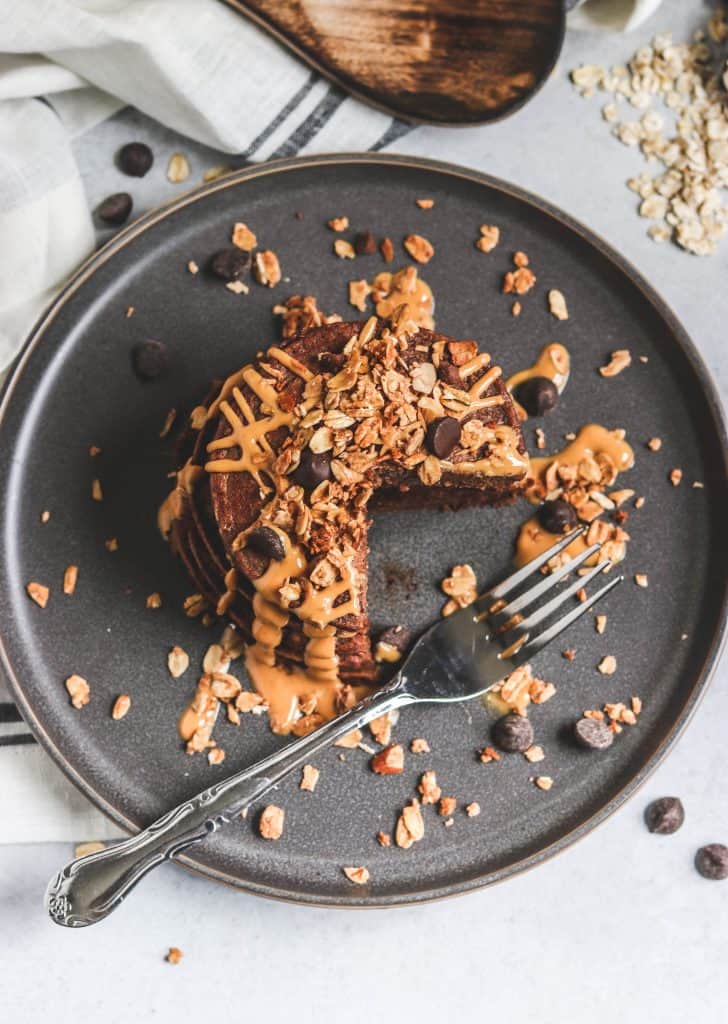 Try these Gluten Free Banana Bread Pancakes as well!
Ingredients
1 1/2

medium

very ripe bananas

1

c

Flahavan's Irish Oats

1

large egg

1/3

c

plus 2 T milk of choice

regular or dairy free works!

1 1/2

T

cacao powder

1

tsp

baking power

1/4

tsp

sea salt

1

tsp

vanilla

1/4

c

dark chocolate chips
Instructions
In a high powered blender, blend oats on high until a very fine flour is formed.

Add all other ingredients except chocolate chips to the blender and blend on high until smooth. (If it seems too thick add a touch more milk)

Stir in chocolate chips.

Add a light coating of your favorite cooking oil to your skillet and spoon batter to form pancakes.

Cook until bubbles form around the edges and flip to cook other side (about 2 minutes or so per side depending on your oven).

Serve immediately with your favorite toppings. Store leftovers in the freezer or fridge!