I am not a big fan of protein powders overall as a whole. I find that even the powders that are meant to be whole food or pant based still have something on the ingredient list that doesn't seem to jive with whole food or clean eating. We all know that getting protein into our diet is a must, and so sometimes we see the word "protein" and "all natural" on a package and scoop it up assuming it must be good for us. I find that getting protein straight from the source works best for me. Whether it's nuts, beans, lean meats or other sources, I like to stick to the food that is closest to the real source.
So one of the things I will tend to use to make my own "protein powder" is hemp seeds. All I have to do is grind them up and add them to my recipe and there is my protein powder: one ingredient. That's it. I can toss it into a smoothie or another recipe and kick up the protein a notch easily.
Nuts are another great source that I use to get my protein in. I have certainly been on a pistachio kick lately. The tiny green kernels offer protein, fiber and so much more. I love pecans, almonds, cashews, etc. but pistachios are a must in the munchie department in my house.
I combined pistachios and hemp seeds into these Dark Chocolate Pistachio Protein Bites to help me when I needed an afternoon pick me up. Everyday around 3:00 pm I am ready to snack. If I don't have something with a decent amount of protein then I don't easily make it to dinner time. So having snacks like these protein bites around really is key! These are gluten free and dairy free as well as vegan friendly. They are not overly sweet so if you prefer more sweetness, add the optional maple syrup. Otherwise, the dates are enough for a little natural sweetness! I hope these will get you through your afternoon slump just like me!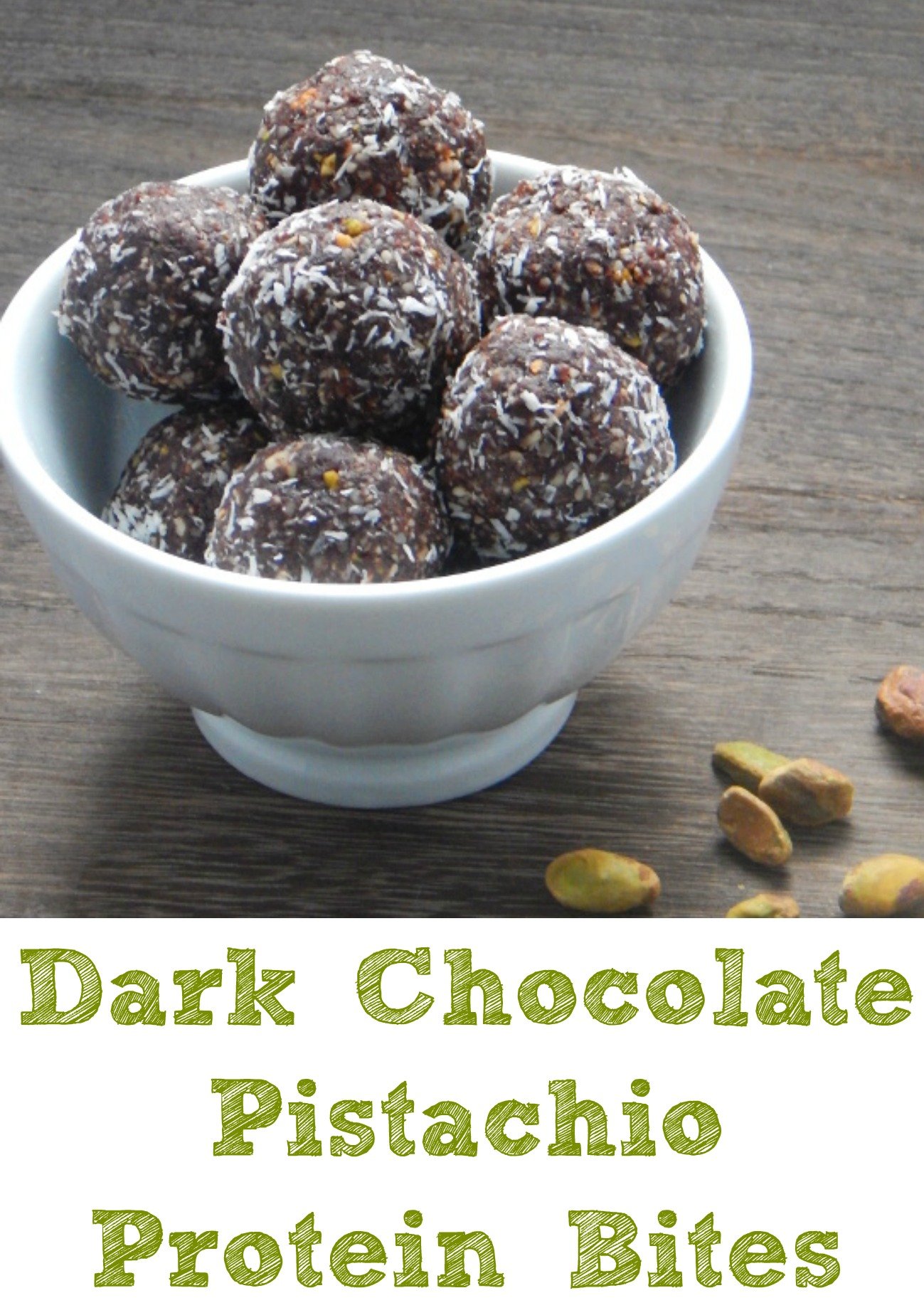 Ingredients
3/4

c

cashews

raw or dry roasted

1/2

c

raw almonds

1/3

c

shelled

unsalted pistachios

2 1/2

T

cacao powder

10

medjool dates

pitted

1

tsp

vanilla extract

dash of sea salt

2

T

heaping hemp seeds

2

tsp

pure maple syrup

optional

coconut for rolling

optional
Instructions
In a food processor, combine cashews and almonds and process until a fine grainy consistency.

Add all other ingredients (aside from coconut) and process until thoroughly combined and somewhat of a dough begins to form.

Roll the mixture into bite sized balls and roll in shredded coconut if desired.

Enjoy right away or chill for about 20 minutes or so to set.

Store in the refrigerator for up to a week.