Over the last year, I have been the one sharing all the joys of my food freedom and making it a point to say that "all foods fit" in my diet.
But for some, all foods do NOT fit. Food allergies and sensitivities are very real and can be a matter of life or death even for some. So how do you find joy and variety without the foods your body cannot tolerate?? Oh, let me tell you, I have got a TREAT for you today!I am so excited to share another AMAZING cookbook from another fellow blogger who has been quite the inspiration to me. If you don't follow Alisa Fleming over at Go Dairy Free, then you better hustle over and get to know her now! The site is full of amazing dairy free recipes, reviews and everything anyone who needs to avoid dairy would need to live a delicious life! Alisa has lived with her own dairy allergy so she understands the need for resources for herself and others with the same issue. Go Dairy Free is the leading dairy-free website so if you are in need of an amazing resource, this site is IT.
When I got my hands on Alisa's new book, Eat Dairy Free, I was immediately in love. I am a huge picture person when it comes to cookbooks and seeing that almost every recipe included a photo made my day. It helps since I am a visual person to see the recipe before I make it. And the photos are gorgeous as well. One look at the Mylk Chocolate Cupcakes and it will be over for you as well!
The added bonus to this book is that even though it's technically called "Eat Dairy Free," Alisa has taken into account the needs of those with other food allergies and gives options on many of the recipes to include nut free and gluten free options as well. So if you are like some with multiple allergies, this can still be a very useful book for you.
What if you are like me and you have no food allergies? Let me tell you friends, you will still be in love with all of the drool-worthy recipes. From the Mushroom-Pesto Pizza, to the Autumn Spice Cupcakes with Maple Caramel Icing (Yes, you read that 100% correctly!) to the Carrot Cake Breakfast Shake, there is something that everyone will love, no doubt. I am making the Crispy Italian Polenta Fries this weekend to add to our Super Bowl spread. I only do the Super Bowl for the food! Ha!
So today's recipe is 100% inspired by this new cookbook. The book includes these amazing Chocolate Banana Split Muffins. I wanted to make these recently but had no bananas that were ripe enough, so I had to find my own way to make a beautiful muffin. And then I was reminded why I leave the baking recipes to everyone else. Baking is far from my own forte. It usually takes me several if not more rounds to get my baked goods right where I want them. And there have been many I have altogether thrown in the towel on because they were hopeless. But round after round, these Dairy Free Peanut Butter Chocolate Split Muffins got better so the hope was kept alive.
These muffins include a Dairy Free Buttermilk. What???? Yes, that's right. I used the same thing in my Dairy Free Buttermilk Pancakes and they came out fluffy and delicious so I thought I would try it in this recipe as well. All you have to do is combine almond or a dairy free milk with some apple cider vinegar and let it sit for a few minutes and you are set. It made these muffins fluffy and moist.
As for accommodations for other allergies aside from dairy, You could use another nut or  seed butter, or even tahini if peanut butter is not something you can have. As for gluten, sub a gluten free all purpose flour and you are good to go. Flax eggs could also be a good sub for regular eggs.
If you are not feeling fancy, you don't have to make these split muffins. You can also just mix it all up in one bowl and still enjoy a delicious baked good!
And don't forget to grab Eat Dairy Free for Alisa's Banana Chocolate Split Muffin as well!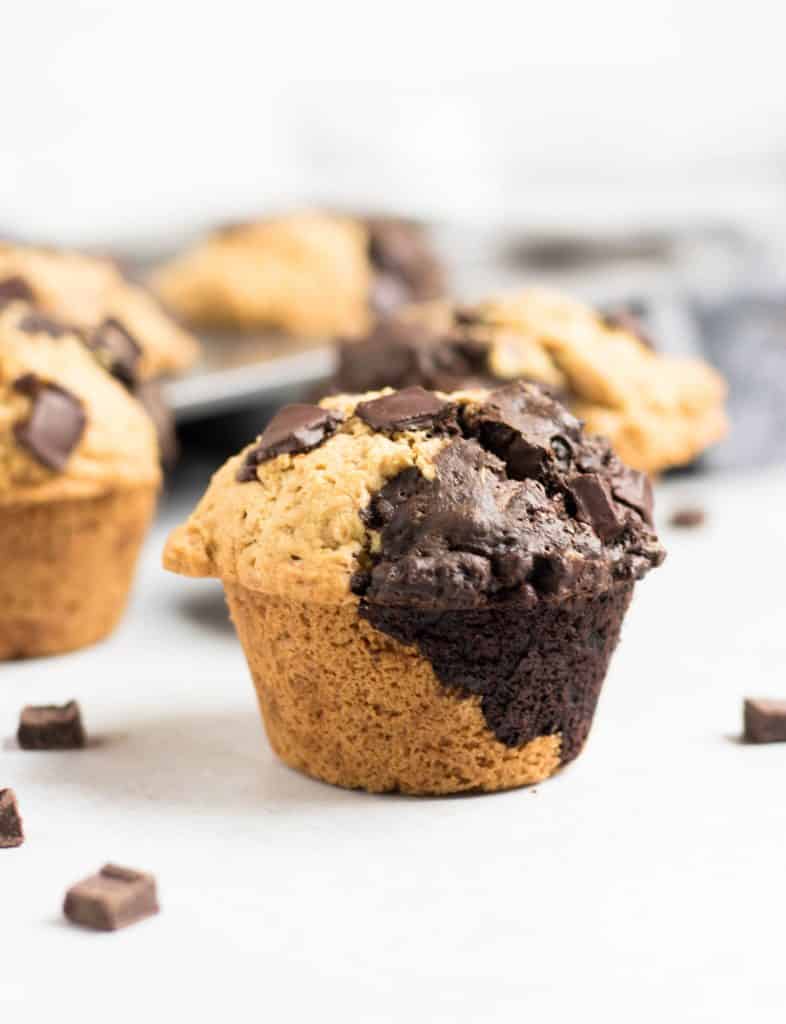 Try these other peanut butter recipes:
Ingredients
2

large eggs

2

c

unbleached flour

1

c

almond milk

or milk of choice

1/3

c

brown sugar or coconut sugar

1/2

c

turbinado sugar or granulated sugar

1/3

c

coconut oil

melted

1

tsp

vanilla extract

1

T

apple cider vinegar

1/2

tsp

sea salt

2

tsp

baking powder

1

tsp

baking soda

2

T

cacao powder

2

T

creamy peanut butter

drippy

1/2

c

dark chocolate chips or chunks
Instructions
Preheat oven to 350° F.

In a small bowl mix almond milk and vinegar. Allow to sit for about 3-5 minutes.

Lightly beat eggs and then mix in brown sugar, regular sugar, oil,vanilla and "buttermilk"

In a separate bowl, whisk together flour, sea salt, baking soda, and baking powder.

Add dry ingredinets to wet and mix together.

Split the batter in half. In one bowl, add the cacao powder and 1/2 of the chocolate chips and mix.

In the other half add peanut butter and gently swirl through (don't mix it too much.) You can also add chocolate chips to this portion as well if desired.

In a well greased muffin tin, spoon 1 part peanut butter mixture and one part chocolate mixture to fill about 2/3 of the muffin cup. Top with several more chocolate chips. (it helps to use a spatula to hold the first spoonful to one side of the muffin cup)

Bake for about 18-22 minutes or until a toothpick comes up clean.

Allow to cool for several minutes before eating. Store for several days in an airtight container or freeze leftovers.
Notes
The size of the muffin tin can shift the baking time. For these photos, I used large muffin cups and the baking was closer to 22 minutes and only made about 7-8 muffins. Smaller muffin tins or more average sized will call for closer to 18 minutes.