Happy Friday, or should I say #FrozenFriday! I have been waiting for this day, literally as I have been so excited to share this recipe as well as all of the amazing recipes from some pretty amazing food loving bloggers out there.
I am joining forces with SO Delicious and Alisa over at Go Dairy Free and taking part in probably the tastiest recipe contest out there. And I will tell you, taste testing in the kitchen was far from tough! And you can be a part of this contest and win some tasty treats as well! Just follow this link for more information.
I was given the task of creating a completely dairy free and vegan frozen treat. To be honest, the options are infinite in this department. I still have a few more that you will see down the road but these Lemon + Toasted Coconut Ice Cream Sandwiches were the winners according to my taste buds as well as the husband who is not a fan of coconut, or so he seems to keep saying and then loving things with coconut.... Hmmmmm.
The goal of this contest is to show people that #NothingCompares to Dairy free frozen treats, and one bite into these ice cream sandwiches and you will have to agree! The lemon cookies are chewy and with a refreshing citrus flavor. Almond flour is the base and this was also my first time using a vegan butter. I was not disappointed. The texture was on point. SO Delicious's Vanilla Bean Coconut Milk Ice cream has just the right amount of a light coconut flavor with the richness of the vanilla bean. Rolling these in freshly toasted coconut is key and what knocks these out of the park!
One note---make sure to freeze these for about an hour before eating. Otherwise one bite will squeeze all the ice cream in all directions--lesson learned the hard way. I also found an ice cream sandwich press at Sur La Table that was pretty cool and for $8.00. I don't think it was really necessary as a glass or something round and flat, otherwise your hand can be helpful in pressing the sandwiches together.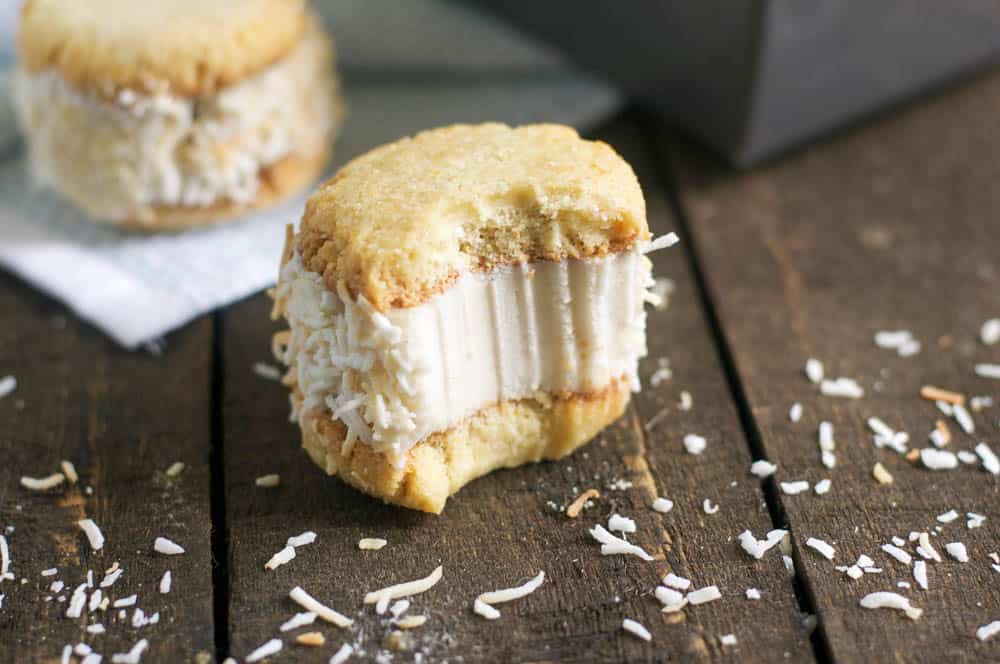 Ok, no more time to waste. Frozen Friday only comes around once a week---but I hear frozen Saturday, Sunday, Monday, etc. is a great day as well for these treats! Hope to see your creations on Instagram and social media. Just use the hashtags #FrozenFridays and #NothingCompares. Thanks!
Ingredients
For the Cookies
1/2

c

vegan butter

1/2

c

Turbinado sugar

or granulated sweetener of choice

Zest of 1 lemon

2 1/2

c

almond flour

1

tsp

vanilla

Dash of sea salt
For the Sandwich
1

pint

SO Delicious Coconut Milk Vanilla Bean Frozen Dessert

1/2

c

unsweeteened coconut

shredded
Instructions
Preheat oven to 350°F.

Using a hand mixer or standing mixer, beat vegan butter and sugar together until creamy and fluffy.

Add in vanilla and salt and beat.

Add in almond flour 1/2 cup at a time and beat until all flour is mixed in.

Stir in lemon zest.

Chill for 10-30 minutes if time permits for best results but not completely necessary.

Using a cookie scoop, spoon desired sized cookies onto a parchment lined baking sheet. These won't spread much so press them gently to flatten.

Bake for 12-14 minutes until edges are golden brown. Allow to cool and then freeze for 10-15 minutes.

After cookies are baked, spread coconut on a parchment lined cookie sheet and bake for 3-5 minutes until lightly browned.

Making sure ice cream has had time to thaw for about 5-10 minutes, scoop single ice cream scoops onto one cookie and press another cookie on top. You can use a small plate to flatten if that helps.

Roll into the toasted coconut and place in a freezer safe container.

Freeze for about one hour before serving.
Notes
I got about 16 cookies out of this recipe, depending on the size you may get more or less.
I also used a spoon to spread the ice cream evenly around the edges of the cookies. That just makes them prettier, the taste is still the same!
About the #FrozenFridays Recipe Contest
The #FrozenFridays Recipe Contest is being sponsored by So Delicious Dairy Free and hosted by Go Dairy Free. I have received free So Delicious product to help in my testing, and have the chance to win $500, $250, and free product prizes.