This post may contain affiliate links.
Let's talk about bathing suit season.
It's really, really, REALLY hard not to fall victim to the messages out there around our bodies and bathing suits. In just the last week, I have seen at least 10 ads or messages that ask the same question: Are you ready for bathing suit season? And the message that is being sent is that our bodies have to look a certain way in order for us to be confident shedding much more skin than usual.
I am sorry that this is the message. And I hope I can convince you to shut these messages down this year.
The reason it can be so hard to rock a bathing suit confidently, without apology, without fear has nothing to do with you or your body. It actually has to do with THEM. They told us we need to slim down. They told us we need to do the extra rep, run the extra mile--and they said it so many times, we started to believe them.
But you know what? It's all lies.
You don't have to do anything but slip on your favorite bathing suit-- the one you feel comfortable in--grab your sunscreen, and go. That's it. That's all you have to do.
But then, when you do, and you start to feel good, and you finally stop waging war with your body, THEY come around again. And they tell you to drink their detox tea. They tell you that you will be happier, that you will be more confident. They tell you it's not a diet, it's a lifestyle, but then they get you to count points and swap this food for that food. They say you will be happy.
You won't.
You won't be happy.
Anyone who sends you the message that you have to change anything about your body in order to head to the beach this year is not worth your time. And to be honest, it's harder to shut them off than to listen to them a lot of the times. Because when we do shut them off, they come back with a new system or a new catchphrase to lure us back.
So how DO you stop the noise?
By putting on your bathing suit, grabbing your sunscreen and heading to the pool--with NO hesitation and NO apology.
There is absolutely no prerequisite for hanging out poolside other than having a body. You don't need to lose an inch to be worthy of a day at the pool with friends.
Don't let them win. Don't give your energy, your time or your money to THEM. If you have to ban them from your life, your feed, whatever, do it.
Your body, today, right now, is 100000% bathing suit ready and that is all that you need to know. xoxo
Just in case you need a good mantra to remind yourself, follow people like Cara Harbstreet. (Sorry for the language, but sometimes you just have to get a point across.)
---
A few years ago I had a woman tell me that eating a banana was pretty much worse than eating a Snickers. I honestly don't even remember what I said in response because I am pretty sure I blacked out after that.
There is still so much good food and bad food in the world today and one of them I am sharing with you today: bread. Bread gets such a bad rap thanks to the word that was made evil when Atkins came out. You know what I am talking about, the C word: carbs.
We all know someone or have said to ourselves at some point, "I am cutting back on carbs." orrrr we have heard the, "I am only eating good carbs." Well since we just decided we aren't cutting anything out of our diets, then we won't be cutting any carbs at all--oh wait, yes we will. We will be cutting our carbs by taking a knife and cutting into this dreamy French Toast! Ha.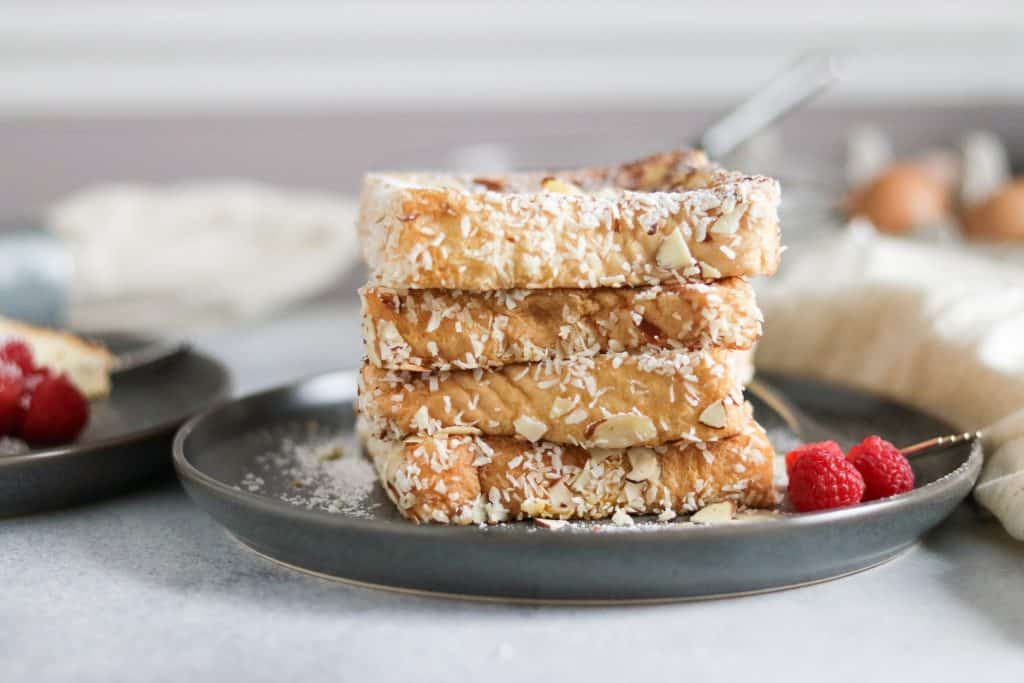 You seriously haven't experienced French Toast until you have tried it crusted with shredded coconut and crushed sliced almonds. French Toast is one of my favorite breakfasts especially due to it's simplicity. Whisk, dip and cook--that pretty much sums it up. And to be honest, even though this recipe looks very luxurious, it only adds one simple step, and that is to roll. All you have to do is roll the edges of your bread in a coconut almond mixture before tossing it on the griddle. That's it. It may get a little messy on the griddle, but it still cleans up nice, and once you bite into this, you will know the extra step was well worth it.
I am planning on having this for Mother's Day--and by that I mean I plan on watching Anthony make this for me. (A girl can dream!) I will be sending plenty of hints between now and May so it's happening!
Try these other recipes you will love:
Ingredients
3

eggs, large

½

c

milk (regular or dairy free)

1

T

pure maple syrup or sweetener of choice

¼

teaspoon

almond extract

½

teaspoon

vanilla extract

⅛

teaspoon

coconut extract (optional)

6

slices of bread

½

c

shredded coconut, unsweetened

⅓

c

sliced almonds, crushed
Instructions
Whisk together eggs and milk well.

Add in vanilla extract, almond extract, sweetener, and coconut extract (it can be a bit strong) if desired. Whisk well. On a large plate, spread coconut and crushed almonds evenly.


Heat griddle to medium. Dip each slice of bread into egg mixture and allow entire slice to coat, making sure to get the edges of the bread.

Roll the 4 edges of the bread in the coconut and almond mixture to cover. Place on lightly greased griddle and cook each side for about 3-4 minutes each side or until browned to your desired darkness.


Repeat with the rest of the bread. Serve immediately with favorite toppings.