This post may contain affiliate links.
I started writing this post a couple weeks ago when I was in a place of resentfulness (I may have made that word up but it worked, ha), pain and sadness. I felt the direction my words were going were toward a dead end and so I decided to step away for a while and then return at the right time. Today was the right time. I will lead with what I started last week, but I am ready to make a U-turn and bring it away from the dead end, at least that's my hope.
So here goes...
You know those lessons in life that we are so resistant to learning? The words of wisdom we don't want to hear? You know, the things that we know deep down to be truth but for whatever reason we just don't want to believe? Sometimes they are the most difficult to internalize, to fully digest and then to move forward.
My father in law is a prime example of the "whistle while you work" type. Anytime he and my husband are working, he tends to whistle a random tune. In fact, most of the time they are not even recognizable songs but rather a short melody strung together that he repeats as he is hammering away at whatever project we have him working on.
The other week his tune was more than recognizable. And he whistled the tune over and over. It had the feeling of one of those recurring theme songs or tunes throughout a movie that had some sort of motif spun through, perhaps a foreshadowing of some sort of what's to come. And I am not talking about the Kill Bill sort of whistling. I don't need any of that kind of nonsense. This was a tune that was put there on that day in that moment to reassure, to teach me, though I didn't want to have any part of it whatsoever.
So what tune was he whistling? Que Sera of all things.
Que sera, sera,
Whatever will be, will be
The future's not ours to see
Que sera, sera.
And as I listened to the tune, I felt tears well up in my eyes. Tears of resistance. Tears that were there because I was tired of letting go. I was tired of hoping. I was tired of praying. I was tired of being told to relax. Tired of being told it will happen. Tired of Que freaking Sera-ing.
And while I do know and understand the value of letting go and tossing the 'everything happens in it's own time' coin out there, some days, I am not willing to hear it, believe it, manifest it. And you know what? I think that there isn't a thing wrong with that. Because letting everything roll off on the "que sera" path...........
And this is where I am picking up today:
Over the past couple weeks since I started writing this post, I have mulled over this line, had this tune in the back of my head and thought more and more about it and the impact it can have one me. Or at least the way I feel about it and the way I respond to it in my own life.
So crappy things happen to us, all of us (side note, I wanted to use a word stronger than crappy, but I know my mom reads this so I didn't want to get a talking to!) Bad things happen to good people, our lives are turned upside down by things out of our control, and so on. We want certain things out of life or we want situations to change, and we want this to happen in our timeline, as in like, RIGHT NOW typically. We want everything to get better, for ourselves, our loved ones, we want to skip the pain, or at least fast forward through it all.
THIS is where the "que sera" can be powerful. When we want things right now, and I mean right this minute, it's so hard. So hard to let go, so hard to say "It will happen in time," or to accept that it will come. So that tiny whistle of the tune can be a great reminder to just breathe and allow ourselves to step back and slow down. And that tune is also a reminder that even though we can't have what we want right now, it can truly be a nudge towards reminding ourselves the power we have to choose to try, to choose to stand up and to choose to do all that we can do to try to make this happen.
There are sometimes when "Que sera" is just not enough. There are some things worth fighting for and some things worth getting up each and everyday and moving through the pain for. And once you have fought, and put in every ounce of effort, at that point, only when it's beyond your control anymore, can you be at peace knowing that what will be, will be, and that you did every damn (sorry mom) thing in your power to fight for what you want more than anything in this world.
---
It's been a while since I have posted a new energy bite recipe so today is the day! Other than Larabars, I don't buy any sort of energy bars since I typically have some sort of energy bites in the house. So simple, and the options are endless.
I recently was reminded that I love figs. It had been a while since I had eaten them and then had figs in a salad and it all came back to me. We always joke about the fact that all my grandpa ever had to snack on was fig newtons so that's probably another thing about figs for me, they bring back so many memories.
Adding figs to energy bites has been a great new kick I have been on. My Balsamic, Fig + Orange Energy Bites surprisingly ended up being my husbands favorite flavor other. So the figs have stuck to say the least. These are always as easy as tossing into the food processor and then rolling into bitesized balls. Done, that's it. All real food, wholesome ingredients. That's worth snacking on!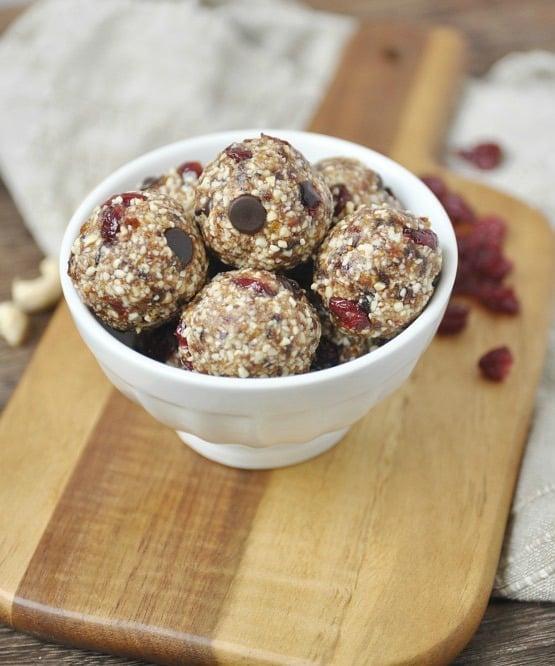 Ingredients
1 1/2

c

raw cashews

12

mission figs

(dried, stems cut off)

5-7

medjool dates

pitted

1

tsp

vanilla extract

1/4

c

dried cranberries

1-2

T

dark chocolate chips

optional
Instructions
In a food processor, process cashews until a fine grain like texture.

Add in dates, sea salt, vanilla, and figs.

Process until a dough begins to form.

Transfer to a small bowl and add in cranberries and chocolate chips if desired.

Roll into small bite sized balls.

Chill for about 10 minutes or so to allow flavor to meld.