This simple Browned Butter + Garlic Spaghetti with Spring Peas recipe comes together in under 30 minutes for a perfect, delicious weeknight dinner.
---
Are you a 'peas, please' kind of person or a 'get those green things away from me!' person. In our house, we are divided, but it's looking like now that Sam is eating, he is going to be on my side, the 'pass the peas' side. To this day, Anthony will not eat my chicken pot pie because apparently I traumatized him when we were dating by putting way too many peas in it. I mean, everyone likes extra peas in theirs, right? Ha.
Another true story, when I was younger and was watching my little sister who refused to eat her peas, I added sprinkles to them and she ate every last one. There really isn't a middle ground I feel like when it comes to the little green bites, its either yes or no and that's about it.
Before I go any further, if I even still have your attention after so much pea talk, I promise that if you make this recipe and skip the peas, you will still be A.O.K. It's the browned butter that really sets this pasta dish apart so no need to fret if you think I am trying to force you to eat your peas before you can leave the table.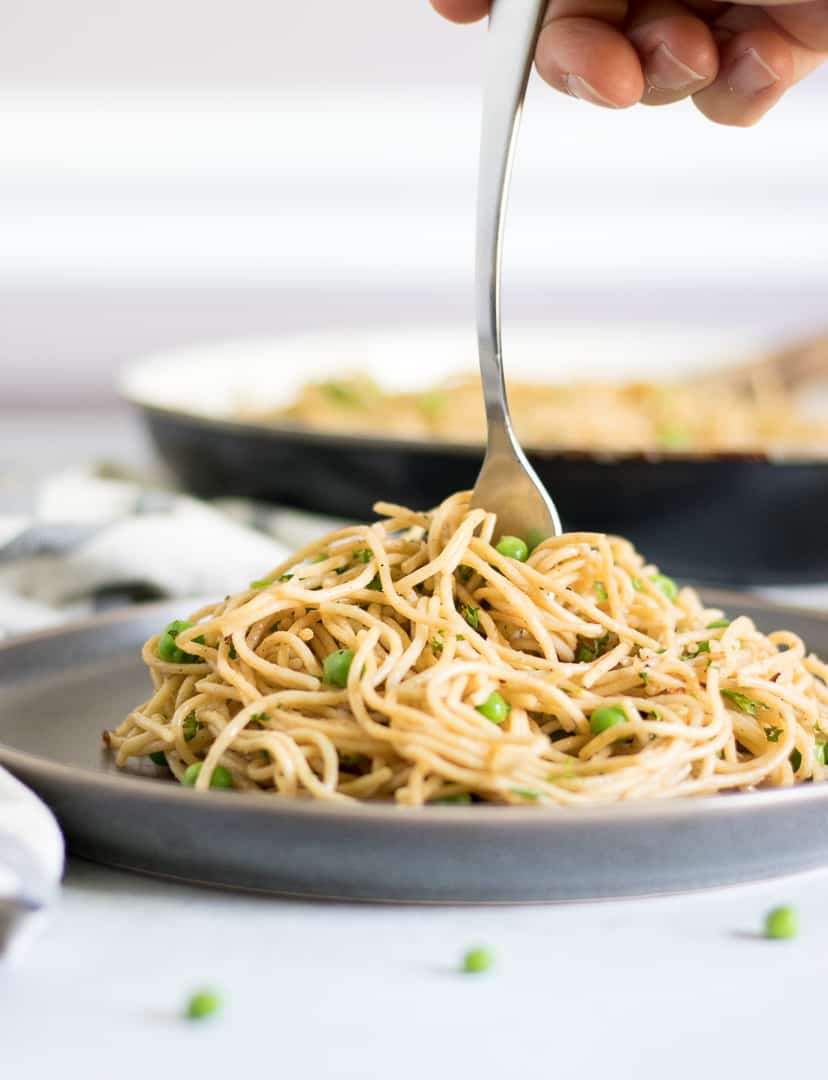 Why Browned Butter?
I have been seeing  a lot of recipes especially in the baking realm. Browned butter chocolate chip cookies? Why yes, please. I mean, it just sounds even better than butter itself, but what exactly is browning butter and why do it?
Browning butter is cooking butter to a point where you get this rich, caramel color and a nutty flavor that is unlike anything you've ever tasted. You are essentially evaporating some of the water present and turning the milk solids to a brown color. All you really need to know is that you are cooking the butter to have a deeper, richer flavor, and we like that, right?
The best part? It's so easy to do. You just heat and stir it to a point where it starts to froth and foam until it eventually turns that beautiful brown color (ha, who would have thought brown and beautiful would be used together? But hey, chocolate is!) I promise it's much easier than it is fancy.
This Recipe
As for this recipe, the browned butter and garlic add the perfect flavor to make plain spaghetti turn to WOW. Once your pasta is cooked, you are literally minutes away from dinner. I have tossed in grilled chicken to this dish as well and have enjoyed that quite a bit. A touch of parmesan and red pepper flakes, chopped parsley and you have yourself a gourmet meal with no sweat off your back!
And if peas do not please you, skip them by all means. If you still want something green, a bit of spinach, cut up asparagus or maybe some broccoliini will do the trick. As for me, extra peas please and thank you!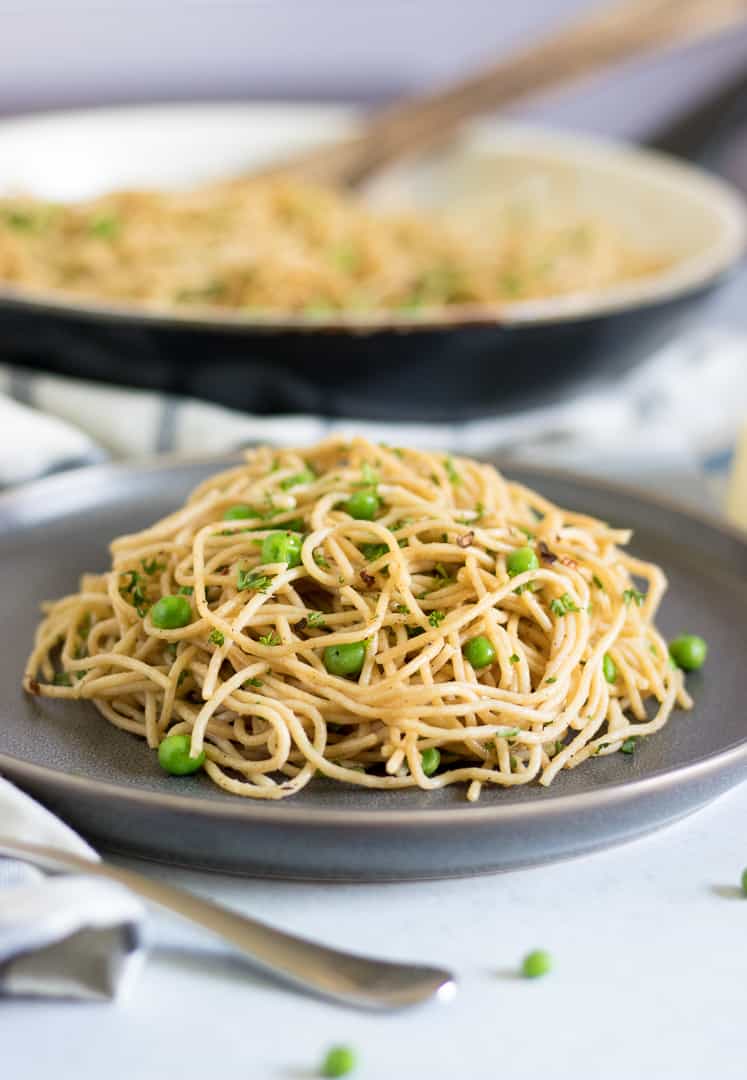 Ingredients
8

oz

thin spaghetti (cooks up quicker than regular to save time)

1-2

garlic cloves, minced

4

T

unsalted butter, cut in 4 pieces

1

c

frozen peas, thawed

¼

tsp

crushed red pepper

Sea salt and pepper to taste

Freshly chopped parsley and parmesan for garnish (optional)
Instructions
Cook pasta according to box directions.


While pasta is cooking, add butter to a skillet at medium to medium-high heat. Stirring frequently, allow the butter to begin to foam and then turn to a golden brown color.


Once it turns brown, remove from heat and toss in garlic and stir to heat. Add in peas and cooked pasta and toss to coat.


Season as desired and add red pepper flakes. Serve with Parmesan and fresh parsley if desired.