Hey there! So I have a lot I would love to chat about with you on some personal growth and changes around my own eating recently, but that will take a lot more time than I have today. What I WILL say is that I should have read the book Intuitive Eating AGES ago. But I can't live in the past, can I? I am so glad I came across the book and it has changed so much about my relationship with food in such a positive way. I thought I had a good relationship, but there was still some major tweaks I needed to make so I will share a bit more soon. At any rate, I have thrown out any and all rules and the name of the game is "I can eat anything I want. ANYTHING." And there has been so much freedom and so much learning around this. I am in the best place I think I have ever been so more to come soon!
On that note, I am just going to share a quick and simple recipe we have been making at the house that has been a new fave in dinner rotation. These Black Bean & Kale Quesadillas are those crazy days' saving grace when I get home and don't want to think about dinner. I have even used frozen kale if I haven't had a chance to get to the grocery for fresh produce or if my kale is looking a bit too old.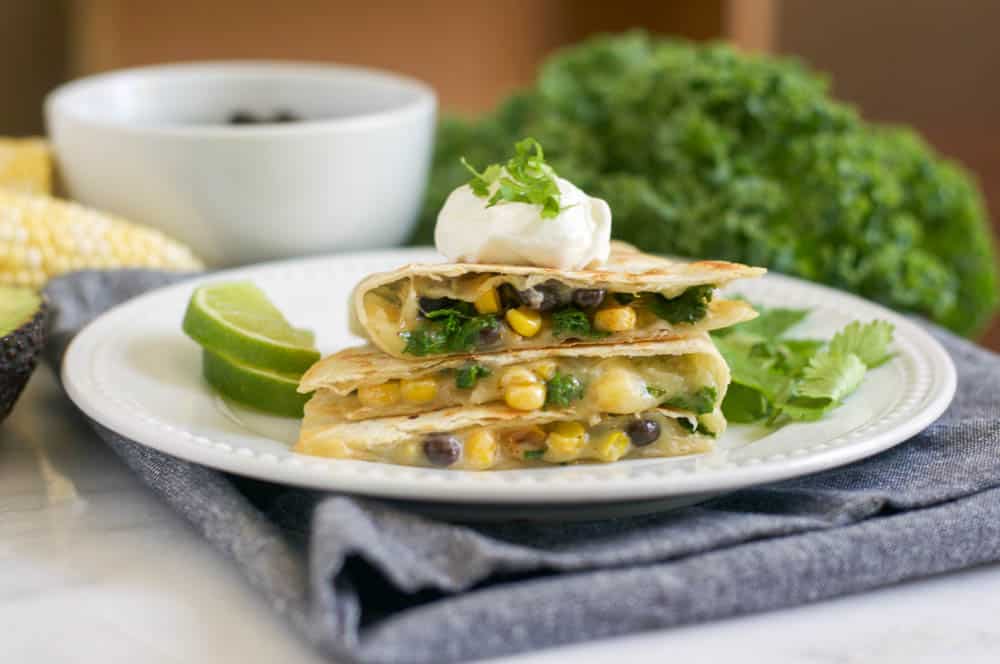 Simply sauté the ingredients and then spread over a tortilla and make a delicious grilled cheese tortilla. I like to have some guac to spread on top and we are set. Oh, and some grilled corn on the cob goes quite well! I know I have a lot of vegan readers as well and all you have to do is substitute a vegan cheese and you are set as well. Use whatever tortilla you prefer!
Ingredients
2

kale stalks

stem removed and chopped

1/4

c

corn

1/3

c

black beans

cooked and rinsed

1/4

tsp

garlic

1/4

tsp

cumin

1/4

tsp

crushed red pepper

Fresh cilantro

1/2

c

shredded white cheddar

2 to

rtillas of choice

1/2

T

olive oil
Instructions
Over medium high heat, heat olive oil.

Add kale and sauté until wilted.

Add in beans, corn and spices and for about 2-3 minutes until combined and warmed.

Remove from heat.

Preheat a large skillet to medium high heat.

Add about 1/4 c cheese to 1/2 of an open tortilla. Spoon in half of the kale and bean mixture and then add desired amount of cilantro over top. Fold tortilla in half.

In large skillet, brown each side of the quesadilla in desired cooking oil or ghee for about 3 minutes. When cooked to desired brown, remove from heat, allow to cool and then dig in!